MrMobile can't stop ThinQing about the LG G7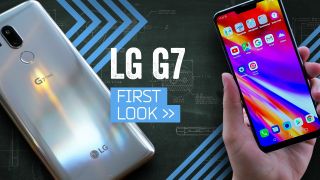 The LG G7 has had a long and strange road to release, at least from an outsider's perspective. A flurry of reports back in January indicated that LG would delay the launch of its newest smartphone; that it might ditch the "G" branding entirely; even that it was considering redesigning the flagship "from scratch." Well as it turns out, only one (and a half) of those predictions panned out: the phone was indeed delayed from its expected February release until May, and while the G brand remains, it's now augmented by the "ThinQ" suffix LG is slapping on all its AI-enabled products.
Sadly, the rumor that the company would dump the iterative approach in order to completely rethink its smartphone strategy proved false: the G7 is an LG phone through and through. That carries a lot of positives, from the superwide cameras to MIL-STD durability to an impressive new audio system – but it also means LG is likely to focus its marketing on the phone's more buzzworthy (and far less impressive) "AI" features.
I've spent four days with the LG G7 ThinQ. Join me for the Initial Review / Hands-On – and stay tuned for the full LG G7 Review coming soon. In the meantime, be sure to check out Android Central's comprehensive hands-on preview here!
Stay social, my friends
Without great battery life, I wouldn't even consider it.

So the usual LG style, please don't test anything since this is a pre production model. How about LG don't announce your phone until you are ready to launch? Looks like the don't learn a thing from their past mistakes.

When are OEM'S gonna learn that a 3000mamp battery isn't gonna cut it with the power hungry 845 processor? It doesn't take a rocket scientist to figure this one out. For power users your screwed & tattooed! That's my rant for today. The s9 struggles to make it thru a full day. Did LG consider that fact? Of course not. Would not even consider this phone!

Nothing new here. Another also ran from LG. My G6 is a decent phone, but that's all.

It'll be a decent phone with a good camera. I'm disappointed by the Battery - but you get Wireless Charging and a Headphone Jack. It's all about price point now... If they're competitive - I'm interested, but not if it's over £650.

I'm not giving up my v30. Especially with a notch. Plus I get tremendousl battery life.

Exactly why they should have had a 3400mA plus battery in this. V40 should be ok, but I don't want to wait.

ThinQ for the first impression video.

People will hate on this phone because of the notch and for no other reason.
They hated it because Apple did it even though it doesn't look bad, and actually makes sense to NOT waste the entire top of the phone when you just need a speaker and camera in the middle.
The iPhone X looks great. The G7 Notch looks good. People love to hate... for no good reason.
LG still doesn't know how to release a phone... sad really.
The pictures seemed to look pretty decent. Will have to see more.

They will, but they are tech sites types. The masses will not care. The real crime, is that battery. Watched a ton of hands on videos already. Everything else is great, it really seemed great in the videos. All cameras seem improved. Looks great to see.

I personally don't care either way about the notch. I do care about battery capacity though. 3000mA is tiny in 2018

Geographical crippling and way too small of a battery, DOA, and deservedly so. Make sure it's not in people's hands (the few that actually want it) for at least a couple of months too, as usual.

Here we go again, launched May2nd. Release date for consumers the middle of June. Yikes!

What happened to the new V35 (no not the Japanese one)? You're right, it has a mountain to climb with the launch window. HTC u12+, OnePlus 6, Sony UZ2 Premium. All will have a bigger battery. LG could have beaten or matched them all, by just judging it to 3500mA.

Anything in Thrifter to help drop that $930 (!!!) price tag?

Terrible battery makes it totally not worth looking at, far from high end

I like LG but I'm disappointed by the early impressions here. LG doesn't seem to be doing much to try and stand out or make waves. That "boombox" mode feels completely pointless to me. Maybe some might find it useful I guess. The wide angle lense is also cool, I liked it on their older phones. Doesn't feel like there's a lot of useful innovation going on here though. The small battery is also concerning. I was hoping for something a bit more exciting here.

LG are becoming just another Android OEM and wannabe and that pathetic 3000mAh battery makes it DOA. LG needs to go back to the drawing board.
Android Central Newsletter
Get the best of Android Central in in your inbox, every day!
Thank you for signing up to Android Central. You will receive a verification email shortly.
There was a problem. Please refresh the page and try again.