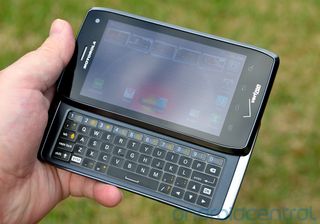 After two years and four hardware iterations, the Motorola Droid 4 is the pinnacle of the line that brought Android into the living rooms of America, if not the world. That's it. Plain and simple. If you're looking for an Android phone with a sliding keyboard, there is none better, insofar as the keyboard goes.
The Droid 4 isn't a radical departure from its predecessors. You've got a keyboard, and you've got a screen, though both have undergone further tweaking that keep it in the style of other current Motorola smartphones like the Droid RAZR and Droid RAZR MAXX.
But that's not to say the Droid 4 is the perfect smartphone. Oh, we're going to sing its praises, to be sure. But it's also got some quirks that leave us scratching our head.
Check in after the break for our full Droid 4 review.
Pros
An excellent physical keyboard, good size and heft in the hand. Motorola's software continues to have excellent customizations.
Cons
Yet another phone awaiting an upgrade to Android 4.0 Ice Cream Sandwich. The 4-inch display leaves a lot to be desired. Battery is not removable.
The Bottom Line
This is the best iteration yet in the original Droid line. But for as good is the keyboard is, the display is that bad. And launching with an aging version of Android -- even one that's perfectly functional -- is starting to wear on our sensibilities.
The video walkthrough
Youtube link for mobile viewing
The hardware
The keyboard
When you get down to it, the hardware of the Droid 4 (or for any of the phones in the range) starts and ends with the keyboard. As such, the Droid 4 keyboard has five staggered rows of the best chicklets we've had the pleasure of using. They're more rounded, better spaced and better defined. They're "laser-cut," for what that's worth. We don't really care how it happened -- just know that this is the best damn physical keyboard you can get.
The keys themselves have just the right amount of travel and "click" to them, though they don't move independently. When you press one, you'll see the others around it move ever so slightly as well. But that doesn't affect the ability to type, and chances are you won't even notice. It's a nice slight-of-hand.
The matte finish contrasts nicely with the glossy background, giving the keys the illusion of depth when you're using the phone in daylight. When things are a bit darker, a backlight kicks in, lighting up the characters on each key, as well as ringing the keys themselves. It's a great design feature that helps you hit exactly the button you're intending to, and it does so without washing out the entire experience.
There is a small LED indicator just to the left of the caps lock key, so you'll know if you're about to BE TYPING LIKE THIS.
Motorola's cleaned up the overall look of the Droid 4 keyboard by getting rid of the secondary characters on all of the letter keys. To make up for it, the number row at the top of the keyboard now houses most of the basic symbols. Punctuation like the comma, period, slash, apostrophe and hyphen are still top-level characters.
This is where we have our greatest complaint about the Droid 4 keyboard. Traditionally, you trigger secondary characters by first pressing an ALT or Fn key, then the key with the secondary character. The secondary characters usually are stenciled in a different color (most often yellow, though they were blue on the Droid 2), and same goes for the ALT or Fn key you use to trigger them. There's no such thing on the Droid 4. There's a big SYM key, but but that brings up an on-screen symbol menu. (Nothing wrong with that, but it's not what we were looking for.)
No, to get to the yellow secondary characters on the Droid 4, you have to first press the Shift key. That makes sense with a traditional keyboard experience. But on smartphones, it's a bit of a divergence. Nothing you won't get used to, of course, but it's different than the other phones in the Droid line.
The display
Of course, what good are all those keys if you can't see what you're typing? The Droid 4 has a 4-inch display at qHD (540x960) resolution. Unlike the larger Droid RAZR MAXX, which has an AMOLED screen, this guy uses a TFT display.
The big difference here is the hue of the display. Whereas the Droid RAZR MAXX has a yellowish tint, the Droid 4 is decidedly blue-gray. That's the Droid 4 on the left, and the Droid RAZR MAXX on the right. Unless you're switching phones a lot (like us) or have them side by side (guilty as charged), you might not notice. But it's an interesting difference. We prefer the blueish tint.
The display itself, well, it's not great. Things are OK so long as they're stationary. But once they start moving around, everything goes to pot. That goes for the home screens, menus, web pages, etc. Start scrolling, and things go dim and sort of seem to sort of hope you won't notice something's awry. Videos aren't horrible, and apps seem to be OK. But for everything else, it feels like you've taken too much cold medicine (if not something stronger). Plus there's a bit of the checkerboarding we've had to get used to in the displays Motorola uses.
But, hey, it's a crappy display covered in Gorilla Glass. So it's got that going for it.
The rest of the design
Most of the rest of the Droid 4 is fairly traditional. You've got four capacitive buttons below the display, done in the menu-home-back-search configuration. Above the display is a 1.3MP camera capable of shooting video in 720p. There's a small, hidden notification light at the top-left corner of the display.
The Droid 4 retains much of the boxy shape it's had for years now, but the corners are slanted in the same design as the Droid RAZR MAXX. The display slides up to fully reveal the keyboard, and gone is the chin of Droids past. It's a better look.
The left-hand bezel has microUSB and HDMI outputs. The right-hand side has the volume rocker.
On top is the power button, awkwardly positioned in the center of the phone, and a pinhole microphone used for noise cancellation. (The main mic is on the bottom bezel.) The power button on our review unit seemed to fit a bit loose and list to one side. Not a big deal, but it looks a little sloppy on what otherwise is a tightly designed device.
Flip the phone over, and this is where things get interesting. You've got a textured soft-touch battery cover with Verizon and Motorola logos on it, and a cutout for the rear speaker. Up top is the 8-megapixel camera and flash, and what looks like it might be a hole for a third microphone. If only it were that simple.
What you have here is a hole for what we're calling the battery cover unlocking mechanism tool device thingy. That is, the Droid 4 comes with a little plastic tool that you stick in that hole, and then you can slide down the battery cover.
That's great and all, but you can't actually remove the battery. No, the 1785 mAh battery is stuck in there. Glued in place, actually. But you can get to the SIM card and microSD card slot, and those are important. But, no, you can't swap out the battery for a fresh one.
Removing the the rear door also exposes the vibrating motor and what looks to be four contacts for an inductive charging back.
Youtube link for mobile viewing
What's under the hood
There's not a whole lot to be said about the power plant behind the Droid 4 -- it's got a dual-core TI OMAP 4430 running at 1.2 GHz, with 1GB of RAM. You've got 16GB of internal storage. But the way it's partitioned, you get about 3 GB for app storage, and 8 GB for media and the like, with the rest allocated for the operating system. That's not unusual, but neither does it really mean you have 16GB of useable storage.
As for battery life, we've been pleasantly surprised. The 1785 mAh battery is a respectable size. Standby time has been excellent (that isn't always the case with Verizon LTE devices), and the Droid 4 holds its own in actual use. LTE data still eats through a battery, but things are getting a little better in that respect. As is always the case, your mileage will vary. But we didn't have any real issues to report, except that phone didn't like to charge on a lot of the USB chargers we have just laying around. You'll likely need to use the included one.
The softwa​re
The bad news: The Droid 4 is yet another Android device that launched with Gingerbread. The not-quite-as-bad news: It's already been promised an update to Android 4.0 Ice Cream Sandwich -- we just don't know when it's coming.
(By the way: We're getting really tired of writing that paragraph.)
The software on the Droid 4 is nearly identical to that of the Droid RAZR MAXX. You start off with the slider lock screen. Slide your finger one way, you unlock the phone. Slide the other way, you get quick access to the camera. There's also a nice toggle for sound on/off.
You've got five home screens on which to place icons and widgets. And, again, what's preloaded is nearly identical to that of the Droid RAZR MAXX. Motorola and Verizon haven't overloaded them, so you've got plenty of room to work.
The App Drawer scrolls horizontally -- seriously, manufacturers, we want some vertical options here -- and you're able to put apps into groups for individual viewing. You also can sort the App Drawer alphabetically, or by most frequently or recently used apps.
Motorola's borrowed half a feature from Ice Cream Sandwich. You might not be able to uninstall every unwanted app from your Droid 4 (preloaded apps are fickle like that), but you can hide the icons from sight. It doesn't go as far as in ICS, which will also sandbox the hidden app so that it can't hit the battery or use RAM in the background. But it's a nice addition. (Apps that are hidden go into their own group, so you can unhide them later.)
As far as preloaded apps go -- well, they go a long way. This thing's loaded with them, which isn't unusual for a Verizon phone. Apps like Amazon Kindle and BlockBuster are back, as are GoToMeeting, Let's Golf 2, Madden NFL 12, MOG Music, Netflix, NFL Mobile, Quickoffice, Slacker and Slingbox. And, of course, there's Motorola's suite of apps like MOTOACTV and MOTOPRINT, plus Verizon's VCAST apps.
The Droid 4 also is loaded for the business types. In addition to the apps listed above, it's good hooks for device administration (that's also built into Google Apps accounts if that's how you roll), and in addition to using 4G LTE on Verizon, it's a global-ready device, so you can use it on GSM CDMA networks outside of the United States.
(Update: Verizon tells us that the screen shot you see here is for CDMA roaming, but Verizon has told Phonescoop that intends to enable GSM/CDMA roaming sometime this year.)
Motorola's also included its excellent Smart Actions app, which lets you tweak and set all sort of conditional settings. Arrive home? Get a reminder to charge up, or turn of Wifi automatically. It's one of the most useful things Motorola's added to its phones in the past generation of devices.
The cameras
So the Droid 4 has a couple of cameras. There's a 1.3-megapixels shooter out front, and an 8MP shooter in the rear. Motorola's software remains excellent, with a slew of settings and scenes and other features, including multishot and panorama.
Examples below open in full resolution in a new window
Front-facing camera
Youtube link for mobile viewing
The front-facing camera isn't horrible. It shoots at 720x1280 resolution, and the mic worked well enough.
The rear-facing camera
Youtube link for mobile viewing
One thing to note about the Droid 4 (and other Motorola phones) is that while it has an 8MP rear-facing camera, by default it shoots in a 6-megapixel "widescreen" mode. That's 3264x1840, if you're interested. The idea is that the photos take up the entire screen that way.
Other odds and ends
Most of the Droid 4's quirks have been mentioned above. Here are a few other odds and ends:
The speakerphone's plenty loud, and you've got 15 stops between silent and full-bore.
Seriously, Verizon, it's time to get rid of the default DROOOOOOOOOID sound. We're over it.
Location services are turned off by default. But once they're on, GPS works like a breeze.
As for keyboards, you've got Motorola's pretty good multitouch input, and Swype is preloaded as well. Or you can go with any other third-party keyboard.
Call quality on Verizon was decent enough.
Verizon's got a wireless charging cover

(opens in new tab)

, if you're so inclined.
Go to settings>applications and you can set an action for double-tapping the home button.
The wrap-up
Just as we noted in our first meeting at CES, the Motorola Droid 4 is a capable Android smartphone, and it's easily the best in the Droid line. It's a worthy cousin of the Droid RAZR MAXX, with probably the finest keyboard we've used. But the keyboard doesn't make up for the underwhelming display. It's time for some 720p resolution, and time to get rid of the PenTile matrix. Period. Those are big negatives on what otherwise is a great phone.
As for the non-removable battery, well, it is what it is. We prefer the option of being able to swap in a fresh battery. But that's just not happening here.
But that's the smartphone reviewer in us talking. (Hey, it's what we do.) If you're less concerned about those things, and more concerned about having a powerful phone with fast data, a great keyboard and a slew of software features -- including domestic LTE and global roaming! -- the Motorola Droid 4 is well worth a look.
Based on the upgrade path that Motorola just released, I'd be concerned that I may be upgraded in 3-6 months at best and likely that will be the ONLY upgrade.

I feel the same thing would happen with every other vendor unfortunately.

I doubt it. This phone is what the Droid 3 should have been. I don't see them coming out with a droid 5 just to improve the battery life or go to a super amoled display.

The yellowish tint on the RAZR MAXX is the reason I didn't purchase it. I know a couple people who have it or the RAZR and every time I look at the phone it bugs me. Maybe I'm just being a diva, but I really don't like it.

Motorola Droid 4 Maxx and Droid 4 Developer Edition in 3, 2, 1...

That joke was pretty old the first 20 times I saw it.

I bet some enterprising soul will come up with a way to use the inductive charging contacts to stick an "auxiliary" battery into the back. I wonder if that would work on other phones (Droid Razr? Razr MAXX? )

That's EXACTLY what I thought of when I saw that. In fact, if I don't see one within a month or two, I might decide to get in to the accessories market...

Every review I read by Phil..I just can't help hearing the words in my head with his voice. It's magical. Great review, Phil, as always. My wife wants this phone pretty badly; she's got a Droid X2 and desperately wants a slider. Hopefully by her upgrade date (Dec), a worthy slider will be here or releasing soon.

Don't buy this moto crap. They are behind in every category to date and there is no reason for it. Buy HTC or Sammy for now. In a year, moto should be a force to be reckoned with. I hope!

Battery Life? Signal strength? I would say moto is leading in those two categories.

I know someone on Verizon who is going to upgrade both of his lines (him, his wife) to a smartphone in the next few weeks... and he's asked me what I think of the Droid RAZR. I'm a keyboard guy through and through, so I think I'd naturally guide him towards the Droid 4, but I got to thinking about it and based on these Droid 4 reviews (that are very consistent across the internet) now I'm leaning towards guiding him to the Galaxy Nexus. Any opinions?

It doesn't really matter if YOU are a keyboard guy does it? It really only matters if HE and is WIFE are keyboard people. How about the Rezound? 720p display, excellent camera, LTE, Beats audio (and nice earbuds that come with)...

Is your friend into rooting and modding? Because if not, he'd be better suited to a "hands-free" device like the RAZR MAXX or Rezound. Out of the box, I'd say the Nexus is a great phone..but not as great as the Rezound or MAXX in terms of worry-free-I-want-this-to-work-now. I personally own the GNEX, and while I have it modded to hell to make it the phone it is today, I wouldn't recommend it to someone like my wife who just wants barebones stock and wants it to work immediately, which may be the case with your friend and his wife. It all just comes down to what you're going to use it for, kind of like buying a PC.

Well, if he's already interested in the Razr, then tell him to get the Maxx. I'm assuming since he's asking your opinion and hasn't really developed his own, he's not extremely savvy in the realm of android. Things like stock android and locked bootloaders probably won't be as important to him as very long battery life and a polished interface.

"including domestic LTE and global roaming!" Really? The specs on the Verizon don't show any global radios. Network
CDMA 800, 1900 EVDO REV A/LTE B13 700 Those don't look like Global frequencies to me. Am I missing how this phone will do CDMA, LTE and GSM without
UMTS/HSPA 900/2100MHz + GSM/GPRS/EDGE 850/900/1800/1900MHz???

If you read ANYTHING about the D4 lately you'd know that it is global capable, but not for now. Verizon/Moto will be activating that feature "sometime in the future".

All well and good. I haven't read anything about it as Verizon has been saying they don't have any phones with LTE and global capability. Without any radio frequencies listed, hard to know that. And "sometime in the future" doesn't solve my current travel needs moving from a BlackBerry. It would be great if I could put off the purchase till they do. But my company may be forcing me off AT&T any day now. :(

I love my DX, but I miss the keyboard of my BB Tour. The D4 sounds like it may be for me, but I'm concerned about all this 'lousy display' talk. It's a wee bit smaller than on my DX, but surely it's at least as good, right?

You will be perfectly happy with it. People who review phones for a living are much more picky than the general consumer. That's one thing you have to be careful of when you are reading sites like AC. Is it the best display out there? No. Is it good? Yes. It will be better than the DX (which is the phone I own as well).

I don't, man, have you seen it in person? I checked it out a few days ago, and I wasn't a fan at all. The rest of the phone is fantastic, but that screen is horrible. Granted, I have been looking at a Nexus for 2 months, but I feel like I would still feel the same way if I hadn't been spoiled. I would recommend going in and looking at it with your own eyes, because you will be the best judge of what is appropriate for your own usage. If I was in the market for a 4G, dual core slider, I think I would consider ditching the keyboard in lieu of a better screen.

If I was in the market for a 4G, dual core slider, I think I would consider ditching the keyboard in lieu of a better screen. Honestly, that's the dumbest thing I have ever heard. So what you're telling me is you would rather stick with the Samsung Stratosphere and it's 1GHZ single core processor over the Droid 4 1.2 Dual core processor and better kybd because of the super amoled screen? I betcha for the most part your phone is sitting in your pocket or on the desk/table in power saver mode. Even with pentile display the video and games still look good. Sure I agree the Droid 4 should have been at least 720 or super amoled. But it's not the end of the world because it isn't.

"4 inch screen leaves a lot to be desired" wow is 4 inches too small now?

This has been one of my pet peeves with the reviews on the Droid 4 across the internet/websites. It's either the display sucks because it's not super amoled or it's too small at 4". Like what Mhans311 said above, you can't base everything off of what the reviewers are saying. This is why when it comes to the display and size they should take in to consideration not everyone cares about amoled displays or 4.3 or 4.7 inch size. If you recall the OG Droid (which I own) didn't have the lastest and greatest display either. But it sold like hot cakes, and this one will as well.

I really hope these don't sell like hot cakes... there has been some bad behavior (from my point of view) that Moto has been practicing: -Taking forever to come out with the Bionic and then a couple of months later release the RAZR and then right after release the MAXX... and yes... I know it doesn't only depends on Moto... Verizon is involved too. Knowing there are Tegra 3 devices in the make makes me want to wait out. Plus... knowing that this phone was ready for release in December bugs me REAL bad. -Lame improvements (the screen talk, same back camera?, no real improvement in weigh and thickness, no NFC) -Blur slowing down the update process (ICS) I think that if people keep buying these phones, Moto wont have any motive to change their behavior. I'm grateful for the improvements in the front facing camera, the keyboard, and of course... the 4G. But, I think these moves are way too concerned with profit vs making customers happy... which is a step of faith - but i'll will bring more profit at the end (think of the OG!) I'm not expert on this... it's just what I think.

If you're going to quote me, then quote me correctly. Four-inch screens are just fine. Size is not what's wrong with the Droid 4's display.

If you're responding to me. I didn't say you. I said reviewers across the board.

Well, he's actually responding to carraser891, so I guess everything is peachy? :)

How does this phone compare to the Samsung Captivate Glide? Does this have a better build quality etc? The reason I ask is that both phones seems to be very similar.

We are NOT over the "Drooooooooooid" sound! I freaking love it! Please do not get rid of it. If you don't want it, set something else as your notification sound.

lol. Fair enough, but you probably don't have a house full of them. :)

If my old Epic 4G had a prettier screen, how is this "close to being the perfect slider"??? Even that old phone, that I sometimes miss, had a removable battery! Geeze... Tone down the headlines, Phil!

Droid 4 has a better keyboard. That's how. :)

Sure, the keyboard is awesome sauce, but the phone as a whole is a disappointment on many levels. A great keyboard on a turd is still a turd, to paraphase a certain mohawk sporting cellphone junkie...

Are you aware of what "close to" means?

Yes I am. "Close to perfect" would be a very nice screen, a removable battery, and not having to say something like "But for as good is the keyboard is, the display is that bad." At this point, I feel like Phil's trying to get me to date his cousin with a "Nice personality."

I picked this phone up on release day and can honestly say there are no real major flaws . no its not super amoled , its only a 4 inch screen, no removable battery, but the screen is very good outside in the sun, to me a 4 inch screen is about perfect, and the battery life out of the box is pretty darn good, which concerned me at first. I think at the price which most people are getting them for $149-$99 its a great phone , and I have no regrets with my purchase. I would recommend it if you like keyboard phones.

I ordered the Droid 4 on release day because I was able to get it for $99.99. Got my hands on it yesterday and I LOVE IT!!! I agree with the review about the power button, mine is the same way. I was concerned at first but several other users have reported the same. The screen is larger than my Samsung Galaxy S 4G I had with T-Mobile and the clarity in the camera shots are amazing!! I really just cannot say enough great things about it!

I fear that this phone would not function all that much better than my almost free Stratosphere. The strat has: great battery life, replaceable batter, great keyboard, beautiful screen and snappy performance. There are some better specs on the Droid 4, but I'm not so sure about real world differences.

I have a Droid 3, and I'll agree that this looks like a great phone. But I have to admit that I'm about as happy as I could be for seeing my phone outdated so quickly. I live in a pretty rural area, so LTE isn't an issue for me.
Aside from that, there are really very few major differences between the D4 and my D3. Same processor, and, granted, way more RAM, but so far, I haven't noticed a lack there. Any other improvements that there may be from my device are outweighed in my mind by the fact that I have already rooted my D3 and am running stock ICS, which, although missing usage of camera and video codecs, is entirely stable and usable. tl;dr. D4 looks awesome, but as a D3 owner, not as heartbroken as I could be in this situation.

I finally upgraded my Droid 1. I understand all the complaints about this phone compared to what's out there now, but I'm fine with it. For me it's the footprint. The Droid was perfect. This is a little bigger but not much. And it's so much faster that the size is a little easier to forgive. In a day or so I'll find out how much thicker it is with the induction kit on it. Haven't been able to find much info on that detail.

hello friends , good news for all window shoppers !!!!! DON'T MISS OUT!!!!
good news for all window shopper !!!!!
Smart-phone Reward System!!!!!!!!! Exclusively for bangalore , delhi and mumbai users!!!!!i think this is gonna be a bolt from the blue for all window shoppers!!!! for more details check out the below mentioned link!! :) URL : mintmapp.com/mobile

The most recent update for my Droid 4 is awful, I have to restart my phone at least 5 times a day because my text messages won't send! The message has the little green arrow to indicate that it's sending, but never sends, then if I copy the message text and re send it, the message before it sends and then so does the copied message! And sometimes it takes three to four messages to send! It's so aggravating. Also, as I'm using this website, my phones word completion service thing is messing up, as well as when I hit back space it takes me somewhere else in the paragraph, which is also frustrating, so please get that fixed. My droid was perfectly fine and I was very happy with it before the update, I'd appreciate some better service because now I really hate my phone and my two year contract is not ready yet, thank you for your attention! :)

The most recent update for my Droid 4 is awful, I have to restart my phone at least 5 times a day because my text messages won't send! The message has the little green arrow to indicate that it's sending, but never sends, then if I copy the message text and re send it, the message before it sends and then so does the copied message! And sometimes it takes three to four messages to send! It's so aggravating. Also, as I'm using this website, my phones word completion service thing is messing up, as well as when I hit back space it takes me somewhere else in the paragraph, which is also frustrating, so please get that fixed. My droid was perfectly fine and I was very happy with it before the update, I'd appreciate some better service because now I really hate my phone and my two year contract is not ready yet, thank you for your attention! :)
Android Central Newsletter
Get the best of Android Central in in your inbox, every day!
Thank you for signing up to Android Central. You will receive a verification email shortly.
There was a problem. Please refresh the page and try again.