Feeling depressed? These apps can help, or get you help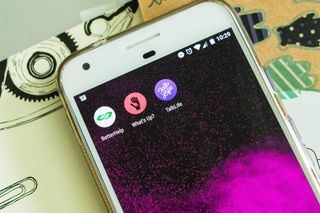 Mental health is not the easiest topic of discussion considering the social stigma surrounding it, but that hasn't stopped the breadth of mobile therapy and mood diary apps available in the Google Play Store. Treatment can be cost-prohibitive if you're not insured or don't have access to the proper resources, however, and while we'd never suggest that a app is adequate treatment for a condition, their mere existence has inspired the idea that you can use a smartphone to help manage your day to day.
I've even found my own routine with some apps. I've used Daylio, for example, to keep a micro-diary so that I could track my moods and day-to-day neurosis to present to my doctor. I've used the Muse brain sensing headband to learn to meditate, which has helped me make better use of apps like Pacifica that offer relaxation and mindfulness tools. The Anxiety and Depression Association of America has also developed a rating system for these particular apps, while Scientific American has come out warning users against phony apps:
So, while we can easily conclude that not all therapy apps are right for you, there are certainly plenty available that can at least help guide you on a path towards treatment that works. If you're suffering from depression, anxiety, or general dread for what tomorrow may bring, a talk therapy app or a micro-diary service could help at least organize those thoughts. Here are five apps we suggest you start with if you're considering it.
Headspace
Meditation is a thing that works for many people — and 8 percent of adults practice it regularly in the United States. It's about training your mind to focus attention, which — and I speak from experience – is much harder than merely thinking it.
Headspace is a great app for starting a practice of daily meditation. I've friends who use the service religiously. The service offers a basic meditation program, or you can upgrade to an annual subscription to unlock other programs and facets of the app. (There just so happens to be a 40 percent sale on annual subscriptions until July 24.)
BetterHelp
Need to talk to someone, but don't even know where to start? You can hire a counselor through the BetterHelp app, which offers access to 2000 counselors, accredited psychologists, marriage and family therapists, and clinical social workers from around the country.
After you sign up, you'll have to fill out a questionnaire so that the service can match you to an available counselor who might fit your criteria. Like other virtual talk therapy apps, BetterHealth offers a "virtual room" of sorts where you can walk in, take a seat, and wait for your session — just like you would in real life. You're not limited to the number of sessions you can have with your assigned counselor either, as long as both of you are available at the same time. Plans start at $65 a week for counseling.
TalkLife
Remember Secret? TalkLife app is sort of like that, but not at all as malicious, or dangerous to your mental health. If anything, Talk Life is a great place to go if you want to talk about what's going on, but you'd rather do so in a casual, candid manner. All you have to do is log on, tap out your thoughts, and share.
There are no therapists on this app, though. Anything you post can be seen by whoever is hanging around at the time, and they can like and comment on your posts at will. The most recent update even added stickers.
In my experience, most of the people lurking about are kind and generous with their positive affirmations; I didn't see one critical comment pop up in the three days I was using the app. However, I do have to offer a trigger warning, as there is ample talk of suicide and abuse in the main feed. When you start feeling alright, you can then log on to help others as they need, too. The point of Talk Life is that you're not alone.
What's Up?
What's Up? is a relatively straightforward app with straightforward functionality, but I like it because getting into the habit of launching it when you start to spiral can help you get out of those unproductive patterns.
What's Up? is a free app that offers a few cognitive behavior tools (CBT) and Acceptance Commitment Therapy (ACT) methods to help you get through daily stressors. It offers advice on how to deal with the most common negative thinking patterns, as well as metaphors to help you snap out of your funk. There's also a positive and negative habit tracker, which you can password protect if you feel the need, as well as a catastrophe scale, which helps you determine the true weightiness of the situation at hand. There are even forums if you need a reality check from someone anonymous.
Talkspace
Perhaps you've seen the commercials on television? Like BetterHelp, TalkSpace offers on-demand therapy and counseling from licensed professionals. The service gives you access to your therapist as you need, including the ability to message for help the minute you're feeling overwhelmed. The service starts at $32 a week.
Your choices
Got any suggestions for apps to help with improving mental health? We're all ears!
Sign up for Black Friday email alerts!
Get the hottest deals available in your inbox plus news, reviews, opinion, analysis and more from the Android Central team.
Florence Ion was formerly an editor and columnist at Android Central. She writes about Android-powered devices of all types and explores their usefulness in her everyday life. You can follow her on Twitter or watch her Tuesday nights on All About Android.