Listen to the Greatest Android Podcast in the World on Stitcher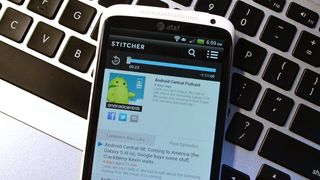 Attention, people of the Internet! You already listed to the Greatest Android Podcast in the World. We know you do, because thousands and thousands of you download it every week. But we're also aware that more than a few of you are into Stitcher as your podcatcher. And that's awesome. Stitcher's an interesting podcatcher because it's compatible with the Chevy MyLink system. (Yes, that's the same one we demoed at GM's test facility last summer.)
And, in fact, so many of you are listening to the show on Stitcher that we're already No. 35 on the new Sticher List for all things technology. (That's right above "Transistors of Yesteryear" and right above "Arduino and Me," for those of you counting at home.) So if you're in the market for a new podcatcher, take a look at Stitcher and let's see how high we can get the show to go. Download links are below.
Download: Stitcher for Android (opens in new tab); Android Central Podcast on Stitcher
Is there any other way of listening than streaming? I lose about 150mbs of data everytime with Stitcher. If you guys know of an iTunes like hub that can download the podcast to my Nexus please let me know!

I have always used Google Listen to play on my phone.

Thats how i listen to my Android Central Podcasts.
Android Central Newsletter
Get the best of Android Central in in your inbox, every day!
Thank you for signing up to Android Central. You will receive a verification email shortly.
There was a problem. Please refresh the page and try again.