Price: $750Bottom line: This isn't the most exciting Android around, but LG is still the only place to get a good wide-angle camera and the best in smartphone audio.
Pros
+

Great all-round performer

+

Dependable all-day battery life

+

A lot of screen in not a lot of space

+

Wide-angle camera continues to impress
Cons
-

Hefty SIM-free price

-

6/128GB model unavailable in the U.S.

-

AI features largely forgettable
Why you can trust Android Central Our expert reviewers spend hours testing and comparing products and services so you can choose the best for you. Find out more about how we test.
The G7 may be a tough sell at its $750 launch price, but there's not much to complain about here. The new LG flagship gets most of the fundamentals right, and offers stand-out features in the form of a Quad DAC-powered headphone jack, and the best wide-angle camera.
LG G7 ThinQ Prelude
Back in January I didn't expect to be reviewing an LG G7 this year. The phone was supposed to be dead, killed off by a change in top-level management at the Korean firm. In the following months, it became clear that LG was instead giving the G7 a final spit-polish before unveiling it to the world.
Who knows what the G7 would've looked like had LG stuck to its original timeline and launched around Mobile World Congress in February. But as for the product we have today, I'm glad LG took its time, and I'm glad it didn't just abandon the G7, as was originally rumored.
This is a decent, competitive phone that deserves to exist. In typical LG style, it's way overpriced at launch.
About this review
We're publishing this review after just over a week with a final, retail-ready LG G7 ThinQ. I (Alex Dobie) have been using an SKT-branded Korean G7 (LG-G710N) with 4GB of RAM and 64GB of storage on the Chunghwa Telecom network in Taipei, Taiwan. The device was running software version 10N.
In the run up to the G7's retail release, I had also been using a pre-production U.S. model G7 running uncertified firmware. This review is based on the final G7, not the pre-production unit. The biggest difference I've noticed going from the early G7 to the production model is a significant bump in battery life.
LG G7 ThinQ Full Review
Externally, the G7 is not a phone that rocks the boat. Design-wise, LG's new handset plays it relatively safe, with an aesthetic combining the characteristics of the V30 and G6 (OK, and maybe a certain other phone as well). It's a far cry from the old, crazy LG, which would flail from leather-backed plastic one year to modular nonsense the next.
LG's newfound design sobriety has been mostly a positive step. The G6 and V30 were both good, solid phones without any serious flaws, and the same applies to the G7. The new problem for LG is how to stand out when it's producing this kind of phone, because absolutely everyone is producing this kind of phone.
LG's answer is to ship an impressive wide-angle camera, a headphone jack powered by a beastly Quad DAC, and a roaring Boombox speaker system. And because this is a ThinQ phone (pronounce it "thin cue," not "think"), there's an Artificial Intelligence angle as well. But you can probably forget about the AI gimmickry, which expands the AI shooting modes first seen in the V30 S and builds out a few tepid predictive features elsewhere in the software.
Image 1 of 4
You'll see the cringey ThinQ brand every time you turn the G7 over, but I've largely ignored it related features in my use of the phone. Instead of getting high on AI, I've been enjoying the G7 because it gives me a small-ish phone with great audio and a wide-angle camera experience I can't get anywhere else.
The size is perfect for one-handed use, and the sharp chamfers and thicker sides make for an easier grip than a similarly-sized Samsung phone. LG's color options are a little dull, but at least there's some variety to be seen in the G7 palette. There are boring black and grey versions, but I've spent most time with the moroccan blue and raspberry rose hues, which add a splash of color while still looking reserved compared to a flame red HTC U12+ or twilight Huawei P20.
The back has a subtle lustrous effect that gives the red G7 an amber-like accent, and introduces hints of green to the blue G7 when it catches the light. The rear of the phone lacks any kind of oleophobic coating, however, which makes it easier to grip at the cost of being a fingerprint magnet. The aluminum side walls have a similar gloss to them, but aren't anywhere near as greasy.
Before we go any further, let's at least acknowledge the presence of a screen notch. Yep, it's there. Nope, as we've established before, the notch isn't a huge deal if it's done right. LG's implementation refers to the display cutout as a "new second screen," which is bizarre, because unlike the V-series namesake you can't actually do anything useful with it. It is possible, however, to black out the background color in LG apps if the irregular shape bothers you. (Unlike Huawei and OnePlus's models, you can't eliminate the notch in all apps.)
Either way, I've come across no major compatibility issues around the notch, and I appreciate the extra vertical space provided by LG's super-tall 19.5:9 panel. This screen is a major improvement upon the G6's LCD in just about every way. It's an RGBW panel, with an extra white subpixel for extra brightness, in addition to the red, green and blue subpixels that all normal LCDs have, for extra brightness. The backlight can go all the way up to 1000 nits in its boosted brightness mode, but weirdly you need to enable this manually, it won't trigger by itself in very bright daylight like it does on Samsung phones.
The rest of the spec sheet is standard 2018 flagship stuff, with a Snapdragon 845 processor plus 4GB of RAM and 64GB of storage in most markets, plus microSD. And it's water resistant too, rated IP68.
Swipe to scroll horizontally
Category
Spec
Operating System
Android 8.0 Oreo
Display
6.1-inch LCD
3120x1440
Gorilla Glass 5
Dolby Vision, HDR10
1,000 nits brightness
Processor
Qualcomm Snapdragon 845
Storage
64GB / 128GB (Plus model)
Expandable
microSD up to 2TB
RAM
4GB / 6GB (Plus model)
Camera (Main)
16MP (IMX351), 1.0µm pixels, ƒ/1.6, OIS
71° lens, Super Bright Mode
Camera (Wide)
16MP (IMX351), 1.0µm pixels, ƒ/1.9
107° lens, fixed focus
Front Camera
8MP, ƒ/1.9
80° lens, fixed focus
Connectivity
Wi-Fi 802.11ac, Bluetooth 5.0 LE, NFC
USB-C 3.1
Audio
32-bit Hi-Fi Quad DAC
Boombox speaker
Headphone jack
Battery
3000mAh
Non-removable
Charging
USB-C
Quick Charge 3.0
Qi wireless
Water resistance
IP68
MIL-STD 810G certified
Security
Rear fingerprint sensor
Face unlock
Dimensions
153.2 x 71.9 x 7.9 mm
Weight
162 grams
Colors
New Moroccan Blue, New Aurora Black
Raspberry Rose, New Platinum Gray
The one thing that might jump out at you is the 3,000mAh battery, which numerically is on the low side compared to the competition. Quick side note: Before getting a final, retail G7, LG gave us a pre-production device to play with, running pre-release software. This preview device had pretty bad battery life, and I didn't expect a huge difference in the retail version. But I was wrong. The production G7 manages fantastic longevity from a relatively small battery. I'd regularly get around 17-18 hours per charge, with 4.5-5 hours of screen-on time. That's more than I reliably get from the Galaxy S9+, and not far off the Pixel 2 XL.
Plus you get Quick Charge 4 support -- though the bundled plug only does Quick Charge 3. For easier opportunistic top-ups, LG, finally, includes Qi wireless charging in all G7 models. Bottom line between the pretty strong battery life and plentiful refill options, is that've never had to worry about battery life on this phone. This is with normal use involving music streaming and photography, not babying the phone.
Image 1 of 2
Many high-end phones boast powerful speakers, but the G7 far exceeds the baseline, bringing features that'll please audiophiles -- as well as the rest of us, who just want our their music to sound great, and our podcasts loud and clear. In short, the G7 is the most audio-centric Android flagship I've used. The fact that there's still a headphone jack at all is noteworthy, but LG also includes its Quad DAC, which we've seen in a few generations of LG phones now, to put more power behind the headphone port.
What's new this time around is that same engineering attention has been given to the G7's built-in speaker system. The new boombox setup is the loudest and best-sounding smartphone speaker I've used, with sound that's full and bassy and not just loud and scratchy like most phones. The magic behind the G7 speaker's legendary audio is that it uses the entire body of the phone has a speaker chamber. At higher volume levels you can really feel the glass back vibrating, which in turn lets you amplify the audio even further if it's sat on any other acoustic structure, like a guitar or a wooden box.
I sometimes take a small Bluetooth speaker with me when I travel for podcasts and the like, but with the G7, I really don't need to. The audio from the main speaker is loud, bassy and clear enough for my needs, and comfortably superior to any competing phone speaker.
For wired audio, the Quad DAC hasn't changed since we last saw it in the V30, but it's worth revisiting briefly. In short, the DAC provides a stronger signal to any headphone or speaker system that's plugged into the phone. Combined with a good set of studio headphones, or even the pretty great set of earbuds LG includes in the box, it's the sort of thing that can ruin you for music on most other phones.
What's more, LG's software provides a wealth of fine-tuning possibilities to get things sounding just right.
The rest of LG's software hasn't been radically changed in this iteration. It looks a little different to the company's 2017 loadout, but if you were hoping for the LG UI to be overhauled, then you'll be disappointed. Mainly we're looking at visual tweaks to make the icons more uniform, as well as some new widgets that look a bit like what you'll find on a Samsung phone.
It's customized, with its own distinctive look, but not too overbearing. Staple LG features return, including KnockOn to quickly wake the device with a double-tap, as well as the reliable face unlock features from the V30. I have no real issues with the aesthetics of LG's software, and while it would've been nice to see Android 8.1 on here as opposed to the older 8.0, it's not the end of the world.
Image 1 of 3
Performance has been fine overall. 4GB of RAM mostly gets the job done, though I would've preferred the extra breathing room that 6GB provides for multitasking. While it wasn't enormously bothersome, it definitely is possible to see apps being bumped out of memory more quickly on a 4GB device like the G6, compared to Samsung and HTC phones with the extra two gigs.
I'm more concerned about a few smaller usability issues I've run into. With a phone this tall, reaching the top to pull down the notification shade can be tricky. Yet the very common swipe-down gesture on the fingerprint scanner, used by many other Android phones, isn't supported. At the same time, LG's mini view one-handed mode is unreliable and clunky, with the swipe gesture sometimes failing to register.
Because this is a ThinQ phone, LG has gone to great lengths to build out AI features in the software. Plus you've got the Smart ThinQ app preloaded for any other LG ThinQ appliances you might own. But outside of the camera, most of the AI stuff is half-baked and uninteresting. The "Smart Bulletin" area to the left of the main home panel is mostly useless, and simple re-frames automation features many of which have been been around the LG G3 in 2014. The things it suggests are rarely useful, and fail to justify its occupation of this premium piece of smartphone real estate.
We do at least have a Google Assistant key, though, which is more useful and less annoying than Samsung's Bixby key -- because it's located further away from the volume rocker, and of course because it launches Google Assistant and not Bixby.
Image 1 of 2
A single tap launches Assistant, or you can hold it down for a walkie-talkie mode. And double-tap launches you into Google Lens. Unfortunately, though, Lens is often slower to launch and more buggy on the G7 than it is on the Pixel 2 XL, despite the faster processor. I've had several instances of Lens either getting bogged down while loading, or loading and failing to activate the camera properly.
The Assistant key isn't a huge deal either way. It's moderately useful, but I don't miss it when I use other phones. While you can disable it, it's annoying that you can't remap it to serve another function, like a dedicated camera key.
The camera setup of the LG G7 is an odd half-step upgrade from last year's V30 cameras. The front camera and wide-angle cameras have both gotten much-needed upgrades, and that's great. The main camera has not, and that's a big competitive disadvantage for this phone.
Around the back the G7 sticks with the same main camera as the V30, a 16-megapixel sensor with 1-micron pixels, behind an f/1.6 lens, with optical stabilization. The wide camera this time is that same 16-megapixel sensor, Sony's IMX 351, behind an f/1.9 lens, but with no OIS. The wide-angle camera has been reduced to 107 degrees though, down from the V30's 120. In my view, though, that's a fair trade-off considering the improvement in image quality from the new wide camera.
Wide camera remains one of the most enjoyable things about using an LG phone, letting you capture dramatic looking scenes that aren't quite like any other smartphone photo. At the same time, I appreciate the much-improved selfie camera of the G7, now an 8-megapixel unit. (Though let's be honest, it wouldn't be hard to raise the bar from the dismal 5MP shooter of the V30.)
On the other hand, the main camera clearly hasn't kept pace with the competition. It's not a bad camera, just a decidedly mediocre one, considering this is a $750 phone. Even with the faster Snapdragon 845 processor, the main shooter can't compete with the likes of the Galaxy S9, Huawei P20 or Pixel 2. Dynamic range isn't as good as these phones, nor is low-light photography, even with LG's new Super Bright Mode.
Super Bright Mode, first seen in the V30 S, uses pixel binning to get a brighter 4-megapixel image out of the 16-megapixel sensor. It's the same technique used to awesome effect in the Huawei P20 Pro, but the difference is Huawei uses a 40MP sensor LG's 16MP doesn't have the resolution to make this work well. The result, often, is a lower-res image that looks OK on a phone screen, but gross and blotchy once you zoom in.
Image 1 of 19
The G7 inherits the V30 S's AI shooting modes, which I've enjoyed more through playing with the neat little word cloud that pops up in use than through the photos it takes. I assume LG's AI is doing something to tune photos according to where I am and what I'm shooting. But more often than not, pics taken in AI CAM mode just look different, and not necessarily better. Plus, scrolling through the many AI-inspired filters that are offered in AI CAM can be confusing and time-consuming.
To top it off, LG's app is also slow switching between the wide camera and the main camera, and the app itself isn't as intuitively designed as rivals, with core features like Pro mode and HDR hidden behind unnecessary layers of menus.
LG has a lot of great camera features here, but I think they need beefier camera hardware to come into their own. I'd like to see what Super Bright Mode could do with a bigger sensor. And I'd love to be able to use the wide-angle camera without being disappointed when I take a low-light shot with the main shooter.
Hopefully upgrades like this will be coming in the V40 later this year, which is rumored to pack a new triple-rear-camera setup
3.5 out of 5
And that leaves us with the question of who should buy a G7 today. This is not really a phone for enthusiasts. At $750 US, this is not a phone that you should pay full retail price for. Instead, the G7 makes most sense as an on-contract buy for someone who just wants a decent, small-ish phone with an emphasis on audio, and some neat camera features to play around with.
I've enjoyed using the G7 and I'm glad LG didn't just cancel it, as was rumored back in January. But personally, I'm willing to wait and see what LG's cooking up for the fall. Maybe the V40 will excite me in ways that the G7 just doesn't quite manage.
But if you value great audio and a fun wide-angle camera, you could do a lot worse than the LG G7.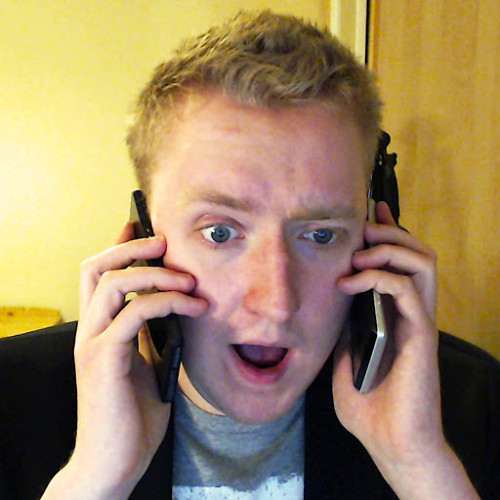 Alex was with Android Central for over a decade, producing written and video content for the site, and served as global Executive Editor from 2016 to 2022.