Lenovo: Watching CES, and the American smartphone market, from the sidelines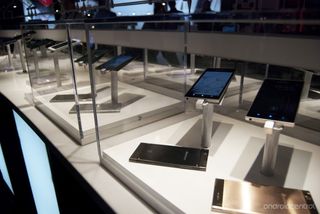 The outside of a glass cube is the closest most Americans will ever get to the stunning Lenovo IdeaPhone K900
Tucked away deep inside the Venetian Hotel and Casino, at the end of an endless maze of slot machines and miles from the show floor at the Las Vegas Convention Center, Lenovo has set up its makeshift CES headquarters. It's a curious choice, as if Lenovo has opted to watch CES from the sidelines-- it's off the beaten path, and the luxurious spread of food and beverages stationed at the door is set up as if to beckon reporters inside to take a look and a bite.
Watching from the sidelines is not a new strategy for Lenovo, particularly when it comes to smartphones-- while the company's laptop line is one of the most successful here in the States, its tablets have found a warmer welcome outside of America. Here, its IdeaTab Android tablets have failed to make the splash that others like the Galaxy line and the Nexus 7 and 10 have easily done. Take for example the IdeaTab S2110, a device that sports a study design, speedy Snapdragon-powered performance, and a unique bundled dock that can charge the tablet from a built-in battery of its own. It's a fantastic product, one of the best convertibles on the market today thanks to Lenovo's extensive knowledge of how to build a laptop, yet most Americans have never heard of it. And Lenovo seems fine with that.
The IdeaTab S2110 is a remarkable convertable tablet that, despite its availability competitive specs, has received little if any marketing here in the States.
It's this hesitancy to make more of a splash here in the States that has single-handedly driven its smartphone strategy. Here at CES, we met one of the most gorgeous, powerful smartphones ever made: the K900. Its 2 GHZ Intel Atom processor, 5.5-inch 1080p display, and industrialized chrome design add up to one of the nicest packages we've seen here in Vegas; inside of the Venetian, it sits beneath a glass cube. This is the closest most American's will ever get to one of the most exciting smartphones of the year-- company reps say that there are no plans to bring the device to the United States.
The K900 is just one of many stellar smartphones made by Lenovo: there's also the IdeaPhone K860 with its quadcore Exynos processor and 5-inch 720p IPS display, and the IdeaPhone P770 with Jelly Bean and a whopping 3,500 mAH battery for 29 hours of usage. These and all of Lenovo's smartphones are limited to a handful of markets, China being the largest, the U.S. not being one of them. According to a representative here at CES, Lenovo's decision to limit itself to China was based on its name recognition there. The rollout to other markets like India, the Philippines, and Vietnam has been slow and cautious. Reps say the company has plans for availability in more than its current six markets, but add that the company has no desire to share these plans.
Lenovo's IdeaPhone line includes some of the nicest smartphones Americans will never be able to buy.
Why the hesitation? It can't be laziness, as a portfolio as robust as Lenovo's takes both effort and dedication. It can't be unfamiliarity with other markets, either, as Lenovo is one of the top laptop brands in the United States. The real reason could be fear-- unsure that it can take on industry leaders like Samsung and Apple, Lenovo has decided to spend the game on the sidelines instead of risking an airball.
That's not only a poor business model, but also a loss for the American consumer. Samsung has seen record profits and millions of units sold, but it is by no means the best hardware on the market today-- in fact, many of the devices on display at Lenovo's showcase make a majority of what has flooded the American market look like toys. Android was created to give consumers a choice, and to spur innovation and competition in the mobile market. As long as the Davids of the industry are afraid to take on the Goliaths, Americans will continue to miss out on innovative, breakthrough products like the K900. And that's too bad.
Android Central Newsletter
Get instant access to breaking news, the hottest reviews, great deals and helpful tips
Or Lenovo may be on the sidelines letting Samsung (and HTC to a lesser extent) take the legal heat from Apple and Microsoft over smartphone patents. Without launching in the US or Europe they are essentially avoiding the lawsuits that happen when your try and sell Android smartphones in those markets and may well end up costing hundreds of millions of dollars. Much better for Lenovo to perfect their phones and dominate the growing markets like those of the BRICS countries whilst their competitors duke it out in the courtroom. Once the dust has settled they can simply pay (or not pay as needed) licenses for any patents and join those markets in a few years. I don't know if this is their plan, but that sounds like a pretty good business plan to me for a truly global business.

Love my job, since I've been bringing in $5600… I sit at home, music playing while I work in front of my new iMac that I got now that I'm making it online(Click on menu Home)
http://goo.gl/dJnsl Happy New Year!

Really? I love my old job that doesnt pay me enough. I have to come to my office to use my work desktop, with no music playing, because the BOBS say no music, so I can browse this website. And I have to work this Sunday, because I didnt finish the TPS reports. You know why? I was to busy wasting my life reading about a phone Ill never have, then got slowed down by this ad for a job that was gratuitously put in front of me for my virtual billboard fix that I wont have enough time to stop and read while Im on the highway stuck in traffic! Thanks for thinking of all us AC readers who will be able to sleep at night, now that we know we can use a mac at home, not worry about money and listen to music while we count it too. Douche

Let's see... China market - over a billion people + name brand recognition and protected by Chinese patient laws. U.S. market - over 300 million + a fight to wade through the sea of crappy Android tablets on sale here and worrying about Apple and Microsoft possibly suing them. I fail to see how this hurts Lenovo.

American media seems to think that if you don't sell to Americans, you're making a huge mistake. It's an arrogant attitude to think the American market is that important in the new global economy.

This isn't American media, this is Android media.
We all cool here.

I've been wanting to say this all the time.

You feel it's arrogant? Well, perhaps you just need to study economics and truly understand this "new" global economy. The U.S.A is a HUGE part of it. Like it or not. Also, it mentioned avoiding European markets as well, guess you overlooked that part.

Every country matters in a global economy. However, America does contribute to a majority of that global economy. American media is American. You answered your own question there.

....or, they could be perusing sites such as this..CNET...Consumer Reports...then, once conversation is up enough, then comes demand, then comes reason to supply! Just a thought.

I like the design of the K900. Great specs and same screen size as Note II, only with a 1080p screen. The software skin though..not a fan. Improve that Lenovo and I will save my quarters one quarter at a time and import your device. As long as it's not made of solid gold and 1500 bucks it looks pretty good.

Can you blame them?? The American smartphone market is the fastest growing of any other market here. It's dominated by two leaders "Apple & Samsung" and there are a slew of other devices that saturate it like Win7 and soon BB10. . . . soooo how could they possibly compete right now. WebOS tried and could barely get it's feet wet. There's no space at the moment.

Or it could be about lack of relationships with US carriers. Maybe they want the carriers to come to them.

Or maybe they're cautious because of what happened to other Chinese companies like ZTE and Huawei.
http://www.reuters.com/article/2012/10/10/us-usa-china-huawei-zte-idUSBR... Whether the spying really happened is another matter. But their names took a beating. Also, who wants to pump lots of money into marketing and the bling-bling in the U.S. to (hopefully) get marketshare percentage in a single digit? U.S. is saturated. The carriers are hard to deal with. Better to sit back and let the money come to you in "easier" markets.

The spying didn't happen. It was fear mongering.

Tons of Lenovo laptop being bought from USA and there haven't been any issues, they bought the Thinkpad brand from IBM.

I would say that as long as the US carriers interferes with the device design, specifications, distribution and retail (exclusivity deals etc) paired with outrageous pricing for both the device itself and the service, Lenovo makes a proper decision to stay away. If they would decide to sell a device here, it would be a mess with different versions etc. A mess for the customer and also the manufacturer. I would rather see an entry outside the carriers, perhaps a team up with prepaid providers or even by establishing own stores selling unlocked Lenovo handsets. CDMA should be avoided completely, just GSM/LTE (sorry Verizon and Sprint). On the other hand, Europe is a place they should enter since the market works properly including the simple fact that ONE device is good for the whole EU. There's no need to change hardware etc for each country or carrier. The pricing is also much more competitive (not stupidity like $299 on contract PLUS $2400 over 24 months, "full retail" $799 that is kept during the whole life of the device). When the market conditions in the US reaches the same state as in Europe, it is time to sell interesting unlocked, unaltered devices here. But before that happens, I am fully supporting manufacturers that skip this market altogether rather than letting the carriers mess with their devices. For those who want a specific device: by unlocked and put it on one of the MVNOs. It works great and saves a lot of money compared to an inferior, carrier branded messed up device. I pay a lot less for my Galaxy Note II N7100 on Straight Talk compared to one of the US branded editions for example.

I purchased a Thinkpad Android tablet when they came out and to be honest it was a piece of junk. It had an extreme lag problem, software updates took forever, there were hardware problems, and overall it was a $600 mistake. Accessories took forever to release and the whole launch was not very good. Hopefully they have improve their QC with the newer equipment but it really hurt the Thinkpad brand when they released a product with so many problems. We run almost all Thinkpad laptops and love them.

I have the IdeaTab S2110 and love it! Got it for $374 new for both the tablet and keyboard dock. Works great and for the price it is awesome. Wish it sold better and have better support/updates.

Lenovo products are of decent quality,probably the best you can get from any made in China.
Android Central Newsletter
Get instant access to breaking news, the hottest reviews, great deals and helpful tips
Thank you for signing up to Android Central. You will receive a verification email shortly.
There was a problem. Please refresh the page and try again.