LEGO Jurassic World roars onto the Google Play Store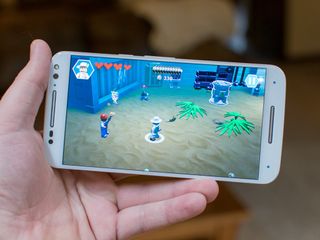 The ever-expanding LEGO franchise has added a new mobile title to its library with Lego Jurassic World. The game puts a classic LEGO twist on the world of last year's box office hit, while also allowing you to play through storylines from the the original Jurassic Park film, along with The Lost World and Jurassic Park III.
This is what you'll get with LEGO Jurassic World:
Relive key moments from all four Jurassic films: An adventure 65 million years in the making - now in classic LEGO brick fun!
Wreak havoc as LEGO dinosaurs: Choose from 20 dinosaurs, including the friendly Triceratops, deadly Raptor, vicious Compy and even the mighty T. rex.
Customize your own dinosaur collection: Collect LEGO amber and experiment with DNA to create completely original dinosaurs, like the Dilophosaurus rex.
Populate and explore Isla Nublar and Isla Sorna: Put your unique dinosaur creations in to paddocks as you complete special Free Play missions.
LEGO Jurassic World is available now on the Google Play Store (opens in new tab).
Does anyone know of there are in-app purchases? Or is this a rare standalone game. I'd be willing to spend $5 on it, if so. Posted via the Android Central App

The app page doesn't say it has in-app purchases, which is a play store requirement if they are present. So I'm going to say it's a rare standalone game.

It does not say it has in app purchases when looking at it on the Google play store so I'm guessing it's truly a stand alone game. Posted via the Android Central App

It says it's compatible with the Nexus Player. I guess this means controller support? Then, yes, I think I will pick this up.

I have this on ps4. It's a lot of fun. Posted via the Android Central App

The game is 1+ GB in size. Is it the same as the console version ? The home systems' version is smart and fun to play.

At that size I would hope it's the full console version.

My guess is that it is based on the 3DS/Vita version which is a scaled down version of the console game (based on the screenshot provided).

La saga LEGO fue la que me hizo enamorar de minecraft ya que pude ver la belleza en un mundo tan cuadrado.
Android Central Newsletter
Thank you for signing up to Android Central. You will receive a verification email shortly.
There was a problem. Please refresh the page and try again.