Keep track of the night with Moon Phase Lunar Watch Face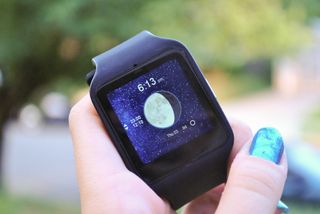 Moon Phase Lunar Watch Face for Android Wear is available now in the Google Play Store. It sports slick illustrations, a digital readout of the time, and-best of all-info about the current phase of the moon. This is definitely a watch face for those nocturnal folks out there, and we've got the details on it below.
The Moon Phase Lunar Watch Face doesn't really come with much in the way of options. It is packed with information, and it does it without ever making your smartwatch seem cluttered. The screen is dominated by an illustration of the moon coinciding with it's current phase. The background changes every so often with different views of a night sky.
Above the moon you'll see a digital readout of the time. It displays in 12 hour format by default, and it is actually your only option for the whole watch face. Yep, your only customization choice is whether you want to view the time in 12 hour or 24 hour format. Underneath the illustration of the moon is the date of either the next full moon, or the next new moon. It depends on which is next. It can be handy, particularly if that's something you like to keep an eye on.
The last chunk of info displayed on the Moon Phase Lunar Watch Face is displayed on the left side of the screen. It gives you two sets of numbers which, correspond to the Moonrise and Moonset. The lack of customization options can be a bit of a bummer, but it isn't a huge detraction overall. Really the one thing they might want to consider adding in are weather options, or the ability to manually adjust the background.
The Moon Phase Lunar Watch Face is well designed, and gives you access to info you might not be used to seeing. It's done well though, from the design to the information that is displayed for you. You don't lose any info at all when your Android Wear device kicks into ambient mode either, it's all displayed for you — and that includes an alternate illustration of the current moon phase. While the lack of customization options will be frustrating to some, it really isn't a huge loss overall.
Available in the Google Play Store for $0.99 it's an interesting choice to add to your repetoire. If you spend much time outdoors knowing what kind of lighting you'll be dealing with, or when Moonrise or Moonset will occur can be really handy. It really is done quite well, and it can set you apart from the watch faces we see so often. It's definitely worth taking a look.
Sign up for Black Friday email alerts!
Get the hottest deals available in your inbox plus news, reviews, opinion, analysis and more from the Android Central team.
Jen is a staff writer who spends her time researching the products you didn't know you needed. She's also a fantasy novelist and has a serious Civ VI addiction. You can follow her on Twitter.