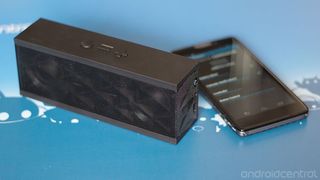 The Jawbone Jambox is a popular stand-alone Bluetooth speaker with sharp style, heavy bass, and relatively rich app environment. Audio from the jawbone Jambox is pretty solid, and especially heavy on the bass. I didn't have any issues with distortion, even at higher volumes, The lack of hardware playback controls, like pause and play, is a pretty serious downer. The Big Jambox has the full selection of hardware buttons, but costs an extra hundred bucks.
Need more? We got more. Read on!
The Jawbone Jambox lists 10 hours of playtime thanks to its internal battery, which lines up with my experience. Charging doesn't take long over microUSB, especially if you have a spare charger with high voltage. The Jambox can also be used for phone calls thanks to the built-in microphone. Voice dialing is activated by holding down the circular button on top, redialling the last number can be done by double tapping it, and hang-up/pick-up through single presses. The Jambox can also prove useful for music devices without Bluetooth, thanks to the 3.5 mm audio in jack. The switch on the side is used to power up, power down, pair, and indicate battery life and other status information through a tiny light right around it.
The Jawbone Jambox can also pair up to two devices simultaneously, so that one can be used for phone calls, and another for streaming music. That's handy stuff if you're stashing your tunes on a tablet. The software side of the Jawbone Jambox is far more rich than you would expect based on previous experience with Bluetooth accessories. The free Jawbone companion app on the device provides a battery meter in the notification tray, toggles for audio calendar notifications, LiveAudio 3D sound, and options for changing what a single button press on the talk button does.
There's also a whole web-based suite of options for loading up custom and updated software to the Jambox. This involves having a desktop app installed in addition to logging into the MyTalk website, but once there, you can install new voice and language packs, as well as a small handful of apps that open up new options for the Jambox's talk button. It's too bad that the selection isn't a bit better, because there's a lot of potential for a system like this (though a limited market for app developers to bother catering to).
The number of color and speaker grill options are truly boggling. Check out the Jambox remix web tool to get a taste. Besides that, the overall layout of sharp, simplistic lines make for a very modern-looking device. Of course, that's only a good thing if you're particularly interested in making bold fashion statements with your gadgets; those that aren't may appreciate something with a traditional design. The only real time the style gets in the way is when you use the included protective sleeve. The Jambox is really hard to pull out from it, the flaps on either side aren't particularly secure, and the cushioning doesn't protect from much more than scratches.
Here are a few miscellaneous specifications if you're looking for some of the technical nitty-gritty.
BATTERY LIFE About 8 hours (varies by volume level and audio content)
POWER 2W x 2 <0.1%THD
OUTPUT 85dB @ 0.5m
FREQUENCY 60Hz - 20kHz
AC ADAPTER 5V 550mA Max 2.5W
DIMENSIONS 151mm x 57mm x 40mm
WEIGHT 347g (12oz)
BLUETOOTH RANGE 33ft (10m)
Bottom line
If you're looking for a portable and stylish Bluetooth speaker, it's hard to go wrong with the Jambox. The app support for something like this is really impressive, and adds a ton of functionality to a prodyct that would otherwise just be a dumb audio output. The only real downside is that the pricetag might be a little steep for something so small.
The Jawbone Jambox is available in the ShopAndroid store for $199.
Android Central Newsletter
Get instant access to breaking news, the hottest reviews, great deals and helpful tips
Simon has been covering mobile since before the first iPhone came out. After producing news articles, podcasts, review videos, and everything in between, he's now helping industry partners get the word about their latest products. Get in touch with him at simon@futurenet.com.
I've been eyeing one for a while. I just can't justify spending that much money on a speaker that's sole purpose is connecting to my phone.

I purchased my Jambox from Sprint back in Aug. I was looking into getting one for a while, but just couldn't justify paying the price. Well things changed with the purchase of my EVO LTE. The speaker is weak (weaker than the OG EVO), so I went on ahead with the purchase. This was only after Sprint was having a back to school sale (online). The Corp Store near my job agreed to match the discounted online price, and I didn't have to pay for shipping b/c it was delivered to the store. Love my Jambox! I don't regret the purchase at all. I should've made this purchase sooner. I've never had issues with it connecting to my phone. I was shocked at the power of the 'little' speaker. I sure didn't expect such a big sound to come from so small a device. I recommend it (for the right price)!

Have used this speaker before. Yeah, it's a bit pricey, but it is a great speaker. The sound from such a small box is really great.

IMO Jambox is junk. we bought one and had to return it. volume is VERY VERY VERY low and sound quality is not great. the big issue was the volume. the max volume was unacceptable because it was WEAK. before you buy the Jambox - do yourself a favor and go test out a Bose Soundlink. yes it's a little bit more money but so worth it. the clarity and volume of the Soundlink blow the Jambox out of the water. https://www.androidcentral.com/e?link=https2F2Fcli...

This is yet another perfect example of why "customer reviews" are practically worthless. Of course they have to instantly blame the device, because obviously they're incapable of doing anything wrong whatsoever, even though they obviously have no idea what in the hell they're talking about. I'd be willing to bet the farm and everything with it, that this clown didn't even realize that his media volume was set to low, so when they pressed the volume up button on the phone they also didn't realize that they were only controlling the RINGER volume, which had absolutely nothing to do with increasing the volume of the media being played through the Jambox! So they sat there cranking the ringer volume up, and then managed to come up with the conclusion that the Jambox has "weak" sound. If that is not what happened which subsequently led this person to believe the Jambox is "weak", then there are literally only 3 other possible explanations...1) They had a defective unit, which apparently to them means that the entire company and product is junk, even if 1 unit produced out of a million is defective. 2) They are losing their hearing yet they are in total denial about it. 3) They actually expect a 4 inch high speaker to be loud enough to fill an entire stadium with sound, meaning they are literally that stupid. This is what you get with "customer reviews", and it's exactly why they are so unbelievably pointless. Every single person who has listened to my Jambox, have said they cannot believe the level and quality of sound that it produces, and I am still amazed by it every time I use it. Don't listen to me though, because according to captain amazing here we're all just hearing things, or I guess we all just have really low expectations!

Bose speakers are not worth the money, ever. I bought a nice Logitech bluetooth speaker box for $149 last week.. No complaints so far.. Bigger than the Jambox, but cheaper and probably much louder. And has a nice battery life.

I love my Jambox. I actually returned the Bose SoundLink to purchase this as battery life was a lot better. Now I'm thinking of getting the Big Jambox, hhmmm...

The Jambox is great. I gave mine to my mom and bought the Big Jambox. It sounds much better than Bose or the new JBL's. It isn't just for your phone. It comes with an Aux cable. If you use BT, be sure to follow their reccomendation of having the volume on your phone all the way up and control the volume from the Jambox. This maximizes the quality over BT. Love it!

I've had a Jambox for 2 years now, hard to justify the price for some, but I love it. Worth the price for me, interested in the XL version. Worked beautifully with my iPhone/iPad also works well with my SG3!

I have a Big Jambox. Sounds nice, as long as you go in understanding that all of that sound is coming from a tiny box, so it sounds a bit 'constrained', especially if you're not standing at ear-level with it. Also, one caveat is that you can't game on Android while using this or any other bluetooth device, because there's at least a 1-second delay. Not sure if this is an Android thing or a bluetooth thing . ... vs the Bose Soundlink:
This will come down to a personal preference. The Bose is more 'boomy' and probably works better outside, while the Big Jambox has better mids and highs. Probably not fair to compare the Bose to the little Jambox, since the Bose is $100 more.

Picked up the big jambox and the sound quality was amazing and LOUD. Had it out of the deck for a party and the cops showed up because neighbors complained about how loud it was. I didnt even have it turned up all the way.

The Jambox is perfect for a small, portable speaker. Great for listening to music on your own our with a couple friends. Amazing device. If you want huge party levels of sound, get the big Jambox. The Big Jambox blows the Bose out of the water.

FYI they do offer refurbs on their site for $130ish. I bought one and it sounds great and comes with the same warranty as a new box.

Really Simon are you insane? Your suggestion: "Charging doesn't take long over microUSB, especially if you have a spare charger with high voltage."! What voltage do you suggest as high? 9volts, 12volts, 24volts, 120volts or more? AC or DC. Let me know how many lawsuits you caused. Perhaps you meant miliamps or amps? Mac
Android Central Newsletter
Get instant access to breaking news, the hottest reviews, great deals and helpful tips
Thank you for signing up to Android Central. You will receive a verification email shortly.
There was a problem. Please refresh the page and try again.