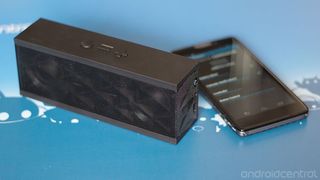 The Jawbone Jambox is a popular stand-alone Bluetooth speaker with sharp style, heavy bass, and relatively rich app environment. Audio from the jawbone Jambox is pretty solid, and especially heavy on the bass. I didn't have any issues with distortion, even at higher volumes, The lack of hardware playback controls, like pause and play, is a pretty serious downer. The Big Jambox has the full selection of hardware buttons, but costs an extra hundred bucks.
Need more? We got more. Read on!
The Jawbone Jambox lists 10 hours of playtime thanks to its internal battery, which lines up with my experience. Charging doesn't take long over microUSB, especially if you have a spare charger with high voltage. The Jambox can also be used for phone calls thanks to the built-in microphone. Voice dialing is activated by holding down the circular button on top, redialling the last number can be done by double tapping it, and hang-up/pick-up through single presses. The Jambox can also prove useful for music devices without Bluetooth, thanks to the 3.5 mm audio in jack. The switch on the side is used to power up, power down, pair, and indicate battery life and other status information through a tiny light right around it.
The Jawbone Jambox can also pair up to two devices simultaneously, so that one can be used for phone calls, and another for streaming music. That's handy stuff if you're stashing your tunes on a tablet. The software side of the Jawbone Jambox is far more rich than you would expect based on previous experience with Bluetooth accessories. The free Jawbone companion app on the device provides a battery meter in the notification tray, toggles for audio calendar notifications, LiveAudio 3D sound, and options for changing what a single button press on the talk button does.
There's also a whole web-based suite of options for loading up custom and updated software to the Jambox. This involves having a desktop app installed in addition to logging into the MyTalk website, but once there, you can install new voice and language packs, as well as a small handful of apps that open up new options for the Jambox's talk button. It's too bad that the selection isn't a bit better, because there's a lot of potential for a system like this (though a limited market for app developers to bother catering to).
The number of color and speaker grill options are truly boggling. Check out the Jambox remix web tool to get a taste. Besides that, the overall layout of sharp, simplistic lines make for a very modern-looking device. Of course, that's only a good thing if you're particularly interested in making bold fashion statements with your gadgets; those that aren't may appreciate something with a traditional design. The only real time the style gets in the way is when you use the included protective sleeve. The Jambox is really hard to pull out from it, the flaps on either side aren't particularly secure, and the cushioning doesn't protect from much more than scratches.
Here are a few miscellaneous specifications if you're looking for some of the technical nitty-gritty.
BATTERY LIFE About 8 hours (varies by volume level and audio content)
POWER 2W x 2 <0.1%THD
OUTPUT 85dB @ 0.5m
FREQUENCY 60Hz - 20kHz
AC ADAPTER 5V 550mA Max 2.5W
DIMENSIONS 151mm x 57mm x 40mm
WEIGHT 347g (12oz)
BLUETOOTH RANGE 33ft (10m)
Bottom line
If you're looking for a portable and stylish Bluetooth speaker, it's hard to go wrong with the Jambox. The app support for something like this is really impressive, and adds a ton of functionality to a prodyct that would otherwise just be a dumb audio output. The only real downside is that the pricetag might be a little steep for something so small.
The Jawbone Jambox is available in the ShopAndroid store for $199.
Sign up for Black Friday email alerts!
Get the hottest deals available in your inbox plus news, reviews, opinion, analysis and more from the Android Central team.
Simon has been covering mobile since before the first iPhone came out. After producing news articles, podcasts, review videos, and everything in between, he's now helping industry partners get the word about their latest products. Get in touch with him at simon@futurenet.com.