It's complicated: Why watch faces suck on the Galaxy Watch 4 right now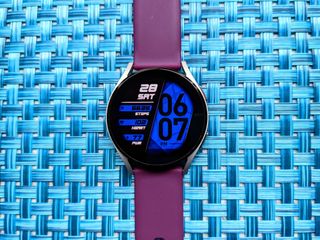 (Image credit: Ara Wagoner / Android Central)
After waiting and waiting and waiting, my Galaxy Watch 4 is finally on my wrist! I've been breaking it in over the last 48 hours, finding the cracks and crannies where problems are sneaking through that squeaky clean look Samsung showed off at Unpacked.
Most of my grievances are the usual stumbling blocks of a new generation — the senseless lack of Google Assistant, notifications still take too many taps, and the lack of non-Samsung tiles — but the most irksome problem smacks me in the face every time I lift the watch to my eye line. Watch faces on Wear OS have long been diverse and customizable, but once you step outside Samsung's curated collection, you're going to find plentiful frustrations.
Actually, even with Samsung's watch faces, there are frustrations.
Now, don't get me wrong, Samsung actually makes some pretty great watch faces. I'm fond of the My Photo+ face, which allows you to set a picture, clock style, and then up to four Complications, but our own Chris Wedel and Tshaka Armstrong prefer Digital Dashboard with its distinct color palettes and five Complications. Samsung's watch faces you edit in the Galaxy Wearable app; long-pressing the face and tapping "Customize" does nothing on my Galaxy Watch 4, doesn't even open the customization page in the companion app. Customizing the watch face on a larger screen makes the process easier, but it also means when your phone isn't nearby, you can't change anything about your watch face.
Most watch faces allow you to pick from a variety of color styles, then set each Complication from the list. There's just one problem: You can't choose from the full complication list. While some general Complications are there, you're still missing popular options like App Shortcuts, Google Pay, and third-party Complications. Even worse, most of the Google-based Complications you can use are glorified shortcuts: you can't set it to show a specific Google Fit goal or stat, it'll just show the name and open the app when you tap it.
Even with these... complications, the experience with Samsung's watch faces is much better than the Complications SNAFU 3rd party watch faces face right now. You cannot customize third-party faces in the Galaxy Wearable app, and some of the complications are just broken.
Some of this is quite likely due to the fact that most watch faces aren't updated for the Wear OS 3 platform yet — and they're designed to interface with Google Fit rather than Samsung Health — but it's a frustration that could've been solved had Google and Samsung collaborated better with each other and with developers to ensure that more watch faces would work at launch.
Nevertheless, heart rate is broken on pretty much any non-Samsung watch face; some faces will show no data while others will show a BPM that's inaccurate or current regardless of the update interval you have in Samsung Health. I finally took the plunge into Facer during my search for a watch face that worked, but I was eventually forced back to the Samsung faces because of the slow, inaccurate heart rate in any complicated face. (Most Facer faces work quite well outside health functions, and I was very pleased with the animated Star Wars face I stumbled across.)
Broken or missing Complications were even more of a problem on my favorite Wear 2.0 watch face and one highlighted by Google itself in Wear's Watch Faces section (opens in new tab): Looks Watch Faces for Wear OS by Google, by utswo Studios. From my Moto 360 days up until the Fossil Gen 5e I sported this spring, the Quoti watch face remained my steadfast favorite because I could set album art as the background and then the current song info in the complication for a wonderful watch face for music addicts like myself.
Quoti was one of the first face packs I installed on my Watch 4, and once I got Quoti set, I went to Customize it as per my usual. There were two problems: there were no Background options at all anymore, and even the Media controller Complication only works half the time. Well, it'll show the song title if you set the version with one wide complication, but tapping it may or may not pause the music, now will it open the media controller; instead, you'll have to tap that ridiculously tiny music note bobbing at the bottom of the face. Also, heart rate didn't work at all, and the step count only updated every 10 minutes or so.
Looks Watch Faces (opens in new tab) hasn't been updated since 2017, so I don't necessarily blame the watch face itself (though seriously, utswo, get on it), but I do blame Google for presenting an old, half-broken watch face collection front and center to users who are new to Wear OS. It's one users are more likely to try given that it's one of the few actually, 100% free watch face packs out there. Google needs to be paying more attention when trying to show that Wear OS has actually straightened up and finally gotten its shit together this time.
Even many watch faces that have been updated this month to support Wear OS 3 are seeing Complication issues in regards to health data, though. Unfortunately, that means this could very well be a bug we'll need to wait for Samsung and Google to patch.
For now, I'm okay with sticking to Facer and Samsung watch faces while I wait for this to be resolved, because the Galaxy Watch 4 is the fastest, smoothest smartwatch I've ever used, and 100% worthy of its title as the best Android smartwatch. It's so nice to tap an app icon and have it appear in a second rather than almost timing out the screen while it tries to load and render. I'm not a fan of the BIA analysis (Jerry's right, it's way too easy to sway with just a glass or two of water before a reading), but having the Sleep graph actually on my wrist rather than having to dig out my phone is nice, especially as I grapple with sleep scores in the 40-60 range most nights.
Off to New York this week for the Qualcomm Sound event; it'll be both my first actual press event and my first time in NYC in about 14 years. Wish me luck and tweet me your NYC pizza recommendations!
— Ara
Get the Android Central Newsletter
Instant access to breaking news, the hottest reviews, great deals and helpful tips.
Ara Wagoner was a staff writer at Android Central. She themes phones and pokes YouTube Music with a stick. When she's not writing about cases, Chromebooks, or customization, she's wandering around Walt Disney World. If you see her without headphones, RUN. You can follow her on Twitter at @arawagco.
Thanks for the heads up. I was not a fan of most of the watch 3 faces. Any improvement here will be much appreciated.

Why do I get the feeling that no one, literally no one, used Android Wear before the GW4 launched? I mean, seriously, Samsung was strong-armed with illegal antitrust by Google to revive a dead ecosystem. I seriously hope Samsung is getting paid a decent two figure billion dollar amount in compensation for this.

I've not seen any suggestion elsewhere that anything untoward happened to make Samsung drop tizen.

That is the power of antitrust. It looks fine. The only thing Google has to do is make sure everyone is fully aware they'll never support it. A comparison, you can get Google apps on Windows 10, because that's an ecosystem so much bigger than theirs, so the kiss of death would work the wrong way there. You can get Google apps on Apple Watch, because of the same.

Your perception would be incorrect. There were between 10 and 50 million Wear OS application installations as of 2018, and I know they were not all me 😉
I've been a happy user myself for 3 years, and I'm very happy with my Ticwatch Pro 3 GPS, it's snappy performance, and seemingly endless collection of watch faces that, you know, work?

Strange, I can customise complications on my watch. Though it is the 46mm classic.

I returned my Galaxy watch 4 classic and went back to my old Galaxy watch. I'll wait for the ecosystem to mature and try again. Best $40 restocking fee I ever paid T-Mobile. Very disappointed

T-Mobile charges a restocking fee? Weak.

Guess the Ticwatch 3 is the way to go. By the time it gets its WearOS 3 update everything should be ironed out.

I don't think the watch was ready for release as it is way to buggy. I think it will be a great watch after some time.

The watch faces works without a problem on my Watch 4 . I have no problems customizing them directly on my watch or via the Wearables app on my phone.

Agree, this is probably the most frustrating thing about the watch. I have been searching, trying to find a watch I like and every single one of them have issues unless it's the core Samsung faces. Either the hearbeat is way off, the number of steps is not even close, the weather is inaccurate or complications don't work, in most cases all of the above. I've just resigned myself to using either a samsung face or using a free Facer face I designed that doesn't have complications active.
I never used a Galaxy or Wear watch before (only fitbit) so while the complications are a really nice feature, I'm not used to them, so it's not a big loss at this time. But I'm really hoping that this gets fixed for third-party faces as there are so many out there with a lot of potential.
Other issues I have with the watch: 1) Can't stand the app "drawer" when you slide up. No way to hide/remove apps you don't use or group them or anything. Just one long, long list of app tiles. Very annoying; 2) Battery life, while it will last me through the day, it definitely won't come anywhere near 40 hours. Granted I may have been playing with it a lot more than I might in a normal day-in-the-life once the initial newness wears off, but right now it is using about 65% in my ~18 hour day. That's with Always On turned off, picking it up around 6 or so and putting it on the charger around 11 pm.; 3). Definitely need Google Assistant
Oh and if you have one, go download Gboard. Much better options in typing and choosing Google as the voice dictation. This will help me so much. After setting up my watch (before installing Gboard, thus using Samsung's voice to text) I was texting with my wife about ordering something for dinner and she asked what she had ordered the last time. I used voice dictation to tell her, "You ordered the baked potato". When I clicked the Send button, I realized what sent was, "You are the big potato". Needless to say, I had some 'splaining' to do with my wife...

You don't even have to download Gboard to do that. You can set Google Speech as your speech-to-text engine in the settings menu. I agree with the rest, though, I think I spent about 12 hours between Friday and Saturday trying to find watch faces that could do it all and do it accurately... and nope, none of them could. The watch itself is still quite fast and I enjoy wearing it very much, but watch faces are important and they be buggy AF right now.

I just got my watch 4 classic today, and was somewhat surprised at the poor selection of watch faces. I had so many watch faces for my GW3. Worse yet, the bands I had for my GW3 dont fit the 4 classic-- the connection point for the band is a few millimeters smaller!!!! Glad I hadn't bought a lot of bands.

Yeah, a lof of 46MM Watch 3 owners weren't happy, but at least now it seems 20mm will be the standard for all sizes going forward. I bought a 10-color silicone sport strap pack for like $15, it's serving me quite well.

Search MD or AWF. 2 of the top devs for Samsung faces and they already have several on Wear OS and most stuff works great and they have been doing almost daily updates to add color options and being able to set shortcuts and such within Wear OS. Using Tizen for years it literally will just be a few weeks and you will see some excellent development of faces that blows anything Wear OS has had away. Trust me I'm not a Smsung guy and im not here to promote anyone specifically but I can see where it's going.

He's, Matteo Dini has some great faces out, though he told me via email that the current development tool to make faces is lacking the ability to add Distance, floors count and calorie count and the HR data can only be updated every 30inutes, which makes it useless. Facer has nice faces but the steps are way off. I won't lie, I was about to return the watch after using it for 2 days. It's super irritating that they couldn't iron out something as simple as watch faces before release. I had tons of watch faces on my GW3 that I loved. Oh yeah, and what were they thinking switching the oder of the buttons? Now the home button is on top and back is on the bottom instead of the opposite on their previous watches. Not a huge deal, it's just irritating. The fact that they made the bands have 20mm lugs instead of 22mm like all the previous large watches is super annoying. I have so many bands and now I can't use any of them. I've decided that I am going to stick it out and keep this watch and hope they iron things out quickly. I love being able to use Google messages and Google Maps. The watch is super fast and snappy too. I think it will be awesome once they get things squared away.

"HR data can only be updated every 30inutes, which makes it useless" I'm sorry, WHAT?! The button swapping takes some getting used to, but I swapped between my Watch Active and Wear OS watches for review so I adapted pretty quickly. Thank god it was easy to remap the long-press and double-click shortcuts for the home button so I don't have to look at Bixby. On the bands, I get the frustration. I have more 22mm straps than 20mm because most of the Wear OS watches I used before took those (and the in-box straps almost never fit me), but at least now it's standardized across all sizes of GW4/Classic and hopefully, it'll stick to that standard size going forward. Yeah, this watch is snappy and it does 90% of what it's supposed to right now. Now I just need Google Assistant to come, watch faces to be fixed, and for Google Pay to support metro cards and other such passes so I can put my WDW AP in my watch rather than having to pull out my phone whenever I need it.

Yeah the HR data can only be updated every 30 minutes in the faces Matteo Dini has created in the software. Some of the stock ones are able to update in real time. I was just relaying what he told me via email I agree, the watch does a lot of great things and it's almost there. Just have to wait for a few bugs to be ironed out. Hopefully they will be addressed quickly.

only reason i can see for a wear os over a garmin would be LTE and offline music from spotify. other than that i like not having to charge my watch but once a week and i can solar charge it if needed.

Yeah I'm a runner and I'm anxiously waiting for the Fenix 7 whenever it drops.

Hey, I use Facer. They have a ton of watch faces and I found several good ones. I subscribed for one year, $19.99, and all the watch faces are free. You can't beat that!!!

Haven't you found that the steps count is way off? If I select a Facer watch face now, it is over 2,000 fewer steps than what I have in Samsung Health and any other watch face I use. I agree Facer is awesome but until that is fixed and it pulls data from Samsung Health or at least allows me to configure it, I won't use those faces. Bummer because I already paid for add free before I realized this bug. Hopefully it will get sorted quickly

No problem with the watch faces on GW4. No lag no issues.

I'm not sure why so many are having problems. I came from an Apple Watch Series 5 to a Galaxy Watch 4 Classic (with new Samsung S21 phone) and couldn't be happier. Went with Marine Commander watch face and everything is working as expected. Complications are showing accurate data that lines up with the health app, weather is matching an on premise weather station, and the battery meters for watch and phone are right on. Always on display looking great. Maybe I'm lucky, but so far this has been a great experience, especially comparing direct with Apple Watch and iPhone combo. In fact I'm tempted to go grab some galaxy buds just to complete the combo.

I use the Android Wear app Watchmaker. Does this work on the Galaxy Watch 4?