Hulu gives up on Daydream VR, removes support with latest update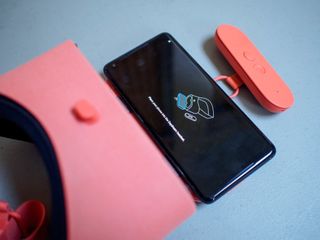 What you need to know
Hulu has removed Daydream support with version 3.55 of its app.
Daydream users can still use the older 3.54.1 version of the Hulu app for now.
Google also removed support for Daydream for its own Play Movies app back in June.
Recently, Google's Daydream VR has been slowly fading into the background. You rarely hear of new games of services adding support for the virtual reality platform these days. In fact, more often than not, you're hearing the opposite.
Such is the case today, as Hulu revealed it dropped support for Daydream VR starting with version 3.55. That's bad news for those of you who used Daydream VR with Hulu, which I'm guessing isn't that many or else it wouldn't have been nixed. However, Hulu's support page (opens in new tab) notes that Daydream is still supported in older versions of the app.
With that said, it's likely that support will end at some point. With the nature of DRM and streaming services, it is not uncommon for older apps to eventually lose access and require you to update the app.
Back in 2016, Hulu was one of the original Daydream VR launch partners. It allowed you to watch movies and TV shows in a virtual theater, and it even offered a small selection of 360-degree content to enjoy.
Unfortunately, time doesn't appear to have been kind to Daydream VR, as even Google has removed support for its own Play Movies app back in June. It also didn't see fit to add support for Daydream to its new highly successful mid-range phones, the Pixel 3a and 3a XL.
While Google hasn't killed off Daydream just yet, it wouldn't be unlike the company to put an end to a product or service, especially after apps start ending support for the platform. Those of you more serious about virtual reality are probably already using standalone units like the Oculus Go anyways, which is affordable and also has a Hulu app.
Virtual Reality
(opens in new tab)
Oculus Go
Affordable VR that works with Hulu.
The Oculus Go is one of the most polished and easiest standalone VR units available on the market. What makes it even better is the very reasonable $199 price. Now, you don't have to spend a ton of cash or fiddle with your phone to have an affordable way to enjoy virtual reality.
Really looks like this is the start of the end for VR

It's really just the end of Daydream VR. Ford dropping normal cars does not mean everyone else is.
Oculus is doing well, Google Cardboard is fine and I use it quite a bit with my three different headsets, and HTC is making millions with Vive VR. Their new Cosmos VR is the highest resolution VR to date and has 110 degree FOV and a 90Hz refresh rate. It's generating lots of interest elsewhere, even if Android Central is silent on it.

I wish I could say that the comment is based of of experience, but it isn't. I understand the desire to have people I teract with media and implement an experience unlike the norm. Hoever, VR devices are cool and have practical uses, for those into it. I think it falls short for most people, because it may be possible that many people don't want something strapped to their head to enjoy VR. Not to mention, it limits the experience for most, because you may want to enjoy that movie or show with family and friends. Despite the "reasonable" costs of device like the Occulus VR devices, they are still too expensive for most people to want to buy multiple devices to have family and friends enjoy shows and movies with. Watching media content is much more friendly towards group watching, when needed than say, gaming. Gaming is a bit different, because gaming has gotten to a point where you don't need split screen to enjoy with with other people. While true, an individual gamer can enjoy a game through VR, but it doesn't, IMHO, have the same ability to appear rude or disconnected from the group. No on knows how you're playing the game, unless you tell them and everyone just enjoys playing the game. Watching a movie together, I would imagine, may induce a different feeling of inclusiveness while watching with others.

VR has been a dead man walking in the consumer world since almost day one. It will go the way of 3D TV in the not too far away future.
Android Central Newsletter
Get the best of Android Central in in your inbox, every day!
Thank you for signing up to Android Central. You will receive a verification email shortly.
There was a problem. Please refresh the page and try again.