How to auto-reject phone calls on the LG G3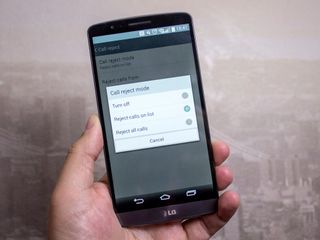 Whether you're trying to reject all phone calls or just selected numbers, on the LG G3 it's a simple process to achieve your desired results. We've already looked at how to reject an incoming call with a custom message to the caller, now let's take it a little further by telling the phone to auto-reject based on certain parameters.
First things first you need to navigate your way to the necessary menu:
Head into "Settings"
Scroll down until you see "Call"
You're looking for "Call reject," so hit that and you're in the right place
You'll be presented with two options; "Call reject mode" and "Reject calls from."
Call reject mode: Three options to choose from, turn it off completely, reject calls on list or reject all calls. The second option will tie in with the below while the third option is what you should choose if you don't want to be bothered by anyone.
Reject calls from: Here you can add numbers that you want to auto-reject either from your contacts, your recent call logs or just by manually entering a number. If you want to reject all calls from private numbers tick the checkbox at the top of the screen.
And that's all there is to it. With the combination of options above you can tailor just who you want your G3 to auto-reject.
For more, see our LG G3 help page, and swing by our G3 forums!
I know all Android phones have this feature, but for some reason LG decided to give you a notification when it rejects the call. I cant find a setting to turn that off either. VERY annoying.

My Galaxy Note 2 also pops up a notification. Currently I'm trying to avoid some drama with the ex....and it's nice to know when/how many times she's attempted to call me. Especially when I file for that PFT.

Is this for gsm-only phones? I cannot find that setting at all.

I can't find this setting on the Verizon G3.

Me neither and I'm on Verizon. Posted with my LG G3.

Also can't find this on the Verizon G3 Posted via Android Central App

I have been looking to do this and now I feel like a total noob. Thanks for this.

I'm I the only who's "Reject Calls on List" doesn't work?
It was also the same story on my G2:;could never get that option to work. Even after a reboot. The only way to block calls was to reject all calls. I love how it tells you who tried to call though.
I have the T-Mobile G3.

G2 has this, but they must be a contact and it still gives you a notification in the bar when they call.

its crazy that AVAST will not work on the LG Phones :/

Verizon G3 user here. There is no call reject mode in my call settings. This is lame! My old SGS3 had This for calls AND texts! 2 years newer phone and no call block feature, wtf? I mean other than that it's a great phone but that still sucks.

Hey. I think this might be a Verizon issue. They have a paid service you can use that blocks calls (or at least they did before I left them last year) and if they still have it it might be something they had removed from their model G3 to push people to pay for call blocking. Not sure but is a guess.

THERE IS NO 'CALL REJECT' on US Cellular version of LG G3 nor is there a place to block text messages!! When you write 'how to' articles like this take into consideration all versions instead of only yours.

Do your own research! The person posted directives that work for him--very nice of him to share. If it doesn't work for you--MOVE ON! You sound like a block-headed idiot.

If anyone sounds like a block-headed moron Leatha YOU DO. When you post an article like this WITHOUT specifying certain vital information you're implying it pertains to all versions. Technically Lisa is correct in her judgement of this article and has every right to be critical. Much misinformation exists on the web and this is largely existent because of people like yourself ASSUMING data without confirmation or analysis. Then to top it all off you label a person for offering a sound opinion. That is real professional but characteristic of what I've witnessed thus far on this site.

Settings/call/call reject/reject calla from...(pick from contacts or add #)

Thanks for the advice!! :) I never knew that I could add the caller and click on the three dots to get an option to place all the calls to go to my voicemail!! :) I just did that with all the harassing callers!! :) Hehe Now, I hope I will not get anymore harassing calls from them again!!

How do l use the auto reject mode on LGG3 phone. The gsm section is greyed out?

Hello! The option of denying any call is off in my Lg g3 but still it disconnects any call from a private number immediately ( at the phone that calling its written that the line is busy)
Can you help me please?
Thank you so much
Marina

I was first hoping that I could've added a number to the rejection list directly from the recent calls log, but there doesn't seem to be an option for that. I'm happy I found this way. Thank you! So far it has worked perfectly.
Android Central Newsletter
Get the best of Android Central in in your inbox, every day!
Thank you for signing up to Android Central. You will receive a verification email shortly.
There was a problem. Please refresh the page and try again.