Honda put Android in its new Civic, but it could have done so much better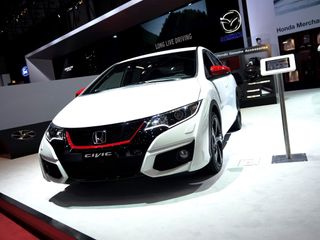 After the fun and games of Mobile World Congress, Europe played host to another huge event, this time for the auto industry. The Geneva Motor Show is where the world's biggest car makers go every March to show off the latest and greatest that four wheels has to offer. Like Honda, with the new Civic. And it's got Android inside, don't you know.
The news isn't new, Honda actually announced it some time ago. Honda Connect is its name and it's got NVIDIA Tegra power behind it. But now we've had time to actually see the car and play around with the tech. And when Honda said it was using Android, it wasn't lying. Because its entire in-car entertainment system is built on Android. Exciting stuff, yes?
Well, perhaps not so much.
Where using Android Auto would have been presumably so simple, Honda has built an Ice Cream Sandwich based system that truthfully does not belong inside a car. At this point in time we'd probably say Ice Cream Sandwich doesn't belong in anyone's pockets, either.
So, what do you actually get? A low-ish resolution, but not-bad-looking 7-inch display, a grid of icons and a bunch of stock Android apps like the music player and browser (connect up using your phone). For a 2015-release car though it just feels old. It's been the same with car makers pretty much forever — we talked about that on a recent podcast — when it comes to in-car systems and honestly, Honda isn't doing anything to shake that image. It's pretty neat that you can install apps on it, but it could have been so much better. It's slow, it's clunky, it's basically the stereotypical in-car experience. But with Android. Including widgets.
One redeeming feature that we did like, even if it has limited uses, is being able to mirror the screen of your mobile device. This doesn't use Mirrorlink or anything like that. No, it uses a HDMI output from the device into the car. That actually means you can "use" iOS applications in the car on your Android system, so long as it's not the driver that's doing the using. But we saw it demonstrated outputting a video file from an iPad into the car and it was as impressive as you'd hope it would be using a cable output.
The problem here ultimately is that it's just a poor experience. The fact it's running Android is a side product. Honda hasn't really done anything with Android to make it remotely worth getting excited about. In 2015 if you're going to put Android in the car, it really ought to be Android Auto. Otherwise you're doing it wrong.
Image 1 of 6
Android Central Newsletter
Get instant access to breaking news, the hottest reviews, great deals and helpful tips
Hope Apple didn't pay them to put in out of date Android so people will complain and thus help Apple. Posted via Android Central App

Really? Posted via the Android Central App

I doubt they did that, but unfortunately when anyone gives regular tech folk who are using Android an experience like this- it leaves a bad taste in their mouth so this is what they'll think Android Auto is- crap. Not knowing that they're getting some type a system that needs to go back to the future. This's something Samsung would do if they did cars. Just changing stuff for the sake of changing stuff. Via Nexus 6: "Takin updates for granted."

This is crap. Total fail by Honda. What the hell was anyone there thinking when coming up with this?

Let me go get my tin foil and form it into the general shape of a hat.

When you are that Nutters, you house is made of tinfoil

Product cycled of cars are really long. It was probably new when they made it. Posted via the Android Central App

Except software can be updated even as the vehicles are arriving on lots. There's no excuse for this. :( Posted from my HTC One M8 via Android Central App

Its not quite as simple as that when it comes to the development of cars. There is so much legislation and hoop jumping and it would not be financially viable to update the software to a new version it would not be deemed a priority . Look at the mess Google makes updating their own tablets (lollipop on nexus 7) Honda's customers would nor tolerate it and putting the brand at risk would be reckless.

You might be right Posted via LG G2

I doubt they would sabotage their own car sales, this is an advertising event of their latest and greatest, they are not their to detour their own sales

Geez, not even customized icons?

I'd rather them not customize anything and just use pure Android Auto...if anything customize their other icons to match android

Looks like ICS Posted via the Android Central App

That may be due to the fact that is IS ICS.

@Wooblin30-I think that they mentioned that in the article......oh they did mention it because I actually read it. I wonder if illiterate people get the full effect of alphabet soup

I'd rather have ICS than Lollicrap

No you wouldn't I wonder if illiterate people get the full effect of alphabet soup

great, another company paving the way to ruin the android name. now anyone who buys this car is gonna think negatively. why is google so stupid and not making harsher restrictions on who or what uses android.

I guess that is one downside to open source software

Would you of rather they used bugfest 2015 (sucker 5.0) I don't think a car stuck in a bootloop or that overheats every 20 minutes or drains the battery every 4 hours or crashes for no reason is going to give buyers a very warm feeling about android. ICS was probably the most stable version of android they could use. (Snicker) maybe it will get an update in the fu-dahahahahahaha (sorry I thought I could get it out without laughing hysterically...but I can't)

5.0 wasn't great on my Nexus 5, the memory leak made it lag at times, but it is fine on the Nexus 7. It actually made the Nexus 7 better and 5.1 is now rock solid on the Neuxs 5. The issues have been minimal. Rebooting every few days really wasn't a big deal. Posted via the Android Central App

Richard, I just posted on Phil's share of this on Google+. The way you are seeing Android in this model is not how it is used in consumer models. I have a 2015 CR-V with the exact same Nvidia Tegra touchscreen setup. There is no access to the Android core like you're seeing. What I assume is that this was unlocked just to show people at the show that it is Android powered. I'd be happy to help you guys out and send you a bunch of pictures of what is actually in use in a consumer model. It's Android in the backend but very heavily skinned and actually very useful. And Honda has told me that Android Auto integration will be enabled with a later firmware update.

This would actually make a lot more sense.

Yeah I wonder if the author asked anyone at the show about the status of this software that was in the show vehicle...

Richard does a great job here at AC and did confirm to me that a Honda rep told him that what he's seeing is the consumer-facing version. What's unknown right now is whether the Honda rep at this particular show is simply incorrect or if Europe has different a different implementation in the U.S. My gut feeling is leaning towards the former.

You beat me to my post I already did! Glad they're adding Android Auto, and hopefully CarPlay, too, honestly. If the Parrot stereo at CES can do it, I'm sure this one can too.

I would love to see car makers update the SW in their in-car systems to add new stuff, but it seems very rare you see significant new features pushed to an in-car system after purchase. They often talk about how it COULD be done, but rarely seem to do it. Something about making all their money when you buy the car.

ICS, JB, KK, LP.. That's 3 OS Generations behind. By the time these cars hit the streets, it will be 4 OS Generations behind.. Kit-Kat would've been the smart move with it's lighter resource requirements. I'm sure it's not all Honda's fault though, I doubt anyone would want to put out of date technology in their products. (Especially a company as big as Honda, and a car as popular as the Civic). I'd think Google is at least partially to blame for this.. I'll probably get flack for this, but Google is notorious for releasing products and not giving it full support/attention that's needed for it to succeed.

No one's "to blame" per se. This is how long product cycles are in the automotive sector, particularly when it comes to infotainment, which has to be developed for the car during the development and engineering phase a year or two before the car hits the streets...and then it has to last 6 years. The only way to get around it is to separate them, and create a modular system where you "plug in" a device that can power most of the non-integrated infotainment (primarily audio and nav). Hence the interest in CarPlay and Android Auto.

Yes, why dont they just make a factory mount for a 7-8 inch nexus and release an app the loads when you mount it in the car. That way people can upgrade thier tablets whenever. But I guess the CEO doesnt make any extra money that way.

hold down the power button for few seconds to restart your car............

Or just pull the battery, if frozen! That feature will come in handy in the Northern parts...

I wonder if they put in "un cracked engine blocks from factory" too, Thanks for nothing Honda.

Good article...I'll be waiting to pull the trigger on an android auto head unit for my 2010 accord as soon as availability spikes and prices go down a bit

Maybe an update will be put in to get Android auto inside. One can only hope. Posted via the Android Central App

Mount your Android device on your dashboard. Bam! Android in your car. Posted via BlackBerry Classic

My car has double android 5.5inch x2 Jellybean and Kitkat. 2 holders one on dash and on wrap-on steering wheel I am satisfied...☺ Posted via the Android Central App

Good thing that Civic wont be coming to the US. I think its a Euro Civic. LOL

This is not a consumer car Posted via the Android Central App

Maybe they'll stick Android Auto on it like the Parrot stereo that runs Android did. Heck, they can then do CarPlay, also.

I would be surprised to see anything good. I've had three Civics and I love them but they did a horrible job with the music part of the interface in my 2012. They won't show you the song title and album title (not that you should be reading that much while driving but you can glance or search while you are parked) and in the display that shows the mileage that you probably want to be on the most it only shows you the track number, not the song title. Absolutely ridiculous. Also, anything over a few characters gets cut off so you almost never see the full title of a song.

It will show title if you have the display on audio so you have a larger screen area than one line. All to do with safety Posted via Android Central App

I realize that. See the part of the comment about it cutting off song titles.

Agree with this article, 100%

This system is making its way to all honda and acrura vehicles it seems. The build I saw for another car was actually running Android 4.2 (jelly bean) and you could access the normal settings menu along with the ability to modify developer options. Now I do not know how much ability you would have to make modifications to the system though. I am not even sure you could flash api's. Posted via the Android Central App

Custom rom? Posted via Android Central App on 1+1

Ics. So it's vulnerable to the webview hack, meaning my car can get a virus. But I love that something in 2015 is shipping with AOSP music and search apps. That's really terrible. Posted via Android Central App

At least its Android. Better than 90% of what other automakers are already doing at this price point.

Well people who buy cars are not geeks, so they don't care what OS they use for their entertainment, as long as it works.. Posted via LG G2

ICS? Are they out of their minds? Posted via my G3

Honda is making great beautiful cars but their cars lacks toughness specially in Indian roads @ http://newmobilereview.com/

Well thus seems inaccurate as it does indeed have mirrorlink which does make it seem a biased review. Also what do you want a device to do in the car, surely it has to be about the satnav and ease of media operation rather than fancy features the majority of people arent yet ready for and which are likely to cause issues whilst driving Posted via Android Central App

Hey Guys I am the son of a dealer who is a product council member. When designing and redesigning the cycle is at least 7 years. We are being brats thinking that cars are like phones that come out annually. This for honda has been in the works for many years and in fact while talking to a rep at the ny auto show they are getting there android auto images still being checked and they will be able to flash to this car when there ready. No worries we will have to wait at least 10 years to see this stuff come out because of the design schedule but also google and apple are threatening to use data in the car to sell to advertisers who would make the manufactures liable thus making them realize that pleasing customers is much less of a threat than a multi million dollar privacy suit. Be Patient!!!!!
Android Central Newsletter
Get instant access to breaking news, the hottest reviews, great deals and helpful tips
Thank you for signing up to Android Central. You will receive a verification email shortly.
There was a problem. Please refresh the page and try again.