Google's new Local Guides points system makes leaving reviews worth your time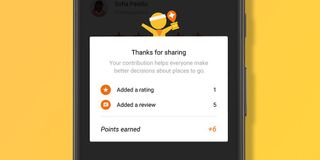 Google Local Guides were introduced in 2014 to help foster a giant community of local reviewers who just know where all the best stuff is. When you sign up to be a Local Guide, every contribution helps you rack up points towards unlocking other elements of the service inside Google Maps (opens in new tab). Over the next few days, Google will introduce a new points system to Local Guides to help unlock other types of goodies and hopefully encourage the proliferation of more reviews.
Google has also added five new levels to Local Guides, in addition to adding badges for those who are heavy contributors.
If you're a Level 2 Local Guide, you can enjoy early access to the new features. In select countries, Level 4-10 Local Guides can redeem a three-month Google Play Music subscription and 75% off digital rentals in the Play Movie store.
Android Central Newsletter
Get instant access to breaking news, the hottest reviews, great deals and helpful tips
Florence Ion was formerly an editor and columnist at Android Central. She writes about Android-powered devices of all types and explores their usefulness in her everyday life. You can follow her on Twitter or watch her Tuesday nights on All About Android.
I've been level 3 so long I've given up

Don't give up. Get that level 5

Lol... Thanks for the encouragement but I don't really travel and my town isn't that big... I think I've been level 3 for almost a year by now

Whoa...i was Level 3 but now it's changed me to Level 5 instantly...

Same here. Now Level 5 with 3 free google play months and discount on videos!

apparently the offer is only for new users though. waaah!

I just sent them feedback that this should not be a "trial". They are pushing it as an earned perk it and should be treated as such.

yah, badges. so cool. while they earn money out of your reviews, we get badges. I have turned off all these related notifications from google maps.

Yeah, I've been at level 3 long enough that they can keep it. Strongly considering opting out of Local Guides and even Opinion Rewards.

i've received almost $100 in the last 2 years from Opinion Rewards

I'm around the same, give or take a few dollars either way. I think they have a pretty good picture at this point, either with or without participation. Who knows, I may leave opinion rewards in place, and just do away with the never changing level 3 local guides standing. Or maybe I will leave it in place for another few months, we have a few summer trips coming up.

The new system really improves the whole thing. I was level 4 with 300 points, With the new system I'm level 6 with almost 3 200 points. My almost 2 000 questions answered gave me the same amount of points, I gained 60 points for the places I have added and my photos alone are worth a bit over 300 points. Sure, I now need 5 000 points to the next level, but I'm still more motivated to contribute!

I wish opinion rewards would still work consistently

Level 4 and was half way to 5, now they switch it up... SMH

All I've been contributing are photos, including 360 ones. Hey, I'll do it since I love taking photos. As of right now, my most viewed picture is that 360 photo of a mall.

I got an email today saying I got over 5,000,000 views of the 400 or so pics I have posted. I thought that was pretty neat!

The level 4 play music reward is just a trial, and doesn't apply if you're already a subscriber.

That's not good, at all. It should be a reward, not a trial.

Agreed. This is a useless reward for anyone that might have a interest in play music. It's the same "reward" I got for buying a Chromebook and you can only claim one so it's a bit of a slap in the face. What's more, all new users of Play Music get 2 months of free subscription anyway, so the "reward" is actually only 1 month of free subscription. When gamifying your data entry processes, it's probably best not to make the rewards actively annoying to your users. Google would have done better to not issue a reward at all or at least to cunningly target the reward at those accounts which were able to redeem them. OK idea, rubbish execution by Google.

I've been at Level 2 for so long I don't see reaching Level 3 as a possibility.

I do it on an d off, but I could not figure out how to correct public trafic information. I asked Google for directions and it told me to go and take a bus at a busstop. Only problem was that bus did not stop there, it did not even go on that street. But I could find no way to report this. I had this now for a few places, even to the point that I now verify some trips with a different app for public transport.

So I went and looked this morning and it jumped me up from level 3 to level 6... I'm never gonna reach 7 tho, that's a lot of points I have to get

Lol 😂, same here, just a lateral move with a looooong way to go to level 7, which I don't think I'll ever see.

3 months of GOOGLE MUSIC for free would have been a pretty neat reward wouldn't it just apply for new costumers.. bit of a joke ay...

Whoa! Level 7 and 5,146 points. Nice!

I've been contributing for awhile and it all seems kind of worthless. When I started there seemed like a nice reward of free extra Google Drive space which seems to have disappeared.
Android Central Newsletter
Get instant access to breaking news, the hottest reviews, great deals and helpful tips
Thank you for signing up to Android Central. You will receive a verification email shortly.
There was a problem. Please refresh the page and try again.