Google's new Local Guides points system makes leaving reviews worth your time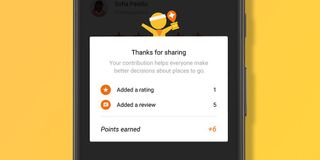 Google Local Guides were introduced in 2014 to help foster a giant community of local reviewers who just know where all the best stuff is. When you sign up to be a Local Guide, every contribution helps you rack up points towards unlocking other elements of the service inside Google Maps. Over the next few days, Google will introduce a new points system to Local Guides to help unlock other types of goodies and hopefully encourage the proliferation of more reviews.
Google has also added five new levels to Local Guides, in addition to adding badges for those who are heavy contributors.
If you're a Level 2 Local Guide, you can enjoy early access to the new features. In select countries, Level 4-10 Local Guides can redeem a three-month Google Play Music subscription and 75% off digital rentals in the Play Movie store.
Get the Android Central Newsletter
Instant access to breaking news, the hottest reviews, great deals and helpful tips.
Florence Ion was formerly an editor and columnist at Android Central. She writes about Android-powered devices of all types and explores their usefulness in her everyday life. You can follow her on Twitter or watch her Tuesday nights on All About Android.