Google allegedly retaliated against a developer over antitrust investigation cooperation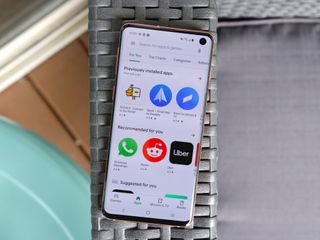 (Image credit: Joe Maring / Android Central)
What you need to know
Google allegedly suspended an app from the Play Store over cooperation with the congressional antitrust investigation.
Google told the developers that BlueMail was being removed due to copying another app.
Co-founder Dan Volach told the Post that this merely a pretext to obscure the firm's true intention.
Google has been accused of kicking the BlueMail, a popular Android email app, off the Play Store in retaliation for the developers' cooperation with Congress' antitrust investigation of the company, the developers alleged.
The Washington Post reported on Saturday:
According to the report, Blix said that Google claimed BlueMail had copied another app, but the company didn't believe the stated reason, arguing it was a pretext.
"Google either suspended BlueMail because we helped the House Antitrust Subcommittee prepare for the hearings or because Google just launched a competitor to Blix," Co-founder Dan Volach told the Post.
Google, alongside Apple, Amazon, and Facebook faced a grilling from Congress on Wednesday regarding market practices. The questioning revolved around the company's ad practices and data collection, it did not extend into the Play Store's administration. If Blix was punished for cooperating with investigators, it's unlikely Congress would look favorably on the company, however.
Google reportedly used data from rival Android apps to build its own competitors
Old news... It's back in the Play store, it had nothing to do with gov't testimony.

Maybe why reviewers always give Pixels good reviews.

Every article here ends with a Pixel ad

Mhmmm. https://www.youtube.com/watch?v=USfzVXOO5Us

To me it looks like Blue Mail and Type App are identical email apps.
Android Central Newsletter
Thank you for signing up to Android Central. You will receive a verification email shortly.
There was a problem. Please refresh the page and try again.