Google acknowledges Gmail app may be flickering, says fix is on the way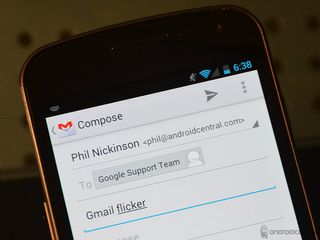 We've gotten a bunch of reports from you fine folks today regarding your Gmail apps causing a screen flicker, and being unable to get to your inbox. We never experienced it here, but that doesn't mean it wasn't happening, as forum threads were popping up all over the place.
Google's just gotten back in touch with us and says a fix is on the way. Googler BrittanyBee explains thusly in the Google Product Forums:
Glad to see they're on it, but that's a pretty big whoopsie. (And believe us, we know about whoopsies.)
Source: Google 1, 2; more: Android Forums 1, 2, 3, 4
Android Central Newsletter
Get instant access to breaking news, the hottest reviews, great deals and helpful tips
I've actually experienced the flickering in the YouTube app yesterday. Gmail has been fine for me

No flickering in you tube but videos like to stop half way

It actually did happen to me. I thought my phone ate something dirty. Lol so i wiped it clean and reinstalled everything.

This just started happening to me about 45 minutes ago after I sent a picture email from my phone for work. I uninstalled and the previous update and still nothing. What's nice is I just got home to begin my research of the problem and this is the first headline so I'm glad its an issue that just began. I thought I this was the start of a demise of my Droid X :(

8:47 EST and my Gmail app on HTC Inspire is still flickering. I can access it through Dolphin though so it is the app specifically. Thought at first it was Folder Organizer (installed it today and created folders for all my home screens). Glad that is not it; misery loves company? :)

Gmail has been fine on both of my Nexus S and my Transformer Pad Prime (both running Android 4.0.3 Stock OTA). However, YouTube is still a problem on the Transformer Pad Prime, the main screen still flickers whenever you try to search videos using the search bar.

I want to know why my Gmail app on my HTC rezound looks nothing like yours in your picture there, or on my Vizio gtab (which also looks like your picture). Rezound is running honeycomb, rezound is too I think, isn't 2.3 hc, or no... I guess that's only gb. Still, I want it to look like that!

It looks just like that on ICS. I don't know if it's exclusive to that OS, though.

I meant the Vizio is running hc.

Whew. I thought the factory restore I did on my Nexus S caused it. Bring on the fix.

Mine started acting up when i tried to send an email. Google could not send by email, and then when I tried to get into the gmail app the screen kit flickering. Glad I'm not the only 1 having this problem.

Glad to see this article before I completely cleared and reset my phone! Hope it gets fixed soon!

been having this problem since yesterday on my Evo 3D. HTC's email app is also giving me problem. it FCs every single time i try to select an email provider.
it started yesterday evening. i had to flash my rom & theme again. didn't work. went back to FULL STOCK, didnt help/ had to root it again & reflash every thing, NOTHING.
so glad Google is working on it.
however i would also like to know if the HTC email client is also a bug on their part, because everything i did last night didnt help at all.

It's been happening to me on my Transformer Prime. Not on my Thunderbolt though. Thought it was an issue with the Prime. Glad it's not!

Why is my comment showing up as being from a Doug_Burke? That's not me. Logged in with my twitter account: SMeekWoodworks. Weird.

I have the problem, started today about 2PM. HTC Thunderbolt, Android Ver 2.3.4

Well, I should have checked this last night before I stayed up until 2 am trying to get it to work, and revert a few changes back so my alarm would wake me in the morning. Mine was throwing a no more pmem available error when I would open gmail.

I'm seeing this problem more frequently on my A500. start the gmail app, it flickers and flashes then crashes. Any news on the fix for this - I cant believe its been this long with nothing further here about this.
Android Central Newsletter
Get instant access to breaking news, the hottest reviews, great deals and helpful tips
Thank you for signing up to Android Central. You will receive a verification email shortly.
There was a problem. Please refresh the page and try again.