Force-feeding an Android system update isn't helping anyone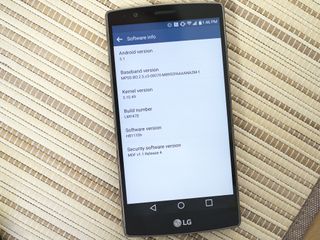 Pop quiz for the smartphone manufacturers out there, and the U.S. operators that approve their over-the-air updates:
Which of the following times are OK to automatically apply a system update?
First thing in the morning, when you're just getting caught up on the night's emails.
Lunchtime, because what else would you need your phone for.
After dinner, when you should be reading yourself to sleep with a nice book.
When driving down the highway at 80 mph, phone plugged in to Android Auto.
The answer, of course, is NONE OF THE ABOVE.
But that's what folks have been dealing with this week as both AT&T and T-Mobile pushed out system updates for the LG G4.
We've always had a bit of a conflicted relationship with firmware updates, of course. On one hand, Android as a platform wasn't designed for there to be one update to rule them all. Google releasing code doesn't mean you'll magically get the latest and greatest version of Android on your phone by the end of the day. (Or even by the end of the year.) Android updates aren't easy. Ask any manufacturer about a maintenance release, as they're called, and they'll quickly tell you why they're not that much fun to do. So when we do get an update, we generally want it as soon as we can get it.
And while manufacturers are getting better at getting updates out more quickly after Google releases new code, that doesn't mean all is well. Far too often we hear about things breaking after an update. Maybe files are missing. Or apps suddenly don't work. Or, worse, your phone or tablet becomes unusable. It happens, and it's not good. So maybe waiting is good.
But we need to talk about this week's update to the LG G4, which received some sort of maintenance release. We're not entirely sure what's changed because we haven't seen any real changelogs for the 10h update. (T-Mobile, for what it's worth, buried in its support pages mentioned that the "mandatory" update "improves software stability." No more, no less.) And that's bad enough. Worse is that for many of us the update was pushed — and then installed — without any sort of warning on the phone itself. Hope you were on Wifi. Hope your phone was charged. (There's supposedly a check for that last one, but, again, transparency is key here.) Hope you were, ya know, in the middle of something important. On the phone or answering an email or playing a game or something. Me? I was right in the middle of No. 4 in that little quizzy above. Driving. Phone plugged and running Android Auto. Good thing wasn't relying on Google Maps just then, or I might have had to pull over for the 25 minutes it took for the update to install and the apps to re-cache.
That is simply unacceptable.
We asked AT&T and LG for comment. Both said they were checking on the update, but neither got back to us beyond that.
Here's how it's looked to folks in our forums. Said Espio of the 174-megabyte T-Mobile update to 10h:
And while the AT&T update was much smaller, it still caught folks by surprise. Wrote ansextra:
So if you actually saw the update notification, that's great. At least you had a little bit of a warning. If the phone updated itself overnight while you slept, well, that's still not great, but it's better than being interrupted, I suppose.
But LG, AT&T and T-Mobile need to know this: Mandatory updates are OK. (I get that folks would rather have complete control and reject updates if they want, but that's also something I wouldn't recommend.) But not letting us chose when to install them is just a short hop ahead of sending out an update that breaks things. Maybe this was just a one-time oversight. Maybe it'll never happen again. But it happened this time, and all the parties involved should know better.
Android Central Newsletter
Get instant access to breaking news, the hottest reviews, great deals and helpful tips
The only time I can see this as acceptable is when a phone is causing problems for other customers somehow.

But they still should give you the courtesy of letting you know that the update is coming & let you know what the hell the mandatory update is for. Then, at the very least, give you an option to set the update for a certain time and give you a chance connect to wifi and charge your battery. It sounds like if the confirmation message hadn't shown up, many people wouldn't have known the update was there. Posted via the Android Central App

It will just take a few deaths because people can't call 911 for 20 minutes to change it. A mandatory update that you can't defer is never OK. If this happened to me when on call, if I missed a call I wouldn't have a job. And any number of other things are possible. This isn't 20 years ago. Being unreachable or away from a phone for 20 minutes can be catastrophic to business, relationships and even safety.

Reminds me of the countdown timer windows shows when it tries to force you to reboot to update. Really annoying...

It's not about helping anyone. It's about addiction

It's not about winning, it's about fun

It's about going fast Posted via the Android Central App

"Or, worse, your phone or tablet becomes unusable." Man, you said it. I'm one of the many with a bricked Nexus 7 after the latest lollipop update(s). The whole reason I bought a N7 (and a N5) is to be first in line to get the latest straight from Google. Well, I guess in Google's rush something wasn't tested well enough and now my motherboard is toast. It's turning into a big deal. ASUS is "looking into the root cause". Google is silent on the issue. There have been a few tech articles on the subject but my favorite major Android site has yet to mention it (come on, AC). #Nexus7Bricked Posted via the Android Central App

It's been mentioned in the podcast as Andrew has a N7 and N5 that are lollibricked. Posted from my Nexus 7 2013 via Android Central App

Thanks! I'm not a podcast listener so that's good to know. Posted via the Android Central App

My wife's N7 didn't brick after the update but runs like a snail. Going to replace it with a Samsung Tab S. Posted via my Motorola Startac

The best thing I did after my Nexus 7 (2012) upgrade to Lollipop is to downgrade it again to KitKat. It's a tedious process, but IMHO it was worth the time and the effort. Unfortunately, Google keeps harassing me ever since with notifications (I can't dismiss) about the availability of a 5.1 update.

If it is like the nags I get on my N5 to upgrade, you can go to settings > apps > all apps. Find Google Play Services and turn off notifications. Clear the cache and reboot. That seems to have turned that stupid "every time you change from wifi to cell, we are going to notify you" notification. I am not missing any other notifications I care about. YMMV.

It has to be security related. That's why they're not saying anything. You don't broadcast that you have a gaping security hold until it's plugged. If it's a bad enough security hole you don't give people the option of updating or not, you just blast it out and hope for the best. Posted via Android Central App

IMHO, there is no cell phone security update that would warrant blasting out an update without consideration for the impact on the user. Unless there is some kind of super bug that could make the phone explode in the user's face, which I can't imagine an Android software release preventing, there is no good reason to force an update at a particular moment. ... Joe K. Posted via the Android Central App

Verizon, who thinks they pride themselves on security and customer satisfaction, has never forced a mandatory security update and let's you update. But they also will tell you the update is a security patch. One of the very few things Verizon does right.

On the plus side, double tap to wake is working MUCH better. I was in the UK and didn't get this pushed to me, I checked for updates this morning and it was there so I had warning Posted via the Android Central App on my T-Mobile LG G4 Preview

No AT&T forced update for me either. I did download it and installed it.. Posted with my awesome LG g4

People complain when they don't get updates. People complain when they do. Gotta love the internet.

It's not about not getting one or getting one.. It's about those who had it forced and not given any options. Posted with my awesome LG g4

No, it's more self entitled bullshit.

Nail, meet head... Posted via the Android Central App

No, not this. Most of the time, sure, people act self entitled, but read the article again, you missed the real point. Posted via the Android Central App

Um, no, having the option to install at an appropriate time is important. Posted from my Nexus 7 2013 via Android Central App

How is this about self-entitlement? When you buy a phone, shouldn't you be entitled to use it how you want? If the company the made the phone can reboot it whenever they want, can install software without your consent, then what are you buying? The owner SHOULD be entitled to use the thing that they paid $600 for.

Exactly! ... Joe K. Posted via the Android Central App

U must like being a slave. Posted via Android Central App on The Nexus 5

You missed the point entirely. Go read the article again. Posted via the Android Central App

Yes, I know that the point of the article is that our time is SOOOOO extremely precious that we cannot spare 5 minutes away from our phone.

What if I was working on an important work email, or about to join a conference call for work etc... And the update made me late.. All people are asking was the option to delay it.. People use their phones for time sensitive/work related things.. And if the update failed and the phone crashed and I needed it? Also some updates take forever to install ( I have a gs5 and the lollipop update took over an hr) if those types of updates aren't able to be delayed it can cause even more of an issue Posted via the Android Central App

You're clearly an idiot if you can't see that there's more to it than that. Posted via Android Central App on The Nexus 5

And you still miss the point. --- This message brought to you via the sarcasm keyboard available for download at the Google Play Store.
LG-G2 on Lollipop.

Obviously you don't know Android very well or don't care enough to read Posted via the AC App
VZW Moto X DE, N7,Note 4

It' OS updates people want, not security updates. I have yet ever read about people complaining about not having a security patch

Nicee Posted via Android Central App

To speak to Phil's point my wife's g4 updated while she was at work in the middle of the day... while she was in the middle of a text conversation with our 14 year old. NOT acceptable! Luckily it wasn't anything critical. She had no clue what was going on. I generally do all of the updates for her. Hopefully, as Phil said, this was a one-time deal on tmos part.

Mine updated last night while I was sleeping. We'll see if I notice any sort of a difference Posted via the Android Central App

Come on Phil, you're telling me this is the first time you've heard of mandatory updates from AT&T? My last 2 updates from my m8 never gave me a choice. It happens the moment you're on wifi, like when I went into McDonald's for a drink and was then held hostage because I then couldn't leave due to the 4.4.4 update... Thank the Lord I wasn't working that day, my boss would never understand why I would have been late. I don't even remember my latest update with my S6. I just have it. Must have happened while I was sleeping. This has been happening for the last 9 months at least on AT&T. Posted via the zenfone 2

I generally try to avoid carrier-branded stuff, if possible. But, yeah, I'm not saying it's new. I'm saying this is what's happening right now, and it's not good.

I don't think I can go back to carrier branded devices now. Posted from my Nexus 7 2013 via Android Central App

Phil, I understand now why some folks look for and prefer unlocked devices directly from the manufacturer. I have a global unlocked G4 (H815... Thank you AC!!) and it's working wonderfully! I was oblivious before since I never owned an unlocked device. Reading through the G4 forums, I see many with issues that have carrier branded devices that I simply don't have. I suppose it takes some time for the carriers to get it right. This experience will have me looking for non-carrier unlocked devices from now on! Posted via the Android Central App

In that case, if the carriers have been doing it with other phones as well, then you should amend your article so that LG isn't coming across at the bad guy.

It's funny, I'm sure they hate it when we root our phones. Things like this mean I always will though, especially if I for some insane reason decide to buy anything other than a nexus which is highly unlikely.

I agree, although the N6 put me off completely. Wubba lubba dub dub!

The best way is the way I thought it was already, present the user with a fairly persistent notification saying "an update is available, tap to install ". Wubba lubba dub dub!

+1 Posted via the Android Central App

+2
The Lollipop update gave something like that on AT&T, and on my wife's phone I chose to wait a whole week before doing her phone, just so I could make some comparisons between kitkat and lolli. I did get a couple updates that were unexpected, but did not happen at a critical time. But technical glitches can often catch you at a very bad time, like your spouse is lost and you are walking her through how to get someplace safe. A bad glitch got me a couple years ago when we were trying to locate a teen that seemed suicidal, and when we traced her phone it showed up in local cemetery. Turns out the locator was off by miles, and she had actually gone to a friends house and was ok.

Kind of a Creepy story....

So far, I have merely been _notified_ of pending OTA updates for Android. Cellular provider: T-Mobile (Netherlands). Maybe that's been due to my inclination to check for updates first thing in the morning. I do, however, recall finding huge downloads of purchases interrupted by "critical" updates to a Windows computer. (Windows 7 or Vista: Windows 8 has shown more modest so far.) Apple (iOS, OS X) wants you to agree to the license terms, Canonical (Ubuntu) wants you to enter your administrator password.

1. Notify of download available, and auto download via wifi (if wifi signal drops, download pauses)
2. installation waits for MANUAL power down/reboot ("You have X Update(s) downloaded and waiting to install. Install now? Y/N)
2b. "Forced" reboot due to phone freezing/rebooting would NOT trigger the install prompt.
3. After 48 hours you get "nags" every 6-8 hours.
4. dismiss nags for 4 days and download is deleted. "auto download" is initiated next update again
5. Updates can still be done manually Somewhat better - but I can still see this causing issues....

Both my parents phones (Note 3 AT&T version) forced updated to lollipop when it came out, they were happy on KitKat and was going to keep it that way but one day they looked at their phones and it was installing lol Posted via my LG G Pad 7.0

Who would they have blamed then if they fell victim to some security exploit that was a result of using an old OS? Somehow I doubt themselves for not applying the update.

How about right before your alarm wakes you up, only it doesn't and you are late for work.

Hope you didn't need to dial 911 for those 30 minutes! Posted via Android Central App

That could be a lawsuit waiting to happen. Some of the other examples too.

The terms and conditions for pretty much every wireless carrier say that they do not guarantee service, for just this reason.

On at&t here. Mine at least wouldn't allow me to update until I charged my phone, so that was good. -Posted via the Android Central App on my LG G4-

Not acceptable. VZW is bad enough with their daily nag mechanism. I work very intensely in a seasonal manner. Cannot take the risk of bricking or crippling my phone / productivity device. Automatic updates are even worse. Last May when I'm right in the middle of my hottest season VZW wanted me to upgrade my Note 3 to Lollipop. Needed to wait 3 weeks, so I called them to find some way to stop the notifiers. Young girl tells me the update is all Samsung and they have no control. I quickly educated her and asked her to pass on my frustrations. Had to ultimately dismiss that crap for 20+ days. When I updated all went smooth, but still the risk is there. Better than auto update tho.

LG sending an update? Amazing. I thought only Samsung sent updates :)...I really like the idea of more frequent updates. It keeps these expensive devices functioning well and also gives you more features so you don't have to upgrade as often. I would not discourage a Mobile Operator like AT&T or T-Mobile from sending out updates. And i would defininately not discourage LG from sending out updates, especially with all those reports of the G3 freezing and crashing constantly.

We are not discouraging any carrier from updates. We are discouraging them from auto updates to our phone without our permission or knowledge is some cases

Love updates... Push me more !!!! Posted via the Android Central App

I love updates too, but I want to have the ability to install them at a time of my choosing, such as overnight when I'll be sleeping, not in the middle of the day, when I'm busy using my phone. Posted via the Android Central App

I hope they release a fix for the android 5.1.1 update. It is messing badly with my Nexus 5. Battery is dying within an hour anf phone just shuts off even with battery. Also every time it is switched on after dying it optimizes the apps and takes more than half an hour. It is getting on my nerves now

Nice to see AT&T and T-mobile taking hits instead of Verizon. Posted via the Android Central App

I'm odd. I haven't even unlocked updated my n5 to lollipop yet. I never updated right away. I'll let others find out if there are problems first. Plus with running rooted apps I need to make sure a root method exists first. As for lollipop, just haven't seen the need to update. I'll do it at some point when I have time to deal with the rooting.

I was forced fed the Lollipop update on my Note 4. After numerous times of ignoring the update to see how others were fairing with the update before I updated my phone. Every time I turned on my WIFI it would automatically start the update.
Thankfully I have had no issues with the update at all. In fact my phone is smoother and has better battery life. But this is still unacceptable because I should have a choice whether I want to update my phone. Posted Via The AT&T Note 4

Sorry but stuff like this is complete BS.
iPhone doesn't do this and there is no reason android has to either.
It's about Google not caring enough to make carriers give it's user a good experience. Now that 2 yr contracts are basically done with, I don't understand why the phone makers don't just do their Own Next/edge plans where I can pay Samsung for an att version directly to Samsung with zero carrier bloat.
No more waiting on verizon or att while they sit on an updates so they can push it at noon when you need a phone. Posted via the Android Central App

And on ios the answer to when you can update is don't matter :) Posted via the Android Central App

As far as I can tell this is just another reason why it doesn't make any sense to allow the phone carriers to control updates.
When are we going to get to the point that anyone can get an update from Google without the phone companies having to be in between? When are we going to get to the point that the phone companies do not add their own apps to Android phones?
Why put up with this nonsense? This is the reason why I get an android phone from Google, less features and all the rest...I don't have this worry, the stock camera is good enough for me and if I want more I have a Canon EOS to use, and I don't care about any of the other things the carrier phones offer. I don't want them in my life except to give me a phone signal and that's it. I have been fully functioning since I left my Verizon Galaxy Nexus and no desire to go back to a carrier branded phone.

Phil, this article pretty much says what I think about Android updates at the moment: http://www.osnews.com/story/28625/The_more_things_change_the_more_they_s...

I kind of see Phils point, but bitching about a readers "Phone being bright in the middle of the night" is low on my list of shit to worry or empathize with. However, good article as it brings an important topic to the top. HTC does NOT do this neither does Samsung. Problem is, all the bitching we did caused this issue in the first place. I think we are in some small part to blame IMHO. Posted via the Android Central App

I've been saying this for years and why I always disable the OTA updater to take back control of MY device. This is an area Android really needs to mature in where Google gives us direct control over OS updates like what is done with app updates. We should have options to enable automatic updates (opt-in), only get notifications (update manually if/when you want) or disable them all together (opt out). Then OEM's and carriers need to respect those settings!!!

can FCC fines be assessed if your phone is unavailable due to an update applying that you cant use 911 services?

No. Read the terms and conditions for your wireless provider. I'll bet it says something along the lines of "we don't guarantee that you will have service at any given time".

Phil! Yes!
Although I can go fix this (maybe) I've been bothered by the number of Android OS components like the web-whatever that are set to auto install interrupting the action I'm involved in. All apps should default to update via notification/reminders instead of commandeering my tablet as if it knows its task was more important than mine.

I smell root-killing updates could be brought to you the same way Posted via the Android Central App

QQ Posted via the Android Central App

These companies really need to put more focus on the software and the testing of said software. How loud must we cry for optimization to be taken more serious. Meanwhile, a forced update should never happen or even be necessary.

I know I have a ZTE boost device and normally they only release updates when the device is considered as Certified Pre-Owned. Meaning that you'll get the latest updates at the last minute and the phone's price is reduced.

I was upgrading a customer to the g4, at the end if a sales day, ready to close the store, but couldn't because as soon as I took the g4 out the box the update took hold and nothing else was allowed to happen when it downloaded. Posted via the Android Central App

Well, doesn't this article create a great opportunity to write a follow up piece on how to prevent unwanted system updates. I know i've had two devices already screwed by a Lollipop auto-update, and after the first one, I would have prevented the second one if possible.

That, and if it isn't fully tested it might cause problems, too.
People get so impatient.
But force-updating .. ? Weird .. .. .. Posted via the Android Central App

It's scary how much control your carriers have over your phones. Here in Australia we don't get forced updates and we certainly don't have basic functionality (hotspot and tethering) disabled at the whim of any of our carriers Sony Xperia Z2
Nvidia Sheild
Xperia Z3 Tablet Compact

Follow Eleni menegaki Posted via the Android Central App

Since AC has not seen fit to warn you LG owners, read this report on a serious vulnerability in the automatic update app. There is a mitigating step to help,but LG WILL NOT be fixing this except on future phones. http://www.search-lab.hu/about-us/news/109-security-vulnerability-in-lg-...

Old Thread- hope someone still sees this! My Verizon Tab S2 just updated to Marshmallow OS w/o my permission- I DID NOT WANT Marshmallow ( Main reason being y\that Marshmallow does not support 3rd party apps for fonts! I have hundreds of fonts installed on my tablet which are now useless!!! as they are not supported Of course you can always pay Samsung for each of about only 20 fonts that they SELL in their app store... This is beyond disgusting... So, anyhow, it seems to me that the jist of this thread implies that it's the carrier (Verizon) , not Samsung, that performs the automatic update// So. then I assume if I buy a non- carrier device from say like Best Buy, with thold Lollipop OS, then the update won't happen unless I ASK for it to download, CORRECT????? Please let me know, as I am ready to purchase another Tab S2, this time non-carrier,,,, and hope for the best- should I just rely on this not happening, or should I get the tablet rooted?????
Android Central Newsletter
Get instant access to breaking news, the hottest reviews, great deals and helpful tips
Thank you for signing up to Android Central. You will receive a verification email shortly.
There was a problem. Please refresh the page and try again.