Five reasons to pick up South Park: The Fractured but Whole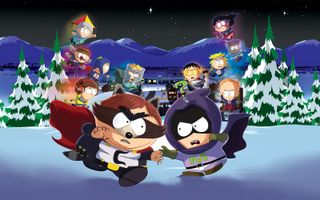 Yes, the original release date was announced for December 2016 but we can all rest easy now that South Park: The Fractured but Whole has been released. Three years after the release of South Park: The Stick of Truth the adoring public have a whole new set of adventures to go on with the kids from Colorado.
It probably goes without saying that anyone who is a diehard South Park fan has already ran out and scooped up a copy, but what about the rest of us? Is it worth your sixty dollars (more or less) and is it worth your twenty hours of game time (more or less)? Let's take a look at five reasons why you might want to put South Park: The Fractured but Whole on your to-play list.
It really is like playing an episode of the show
Perhaps your time is at a premium and you would love to watch South Park AND play a game. Well, this is your chance. South Park: The Fractured but Whole is a pretty well blended combination of the two. Trey Parker and Matt Stone put a great deal of effort into writing and voicing this game. A lot of the time it feels as if you're simply playing an episode of the show that just happens to go on for fifteen or more hours.
The sheer volume of dialog variation is downright staggering. We're talking Bioware levels of dialog here. During my time with the game there were cut scenes where I'd forget, albeit briefly, that I was actually playing a game. All the brash characters and jaw dropping dialog are on prominent display. If you're a fan of the show, it has pretty much everything you're looking for.
Unlike the last South Park game, this one is actually challenging
I have good news for anyone who beat the last game and felt it was too easy. The new developer for South Park: The Fractured but Whole, Ubisoft San Francisco, took what Obsidian Entertainment did with the previous game and ran with it. The previous game combat had a bit of a rinse and repeat sort of feel which could invariably lead to dreaded game fatigue.
Ubisoft has learned from the previous iteration and added multiple elements, which serve to deepen the play. The relatively simple turn-based RPG combat has leveled up to somewhat more complex grid based tactical skirmishes. You now have to take into consideration where your characters are standing, where the enemy is standing, and how all of your attacks affect the area. In addition, with a multitude of characters to choose from you have a lot more options when it comes to any given battle. All this expansion of combat kept me interested and engaged for the duration of my time with the game.
Superhero movie mockery is at an all time high
Allow me to let you in on a little secret; I think that Trey Parker and Matt Stone are growing a bit tired of super hero franchises as well, and their disdain is on prominent display in hilarious fashion. The laser focus that the South Park crew is so well-known for has been turned to superherodom to great effect.
The entire story line turns on Cartman's desire to create a Marvel-esque cinematic universe. What better way to get a super hero franchise off the ground than with one-hundred dollars acquired by saving a lost cat? Then the infighting begins when no one can agree about which character will be getting their own movie or television series and when. All the ridiculousness of bloated comic book multimedia empires are pointed out in a mirthful manner and no one is safe, especially DC Comics.
Gosh it's buggy on PC (not over here on PS4)
A quick glance at the user reviews on Steam indicate a measureable amount of bugs experienced in South Park: The Fractured But Whole. PC players have been reporting errors, black screens, crashes, and audio issues so much so that the overall review score on Steam has clearly suffered. In addition to gameplay issues, many users are complaining about the DRM which requires PC users to log in to Ubisoft's DRM Uplay.
I'm pleased to report none of these issues were present for me when playing on PS4. In my 15+ hours of play I saw no issues in regard to crashing, errors, or audio. There were a few moments where I noticed some slight frame rate dip but it was nothing to write home about. While players are encouraged to log into Ubisoft Club on the PS4 version, it is not a requirement to play the game. If you simply cannot wait for updates to patch all the issues seen on PC or if you would like to avoid Ubisoft's DRM tactics all together then allow the console release to be your escape.
Like everything South Park, the comedy hits some nerves
Let's be frank, I don't think that South Park: The Fractured But Whole is going to be winning any Nobel Peace prizes (although crazier things have happened) but that has never stopped their creators from dipping their toes in the murkiest waters imaginable. In The Fractured but Whole you have the ability to change just about anything about your identity, from the most benign, like costumes and visual appearance to the most complex.
For instance, with a quick trip to counselor Mackey's office you can change your gender and sexual identity to any number of combinations, which offer considerable depth of choice. What the game itself chooses to do with that depth left me feeling a bit underwhelmed. While these choices do in fact exist, it has no real impact on the gameplay itself. Some of it comes off a little tone deaf, but the fact that they are included at all could be construed as progress... Right?
All that being said, if you are interested in a game that simply acknowledges that these things, which impact all of our identities exists, this may be the game you have been waiting for.
Are you playing?
When it comes right down to it South Park: The Fractured but Whole is a no holds barred fun game. The characters and dialogue are decidedly garish but that is something we have come to expect from the franchise. If you fit into more than a few of the above categories I would imagine that you would have a blast diving into the South Park world and donning a ridiculous super hero outfit while you run the streets in search of a lost kitty. So pull on your non trademark infringing Amazonian costume and get down to business.
Get the Android Central Newsletter
Instant access to breaking news, the hottest reviews, great deals and helpful tips.