First look at the Parrot RNB6 in-dash system running Android Auto and Apple CarPlay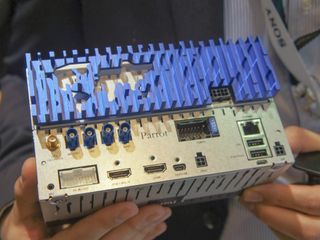 Finally a 3rd party infotainment system with Android Auto and Apple CarPlay
Parrot came to CES 2015 with more than anyone had expected. Instead of announcing a new quad-copter or a jumping vehicle, Parrot showed off an in-dash car infotainment system. This system, codenamed RNB6, is a lot more than any third party in-dash unit that you can install in your car.
The RNB6 runs a custom built build of Android 5.0 Lollipop. Systems like these that have custom forks of Android are fairly common but what makes this unit special is its compatibility with Android Auto and Apple CarPlay. This means that no matter what operating system you or your passengers use on your mobile phone, your car will always be able to connect to it and use the car focused features that Apple and Google envisioned.
The RNB6 is a 2-DIN infotainment system so you will have to make sure you have that amount of space available in your car's dash to have the system fit properly. Additionally, the system can connect to your car's OBD2. With this, the in-dash system can integrate itself into the car's speakers, radio, climate control, tire air pressure sensors, and anything else that your car might have equipped.
The final addition that the RNB6 brings to the car is a dashcam. This can be mounted behind your car's rear-view mirror so that it is not a distraction to the driver but where it can still be in an optimal location to film the road as you drive in case of an accident.
Parrot did not release any pricing or release date for the RNB6 except that it will be available on the market later in 2015. As someone who does not plan to buy a new car anytime soon, a system of this caliber is perfect because it would be an effective way to upgrade my 2002 Toyota.
10/10 would buy.
Doubt it works in my car.
94' Thunderbird.
Sigh. "I'm da Blur boys!" - Me with 1200 ping. Yes. My Internet got worse.

If youve got room for a double-din head unit there's no reason why it wouldn't work actually. I just purchased a 2015 Fiat 500, and without an expensive dash kit, I can't use something like this :( $200 on top of the cost of the head unit.

Hey I got a 94 tbird as well.. sweet car! Mines the supercharged 6 tho but if you are any good at a little diy you can custom fit a double din in pretty easy Posted via the Android Central App

L 0 L..faPple car play ... ... ( 0ppo F5) ...

What's funny is it runs Android and supports Android and Apple Car Play. I guess this is the direction others will be taken, given that Parrot are first to market with a product that works well. Why would you implement a niche Apple-only system. So many manufacturers already got burnt with that. Going this way gets Android as the defacto system, and Apple Car Play, as a "also supports"..

I suspect that it run native Android because of the open software. Much easier to get your hands on and customize. The smart thing was to apply support for iOS. In my opinion, this is good any way you look at it.

I want this in my Focus ST225 now Posted via Android Central App

I have to get one in my car. And it doesn't even look that deep so it would be a cinch to get all the cables tucked behind the unit. Too bad it'll probably cost a ton though.

Agreed this looks pretty sweet, my car can accept a double din with some minor modifications.
However, something like this I expect to be well out of my price range in the short term.
I'll most have to wait well past the early adopter phase of these types of products.

While it may not be this unit, I'm defiantly in the market for an Android Auto head unit. Also for my '02 Toyota.

Same here. My '02 4Runner isn't broken, and I've never really upgraded it, but this kind of thing has me very interested! (Maybe not this unit, but something similar.)

I'd be very interested in this also depending on the price.

I wasn't looking to get one at first but man does this look good. I just wish it also connected via Bluetooth so I could keep my phone in my pocket also

It doesn't? Didn't the video mention BLE 4.0?

It does. I just remember at Google io last year they stressed about it having to be plugged in to stop people from using their phones. If this functions without the need of a cord, I'm all in

Android Auto requires USB. Any other functions wouldn't.

I need this for my 07 Tundra. My Nexus 7 with a car mount can be a pain at times. ~Hold on! My common sense is tingling~ via 1+

That looks weirdly like ios, except the on-screen buttons. Posted via the Android Central App

Most of those images are of Apple CarPlay.

I need this in my Subaru! I have a double din Pioneer in it now. Probably gonna cost $1000+ Posted up in da paint!

Yeah, I am going to need something like this in my life. By comparison the Nav system in my Civic is like stone age tech. Just as an example.... In order to load songs on it I had to save them on a COMPACT FLASH card and then put that "Compact" Flash card into a PCMCIA adapter and then plug the adapter into the radio... Seriously. Honestly my only concern is if there will be an adapter available that allows it to interface directly with the factory steering wheel controls.

Lol, poor you.
I use an aux cable from my smartphone and a smartphone suction cup mount for GPS.
to a standard am/fm and CD player that I can't remember ever using.
In all seriousness though, I would want an adapter to interface with steering wheel controls too though.

I know it's rough being me. Plus after I got tired of listening to the same songs over and over.. and over, and over and over and over and over.... I pretty much gave up on the MP3s all together and now I just listen to the radio like some kind of Neanderthal.

We have a Civic with the same head unit and just plug this into a USB adapter and into the AUX input. Bluetooth for $10 and it is easy for anyone to connect to. http://www.amazon.com/Bluetooth-Stereo-Receiver-Adapter-Speakers/dp/B00O...

Steering wheel adapter would be nice. Alpine had the ILX-oo7 that runs CarPlay, and I wonder if it'll get updated to run Android Auto as well. It's got steering wheel adapters, but it's missing the ODBII and some other features this Parrot has.

This looks pretty impressive Posted via the Android Central App

I'm very excited about this, I have android and my wife has an iPhone so this would work perfect. Posted via the Android Central App

Exactly. Lots of mixed tech families out there. Sent from my Nexus 5, behind six proxies

Have they finally allowed the use of Google's play store (necessitating side-loading) instead of their own?!? I thought about getting one of their previous units but the cost (£600 + fitting & parts) was way too high.

I can't wait to get this in my 2015 wrx Posted via the Android Central App

Does this need is own sim card or can one tether it to their phone? Posted via the Android Central App

For a model of this caliber, I sure hope it would have it's own sim card, if not it would be a total fail.
When your spending the amount of money I expect this will cost, I would think you can afford $10 extra a month to add it to your cell phone plan. it would work much more seamlessly with it's own sim card.
Their might be a optional wifi tether mode though as well I can see that as an option.

I'd rather tether it to my phone. than pay the extra $30 / month for another device on my data plan.

Does it have RCA outs for your amps? I'm not seeing those.

I believe those will come off the "AV In/Out" plug. It highlighted that in the video for Rear-View camera, which is an RCA, so my guess would be that's also where the pre-outs live.

If you need to borrow RCA cables you can have the ones from the screen in my Lexus. Posted via the Android Central App

Can I also borrow that analog Nokia phone that's on there too?

This would go great in my 2012 genesis coupe. Wonder how many goodies it will support in there :D

My 2008 Mustang would very much enjoy this!

I am all in on this if the price is right! My 2005 Tacoma needs a new system. The Sony one I put in after the stock died is on its last leg too now. I am sick of the AUX cable input and I dont like to use my phone as my GPS so I would be able to get rid of the crap Garmin stuck to my windshield as well!

Well well, this would nicely combine with my 20yo Volvo 960..

Phil! This is all you buddy. I will buy this and make it fit into my trans ams 1.5 din spot. MY 2014 BMW will be feeling the hurt lol.

i think its love at first sight with his one. To think i almost bought a chevy mylink upgrade, close call.

Definitely interested. Just hope it doesn't go past the 600 dollar range. Please cover more of this item at CES . Posted via the Android Central App

Now this is something I can finally get excited about.

Read about this elsewhere and wanted it, but they failed to mention the dashcam. That's brilliant to add that in. Now I want it more.

I'm curious to know if this will support my car's rear-seat DVD entertainment system (2006 Dodge Charger). My current head unit is on the fritz and I'd love to replace it with something like this.

Now if this will show the climate settings in the Pontiac G8, I'm all over it. Damn Aussies and their integrated stereos.

It will all depend on what data the ODB plug has access too. If it's a newer car it might but older vehicles might only put out basic engine info over the port. The plug is standard, but the data that outputs is not.

So even though this is a special fork of Android, this shouldn't effect Android Auto since your phone which drives that experience get's the updates. This looks pretty neat. If the price and features are right. I might put this in my car.

Good to see these coming to market. Posted on my Galaxy S5

This might be enough to get me to also sink an extra couple grand into my 2003 Honda Pilot's transmission to keep it going a while longer. I freakin' love that car, and just cannot bring myself to dump a bunch of money into a new (or newer) Pilot or MDX.

I would love to have this, but I don't think it would work with the DSP sound in my 2000 BMW 528i. The sound all goes through a coax type cable, and I would probably need to rewire the whole car to make this work...maybe this is a sign a need a different car.

Neat but I bet it is a car compatibility nightmare (climate control, diagnostics, tire sensors, etc)

If this can replace the sync crap in my f150 and maintain all funtionality id be all over this for $1000 or less...

This looks awesome! I can't wait to hear the price.

I am curious if you'll be able to hook up external 2 and 4 channel amps to this if you have a stereo sound system in your car. I have a two channel amp for my lows and a four channel amp for my mids and highs that I would like to incorporate. I don't see any RCA ports on this, though. Anyone have any idea if that will work via some connector?
Android Central Newsletter
Get the best of Android Central in in your inbox, every day!
Thank you for signing up to Android Central. You will receive a verification email shortly.
There was a problem. Please refresh the page and try again.