Do you wish BlackBerry was still making Android phones?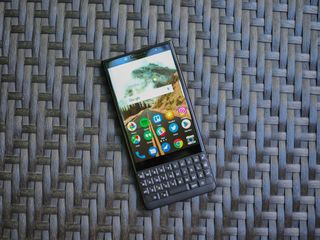 (Image credit: Daniel Bader / Android Central)
A little over four months ago, it was announced that BlackBerry was no longer making/selling Android phones. It was the final death blow to a company that'd been straggling along for a while, marking the end of its attempt at reviving the BlackBerry brand in the consumer tech space.
Someone in our AC forums recently shared a picture of their Galaxy S10e that they customized to look like a makeshift BlackBerry device, both in terms of hardware and software. Between a black Dbrand skin, a BlackBerry logo decal, and a custom launcher, icon pack, and more, their S10e really does look like a modern BlackBerry.
Here's how some of our other members responded to it:
All of this got us to wondering — Do you wish BlackBerry was still making Android phones?
Get the Android Central Newsletter
Instant access to breaking news, the hottest reviews, great deals and helpful tips.
Joe Maring was a Senior Editor for Android Central between 2017 and 2021. You can reach him on Twitter at @JoeMaring1.
Yes. A passport type design or maybe foldable variation. That would be dreamy!

I don't care about blackberry devices personally. Never had one, never wanted one. But I do wish they were still around for the small minority that prefer the physical keyboard.

Absolutely, best most secured phones, the os was amazing.

I had 5 and loved each one. I'm still sad the company is gone in terms of phones.

My BB Torch was my favorite phone of all time. A larger version of that running BB10 and able to run all modern android apps would be ideal. But I'd settle for a high end Priv or key 3 that has android 10 and is updated every year like a pixel. I still use hub on my pixel, can't function without it.

I felt the same way about the Hub for the longest time. Ultimately I realized that the native notification drawer that pulls down is the same thing, but better, because it's native. The Hub looks old now. I wish they'd update it to make it look modern in terms of UI. It may just be my opinion, but it looks boxy 😩😂

I've carried a BlackBerry since 2005. Yes, I heavily wish that BlackBerry still made Android phones. I currently carry a KEY2 as my daily driver. I would love a new $700 latest specs BlackBerry with a physical QWERTY keyboard and secure OS. I would be on-board with this 100%. I am not a fanboy. I am very security-conscious. Please bring back BlackBerry!!

Yes! Options are always good. I pay BB $0.99 a month to use their suite of Apps, and it is a delight to use them. Everyone should try it out. Especially those that were BB10 owners.

They are pretty great... I just wish they added the blackberry keyboard (ei available on Blackberry Motion) to the roster :(

Yes. I would love to have the Blackberry keyboard available through the Blackberry HUB+ services.

You can get the keyboard from there https://cobalt232.github.io/blackberrymanager/

Yes please! And only portrait sliders as they don't interfere with Androids UI. I mean it is nice to see devices like the FX Tec Pro 1. But they all seem to want to be mini-laptops with Android and many Android apps and websites just break in landscape.

Yes. I had every one but they took some missteps and couldn't compete. Still the classiest design around. First thing I do on my new Pixels is download all the BlackBerry apps and keyboard so it still looks like a BB.

A revised Priv would have been nice to see but honestly I have moved on. I still use blackberry android apps such as the hub and calender. I also love the bb vkb as well so these apps are enough for me.

I wonder if there would a market, albeit a small one, a niche, for people who still want BlackBerry phones and are willing to wait to get a customized unit. Here's how I see it: say I secure a license from BlackBerry and other hardware manufacturers to distribute their products. Launch a website that would give people options for peripherals. For example, if you want the newest Samsung screen, it would cost $300, if you want the middle-of-the-pack LG screen, it would cost $150, BlackBerry keyboard would be $50, latest camera -$xxx. These are just examples of what would be available to be packed inside the shell. Load the latest Android, add DTEK, BlackBerry launcher and sprinkle some Google services goodness and you're good to go. Pay for what you have chosen, wait a couple of weeks and get a one of a kind phone that can get updated to a new version of Android when it comes out. It would also be sick if BlackBerry came out with a BB10 skin, like One UI from Samsung, to make it as close to a BlackBerry experience as possible.

Blackberry is a dinosaur with small displays nobody wanted. Fact: Customizable virtual keyboards like SwiftKey are vastly superior to tiny little physical keys. Software like app locks or secure partitions like secure folder with Samsung Knox suffice. There is no market any longer for BlackBerry, and the original creators admitted as much when they saw the first iPhone released.

Not fact, opinion. With a physical keyboard, I could type without needing to look at the phone. Can't do that with a virtual keyboard. For my use cases, a well-built physical keyboard is the superior option. Furthermore, I personally can't stand SwiftKey, and have found Swype to be the only virtual keyboard I've enjoyed using on Android (Gboard is tolerable, but not pleasant). Just because you prefer one thing over another doesn't mean it's objectively superior. Don't make sweeping statements if you can't back it up with reality.

Fact: physical buttons/levers/switches in general are more accurate than a flat piece of glass.

Discover the new BlackBerry PIM-suite for your Android device. https://cobalt232.github.io/blackberrymanager/ Get the BlackBerry keyboard here
It's a safe sideload

Yes absolutely, being a BlackBerry fan since 2007 I would love to see them again.
Currently I am using a note 10+ which is an excellent device but I still miss the printing accuracy of the physical BlackBerry keyboard.

Still have my generation 1 pearl. Loved it!

Yes. Still using this very capable and well constructed Black Edition Blackberry KeyOne. The PKB shortcuts are phenomenal as is the battery life. Camera is as good as my S9 in all but low light conditions. The ONLY issue for me with BlackBerry's move to Android was/is lack of support One OS update and 24 months of security is DOA for any Android OEM. I realize the pressures @ every price point make sales difficult.