Current Caller ID - would you like some Facebook status with that incoming call?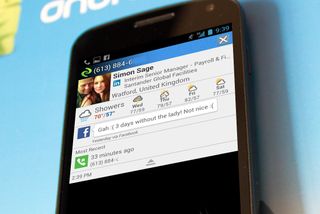 After getting a short preview at Mobile World Congress, we've now got a chance to try out the latest Android app from WhitePages. It takes the usual caller ID utility, and ties LinkedIn, Facebook, and Twitter accounts to contacts so their latest status pops up with every call. You can also see their local weather and news when checking out their contact details.
Style
Current Caller ID follows a simple, elegant UI design that follows in step with the Android guidelines. The sections on stats add a nice bit of graphical flair to an app that would other be little more than lines afrter lines of text.
There's a nice home screen widget that shows your most frequently called contacts, though it's nothing fancy. Tapping a contact gives options to call or text, as well as drill down into more specific details.
The concept of the app may not appeal to the privacy-conscious, who would have to offer access to their call log, contacts, and see frighteningly specific details about the correspondence habits.
Function
Current Caller ID's biggest selling point are its metrics. It pays meticulous attention to how long you call your contacts, what time of day calls take place, and how it balances compared to texting. Based on that data, Current Caller ID attempts to suggest the best times to call busy contacts. Companies like Gist and Xobni have done similar stuff for e-mail, so it's good to have something similar for those few that still use their phone for talking. That said, there really aren't any hooks for e-mail, which make Caller ID a poor address book replacement. Still, tapping Facebook, LinkedIn and Twitter links launch into their respective apps.
Preloaded manufacturer social network tie-ins for address books often get pairing wrong, but at least offer a way to manually unlink contacts if it guesses wrong. Current Caller ID unfortunately sticks with the links, which can be particularly irritating if they're wrong. For example, I've got a few other Simon Sages as friends on Facebook, so when taking a call from a line associated with me in the address book, it linked them with the number. Maybe the pairing mechanism has issues with self-referential stuff like that.
Another slight usability complaint is that you can't switch the weather report from Imperial to Metric; that's a non-issue for all of you Americans, but it pretty much guarantees that us Canadians and most other countries will be turning off the weather feature.
Pros
Cons
Unable to manually pair contacts
No e-mail tie-ins
Conclusion
The core app is free, but if you want more than the last 3 months of metrics, you've got to pay up. For those that live and die by texting and voice calls, it may be worth the $1.99 for 12 months of tracking, and even casual talkers will probably find the rich caller ID function useful. For those of us that spend the vast majority of our time on the data side of our smartphones (which, let's face it, is most of us), Current Caller ID may not offer enough to act as a full-time address book replacement.
Android Central Newsletter
Get instant access to breaking news, the hottest reviews, great deals and helpful tips
Simon has been covering mobile since before the first iPhone came out. After producing news articles, podcasts, review videos, and everything in between, he's now helping industry partners get the word about their latest products. Get in touch with him at simon@futurenet.com.
Did you notice any battery drain? I would think pulling data every call could hurt.

Battery drain shouldn't be a problem. Current Caller ID only fetches a subset of your social data, so uses far less bandwidth than a typical social app.

No thanks - I'd be too caught up in statuses when people called to remember I need to actually ANSWER the call. If I want a status update, good chance my phone is already tied in to the service or I can open an app. As for when people are busy, I'll stick to the old ways - phone tag, you're it!

When you answer the call does the info stay on the screen?

I am so completely NOT NOT NOT interested to get a bunch of FB garbage and other stats pushed my way or having my phone calls and useage tracked......The ONLY reason I load FB on my devices is to facilitate any games or things that force me to use it as a log in base...... /vomit

Plus one for vomit. Facebook, please go away.

Agreed. I'd actually be less annoyed by having to throw away that physical White Pages book that gets littered on my doorstep than I would be at seeing all that crap pop up whenever someone called. -Suntan

I have zero interest in an app that will make my private cell number become publicly listed.

I like how the last four digits of the phone number are blurred out on the picture, but the video screen shot shows the full number. I'm not going to call it, just thought it was funny. Oh, and I guess the status thing would be kind of weird. I would be reading the status while he/she was calling and I would miss the call because I was too busy. Not really practical.

Hah, yeah, I only noticed that after replacing the picture. Whatevs, no fan calls yet. :(

Motorola have somesomething similar to this (the status thing) built into MotoBlur\PhilBlur\MAP UI, I've in my Atrix, while its cool at first , It gets Super Annoying later on.

I downright do not like Facebook (but am a huge fan of Twitter). I miss a bunch of tweets. I literally just went to a friend's contact in this app and saw his office just got a puppy. I would have totally missed that. Surprisingly useful. I may shut off the FB on caller ID, though. Anyways, I'm off to see a puppy.

I'm a little confused. This app can tell me the last time someone calling me used their phone, for how long, and the number they talked to? Is this correct? That's what it looks like in the opening pic.

This app texts everyone in your phone and tells them about the app! DO NOT INSTALL!

Oh, wow. I imagine you learned this the hard way? Terrible.

This is definitely not a feature of the app. We don't post anything without a user's consent.

I'm surprised no one has mentioned that HTC. Sense includes Facebook status updates on the answer call screen and has for quite a few years. People seem to think it's a new, dumb idea.
Android Central Newsletter
Get instant access to breaking news, the hottest reviews, great deals and helpful tips
Thank you for signing up to Android Central. You will receive a verification email shortly.
There was a problem. Please refresh the page and try again.