CoPilot Live review - a trunk-full of navigation features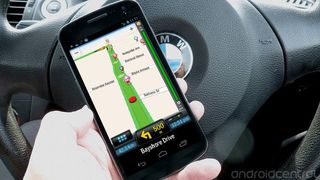 If you're planning to squeeze in one more roadtrip before the summer dwindles out, you might be shopping around for GPS navigation apps. Google's own Navigation for Android may do the trick, but is there still a market for traditional GPS nav apps? One of the many options available is CoPilot Live, and you might be surprised at how deep its functionality runs.
Style
CoPilot Live does a great job of maximizing in-car visibility with large icons, text, and graphics. he app icons all have a distinctive style with a white outline that vaguely reminded me of Gowalla, and a wide variety of map styles (including evening-optimized versions that don't ruin your night vision). Flipping from screen to screen has lively, smooth animations.
There are some really nice subtle touches throughout the CoPilot Live, like a randomized message on the welcome screen, customizable info bar on the navigation screen, and a ton of different voices to read directions while you drive.
Some things feel like a little overkill. For example, does the app really need its own custom volume box? By default, CoPilot Live takes up a spot in the notification tray for access to the app, but I don't see that as any easier than simply going to the multitasking menu.
Function
I had no issues whatsoever with the core navigation of CoPilot Live. It guided me to and from the cottage last weekend without any problems. The view can be quickly switched to a 3D map, 2D map, large text with the next turn, or a longer detailed turn-by-turn list. It's easy to find alternate routes, and you can set the app to automatically suggest new ones if traffic looks like it's going to slow you down more than 10 minutes than originally planned. Favorite destinations can be marked for easy access later on, but there's also a rich points of interest database that can pop up on the navigation screen when stopped, or you can launch into a Google or Wikipedia local search for more results.
CoPilot Live has a nearly ridiculous depth of options. You can set it to provide audio warnings when you're going over the speed limit. There are custom default vehicles, including RVs, so you can avoid routes with user-set height restrictions. You can save parking spots to easily find them later. It almost feels like every time I diving into the CoPilot live settings menu, I find something new this app can do.
There are plenty of more frivolous additions, such as Twitter and Facebook tie-ins so you can automatically share when you reach a destination, although that should probably be implemented as trip-by-trip pop-up rather than an always on/off function. Geotagged pictures can also be viewable on the map, if you want to document a particularly scenic drive.
One anomaly I experienced with the app is that CoPilot Live doesn't identify itself as a native GPS app, like Google Maps. This means that it's hard to launch into CoPilot from outside apps, even though CoPilot pulls in from multiple sources itself. For example, users can navigate to contacts from within CoPilot, but not from the native address book.
Pros
Massive amount of functional options
Clean, visible UI and layout
Cons
Casual drivers likely to be perfectly happy with Google Navigation
Doesn't identify alongside other maps apps
Conclusion
I'm still not convinced that Google Maps and Navigation is so much worse than paid alternatives like CoPilot Live. The $9.99 pricetag plus the additional nikel-and-diming for extra voices, access to additional maps, gas prices, and live traffic data are all a significant turn-off given Google's generally-acceptable experience.
Constant drivers that need extra functionality than what Google can offer are likely to find their needs met by CoPilot Live, but for those that regularly bounce between the same three spots probably don't need to spend any money for a day-to-day navigation app.
Android Central Newsletter
Get instant access to breaking news, the hottest reviews, great deals and helpful tips
Simon has been covering mobile since before the first iPhone came out. After producing news articles, podcasts, review videos, and everything in between, he's now helping industry partners get the word about their latest products. Get in touch with him at simon@futurenet.com.
I've been using it happily with my Nexus 7. As much as I love Google Maps/Navigation, it doesn't do me much good without a data connection. Copilot fits that need very well. Yes, I know I can plan a route at home or wherever I have WiFi with Google and it will get me there, if I have the maps downloaded to the device. In practice, I found myself wanting a more dedicated solution like Copilot. I would also be interesting in seeing a test to see what battery usage is like while navigating with Google Nav+GPS+Data vs. Copilot+GPS. I do get a charge out of how Google's tts pronounces the app's name as "COPP-ih-lot" instead of "COH-pie-luht" :)

Huh? Why aren't you using offline maps?

I mentioned that. The problem with downloaded/offline maps is that the area you can download is very limited. Plus, you have to plan a route while you still have a data connection. If you don't have one, no navigation. Plus, if you go off the route, it will reroute you, but it won't say the road names to turn on. I didn't test that very thoroughly, so I don't know how it would work if you go seriously off the pre-planned route. With Copilot, I don't have to deal with any of that.

For more battery time, just buy a portable batteries. Search on Amazon for "portable power pack" or "portable batteries". For about 40 bucks, you can buy one that can carry energy for about 3 times your smartphone battery.

Google Navigation is fine as long as you have unlimited data (and a good 3G signal!) But onboard maps are certainly the way to go if you need reliability or haven't got gigs of data to burn through.

Regarding the separate volume control, yes - it's a good thing to have. Google Nav used to have this, but for some reason they pulled it out about a year or so ago. Now, the Google Nav voice is usually louder than whatever audio I'm playing - I really miss the separate volume control that let me balance things out. Also, Google Nav shows up in the notification tray too.

Just want to point out that Samsung Galaxy S users may be left out in the cold [Works great on the Galaxy nexus that replaced my Galaxy S Epic 4g). I was promised that each update will fix the issue where it would hang loading the maps, but no fix ever came, their support department eventually stopped responding to my requests for either a fix or refund. I paid for Navigon (Garmin) instead. For the 9$ price tag, it's certainly one of the better offline navigation apps around, but there are better ones, that have much better support.

I concur with the othere here - the real attraction of CoPilot is the locally stored maps which means navigation runs completely independent of the data connection. In our world of data buckets that can mean real $$$ savings. Plus while you throetically can plan a route at home and have Google cache the needed map areas it is a pain to do, and if you happen to deviate from the route while off data then you are lost. For now CoPilot beats Google Nav handily because it does not burn through your data allotment while running. Also you can be doing other data items while it is running. If and when Google implements local maps for its Navigation app (rumored for late this year) that could change.

Honestly? I put away my TomTom and with my new S3 I've been trying to do everything with Google Maps. I'll be honest: The navigation sucks. And this is from someone who put 100,000 miles on his car in a little over 3 years with driving around for work. I know the Twin Cities metro area. And Google Maps apparently doesn't. Consistently it would take me in the most asinine routes possible. Taking me through moderate to heavy traffic zones that right on the damn map says are heavy traffic. What is the point of having traffic data if its not going to use it? My point being I'm willing to try something else if it does a better job of actually being smart about navigation.

Waze is probably the way you want to go then. It's not "offline" but it pulls speed data in real time, as well as what is submitted by other users (accidents, speed traps, etc). I found it to be very accurate. Ran CoPilot on my old iPhone, ran Waze on my Epic 4g when I went out of town. Waze agreed more with the routes my Uncle said I should take (from experience), based on traffic patterns and average speed. It's just another option of MANY for Android :)

+1 on Waze! Really came in handy last weekend when the 101 South was shutdown due to an accident. Google & Toyota navigation was telling me to take the canyon roads to the PCH; Waze said double back to the 118, and add 15 minutes to my drive...it paid off! My wife's friend didn't listen, and showed up 2 hours after we had arrived for a dinner party in Lake Forest.

Make that +2 for Waze. The ability to share info with other users is what sets it apart. If Waze says "object in road", there is a 2x4 lying just where reported. I either run it on my phone or tether my N7 to my cell phone and do it that way.

+3 for Waze. I actually prefer the app to my Garmin because of the linking features that tell me where there is traffic, accidents, and hazards. I drive the same route to work everyday, so I don't need a GPS to get there, but to know where there may be hazards or speed traps is useful enough to have it up in the background. The recent update also added a fuel feature similar to Gas Buddy (though I haven't used it yet). Best GPS app available, IMO. AND it's free!

Waze definitely makes an attempt to route around traffic, whereas I'm almost certain Google Nav does not. Sometimes, though, I feel like Waze is a little too quick to give up on an Interstate. For example, some friends of mine from out of town were supposed to meet me at a restaurant, and they were over an hour late because they allowed Waze to route them on rinky-dink little local roads with tons of traffic lights and local traffic, instead of just sticking with a 5-lane-in-each-direction Interstate. I'll grant Waze that the Interstate had traffic on it, but living in the area, I can guarantee that its cockamamie routing was way slower than just taking the highway would have been. In the end, I guess no piece of navigation software can be beat a local who has been stuck in a few dozen traffic jams over the years.

Why pay for a so called free offline Nav, when you can use Navfree in addition to Google Nav.

Because I found myself making so many corrections on the map of my little town, I gave up.

Could you put the price at the top, so I don't have to read through the whole post before finding out it's something I won't want? Granted $10 isn't much, considering PC software starts above that, but Google's free with the phone.

I've been using CoPilot Live Premium (version 9.x), and before it came out CoPilot Live (version 8.x) since they first released on the market. They're not perfect, but as many others have pointed out, they will do onboard maps, which is the biggest selling point. Google Nav is great for most travel, and I use it as my primary GPS system, but offline maps is really a shitty solution to the wrong problem. "Download maps in advance of places you already know you're going to visit!" is not the same as "Have maps already available no matter where you go, whether or not you have data" which is what CoPilot offers. It's definitely worth a purchase for $10 if you travel a lot, just in case your signal is crappy or something.

Great when you a wifi only device. My only problem is I rarely need to use it and forget how to set things up with so many options. I used it several times last week on vacation and pre-downloading maps wouldn't have worked because I didn't have a full route in advance.

I bought this app for $20 a couple of month ago just for the off line navigation. Let me start by saying for that amount of money I believe you deserve more. while drive from Harrisburg PA to Bronx NY this kept giving me wrong exits along the way and when it was not wrong it was just not there. The Ui is pretty neat I actually like, nothing that would sway me away from goog nav. Entering address is somewhat of a hassle since you have to enter every address line in different windows. My advice is that unless you really really really need off line nav, dont buy.

I got the free CoPilot recently for a trip into Canada and I didn't want to pay data roaming rates. The free version does create turn by turn navigation, but it doesn't update as you go along nor speak the directions so you have to refer to the map or manually recalculate after each turn, but it worked great in Canada. Enough so that I upgraded to the $9.99 turn by turn version. The POI's were surprisingly good too given that I had no live data. We used it to find tiny little restaurants, museums, medical facilities, and beer stores in sparsely populated north Nova Scotia. My only complaint is it is difficult to find all the "ridiculous depth of options", plus it doesn't announce the names of roads nor the distance to the next turn, e.g. "stay on highway 5 for 6 miles".

"it doesn't announce the names of roads nor the distance to the next turn" Did you set it up in the options to use Google's tts? If you do, it will speak the road names.

£6.41 for the USA version, £26.99 for the UK version?!?! WTF
they can take running jump as far I'm concerned...

My feelings too. Downloaded France as my 1st free map to avoid data roaming charges. Love the interface, but nearly 30 quid to upgrade and get other maps ? They're having a laaaaaaarf.

Been using CoPilot since the Windows Mobile days and have used it on every device since for one reason - no need for a connection to data. The paid for advance traffic saves time and money by rerouting you around any upcoming snarls and in NYC, we have a lot of backed-up traffic. Great App.
Android Central Newsletter
Get instant access to breaking news, the hottest reviews, great deals and helpful tips
Thank you for signing up to Android Central. You will receive a verification email shortly.
There was a problem. Please refresh the page and try again.