Carrier IQ withdraws 'misguided' cease-and-desist letter, apologizes to security advocate TrevE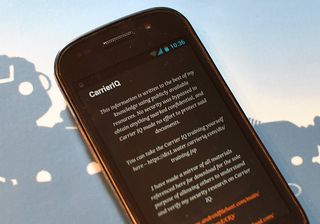 Well, that was quick. Carrier IQ just sent out a press statement saying it's withdrawn its cease-and desist letter to Trevor Eckhart, who recently detailed how the company's action worked. Said Carrier IQ:
Looks like the Electronic Frontier Foundation's backing of Eckhart paid off, the lawyers have done their thing, and the security and privacy advocate known as TrevE won't be pursued for thousands of dollars of fines after all.
That doesn't change the fact that the Carrier IQ software remains on a number of phones, and many of you aren't crazy about having a hidden background app report how you use your phone back to the manufacturer -- even if you do agree to it up front -- and that's certainly an argument that needs to continue.
We've got the full press release after the break.
FOR IMMEDIATE RELEASE
Carrier IQ Press Statement
Mountain View, CA - November 23, 2011 - As, of today, we are withdrawing
our cease and desist letter to Mr. Trevor Eckhart. We have reached out to Mr.
Eckhart and the Electronic Frontier Foundation (EFF) to apologize. Our action
was misguided and we are deeply sorry for any concern or trouble that our letter
may have caused Mr. Eckhart. We sincerely appreciate and respect EFF's work
on his behalf, and share their commitment to protecting free speech in a rapidly
changing technological world.
We would like to take this opportunity to reiterate the functionality of Carrier IQ's
software, what it does not do and what it does:
Does not record your keystrokes.
Does not provide tracking tools.
Does not inspect or report on the content of your communications, such as the content of emails and SMSs.
Does not provide real-time data reporting to any customer.
Finally, we do not sell Carrier IQ data to third parties.
Our software is designed to help mobile network providers diagnose critical issues that lead to problems such as dropped calls and battery drain.
Here's what our software does:
Our software makes your phone work better by identifying dropped calls and poor service.
Our software identifies problems that impede a phone's battery life.
Our software makes customer service quicker, more accurate, and more efficient.
Our software helps quickly identify trending problems to help mobile networks prevent them from becoming more widespread.
We look forward to a healthy and robust discussion with EFF that we believe will
be helpful to us, to our customers, and to consumers that use mobile devices.
We welcome feedback on our products and understand that Mr. Eckhart and
other developers like him play an important role by raising questions about the
complicated and technical aspects of the mobile ecosystem.
Get the Android Central Newsletter
Instant access to breaking news, the hottest reviews, great deals and helpful tips.