Call of Duty: Black Ops Zombies launches on Android, exclusive to Xperia Play and Xperia S for now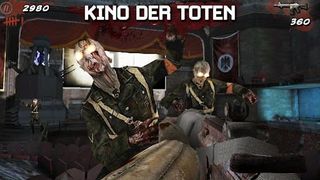 There was once a time when the undead had no place in military shooters. That age was thankfully consigned to history with the launch of the Call of Duty: Black Ops Zombies add-ons for home consoles, and now it's time for Android owners to arm themselves with semi-authentic World War II weaponry and do battle with reanimated corpses.
That's right, today sees the launch of Call of Duty: Black Ops Zombies on the Google Play Store. The game is a zombie survival shooter, in the style of the zombie modes in Call of Duty console titles. Classic maps like Kino Der Toten, Ascension, and Call of the Dead: Director's Cut make a return on mobile, and there's also "Dead-Ops Arcade," a 50-level wave-based survival game similar to Gears of War's Horde mode.
For the moment, CODBLOPS Zombies is exclusive to Sony's Xperia Play and Xperia S. That means if you're rocking different hardware, you'll need to wait to for the 30 day exclusivity period to expire before you can take on swarms of Nazi cadavers.
The game is free to download, with the option of purchasing CoD points through the app to use for revives and other in-game abilities. If you've got an Xperia S or Xperia Play, you can hit the Google Play link to download now. We've also got the full press release from Activision after the break.
CALL OF DUTY®: BLACK OPS ZOMBIES APP NOW AVAILABLE ON ANDROID
Santa Monica, CA - August 3, 2012 - Call of Duty®: Black Ops Zombies, the fan-favorite app based on the popular Zombies mode from Treyarch's and Activision's record-setting hit Call of Duty®: Black Ops, is now coming to Android. Adapted by Ideaworks Game Studio and distributed by Glu Mobile, Inc. in partnership with Activision,Call of Duty®: Black Ops Zombiesdelivers heart-pounding maps: Kino Der Toten, Ascension, and Call of the Dead: Director's Cut, as well as "Dead-Ops Arcade," a 50-level zombie gauntlet that provides the ultimate undead challenge for fans of Call of Duty®'s signature Zombie action. Gamers can play solo, or join a team of four players via Wi-Fi as they mow down hordes of zombies using a variety of weapons and perks only available in the Call of Duty® zombie experience.
Call of Duty: Black Ops Zombies on Android is available exclusively for 30 days on Sony's Xperia smart phones as well as Sony's Xperia Play Optimized devices including the Xperia Play, with its dedicated gaming keypad, and the critically acclaimed Xperia S and Xperia Ion.
"We're thrilled to partner with Glu Mobile and Ideaworks to bring the Call of Duty: Black Ops Zombies mobile experience to Android, and we couldn't be more excited to launch first on Sony's critically acclaimed line-up of Xperia devices," says Greg Canessa, Vice President of Mobile Development, Activision Publishing, Inc.
"We're delighted to bring the blockbuster Call of Duty® franchise to Android smartphones and Xperia for the first time. And what better way to make this introduction than with the release of Call of Duty: Black Ops Zombies," said Tim Harrison, Head of Content Marketing and Strategy at Sony Mobile. "There's nothing else in this world or the underworld like Call of Duty. We can't wait to unleash Zombies to our fans."
Players can also opt to enhance their experience with the in-game CoD Point System, available in the single-player mode. With six tiers of in-app purchasing options to choose from, Zombies fans will be able to take the action to a new level by unlocking additional areas and securing better weapons in less time.
Developed by award-winning studio, Treyarch, and published by Activision Publishing, Inc., a wholly owned subsidiary of Activision Blizzard, Inc. (Nasdaq: ATVI), Call of Duty: Black Ops is rated "M" (Mature) by the ESRB for Blood and Gore, Intense Violence and Strong Language. Call of Duty: Black Ops Zombies is adapted for Android by Ideaworks Game Studio and distributed by Glu Mobile. For tips, tricks, and troubleshooting, be sure to check out the Black Ops Zombies Field Manual at http://www.callofduty.com/blackops/faq/androidzombies.
Alex was with Android Central for over a decade, producing written and video content for the site, and served as global Executive Editor from 2016 to 2022.
I wonder how much Sony paid to have that exclusive. It's only going to hurt sales. The advertising is coming now when it's exclusive. In 30 days people will have forgotten and there will be no free ads on sites like this.

Play Store shows its compatible with my old HTC Hero.

LOL, so for 30 days only 5 people will get to play it?

wasnt the zombie mode introduced with Call of Duty World at War? looking forward to trying this game. dschoenike

you guys always say that, and it's NEVER true lol Lara Croft was supposedly Xperia only, and it ran PERFECTLY on my Nexus S 4G running CM9...and it still runs great with CM10, as well. Just because it's only being sold on the play store to Xperia users doesn't mean it's an exclusive. I'm going to download it right now and I'll bet anyone it runs perfectly on my NS4g ;)

Yeah, that actually is what exclusive means. Exclusivity to a single device has NOTHING to do with having/not having compatibility with devices other than said exclusive device. So when they say it's exclusive to device X, they literally mean it's only (supposed to be) available in the Play Store for device X.

Yes and we need someone to upload it so we can sideload it :)

Play says its compatible with my old sgs2. Don't feel like spending $7 to fire that thing up and find out.

And developers wonder why apps get pirated...

Sounds cool, but I'm still killing Zombies on Dead Trigger :) I may check this out down the road, but the Exclusivity to the Sony devices doesn't seem to be a sound strategy for a developer. At least it's only for 30 days.

Nice! I'd download it onto my Play if there was any internal memory left.

Great, another zombie game. ZZZZZzzzzz...

Not tired of Dead Trigger yet... And that was free...

And they complain about piracy.

This is free to download? It's $6.99 in the Store so I guess this is another app i'll just forget about. :/
Android Central Newsletter
Get the best of Android Central in in your inbox, every day!
Thank you for signing up to Android Central. You will receive a verification email shortly.
There was a problem. Please refresh the page and try again.