BlackBerry's Notable app lets you quickly annotate screenshots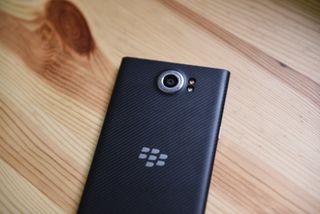 (Image credit: Daniel Bader / Android Central)
To help extend the excitement of the forthcoming BlackBerry Mercury, the company has launched BlackBerry Notable (opens in new tab) for BlackBerry Hub+ users. The app allows you to annotate screenshots before opening them up in other applications, or you can start with a blank canvas. You can draw, add text, and make collages. It's a fairly simplistic app that looks and functions a bit like Google Keep. As an added bonus, you can program it to open up with a gesture or the press of a hardware shortcut key.
At present, the app is only available for BlackBerry device users, including the DTEK60, DTEK50, and the Priv. The company says the app will eventually come to other devices with a subscription to BlackBerry Hub+, but you don't have to wait: there are already plenty of apps in the Play Store that offer similar functionality.
Florence Ion was formerly an editor and columnist at Android Central. She writes about Android-powered devices of all types and explores their usefulness in her everyday life. You can follow her on Twitter or watch her Tuesday nights on All About Android.
Good to see they are keeping busy, I guess.

Not a bad app. Needs to integrate better with notes, tasks etc. Needs more functionality but I know that will improve over time.

Is a good App. I have been looking for a App like this. I'm sure it will get better as time goes by

It's Good for using by a friend who let's others to view my mobile and maintaining secrets of my own. It gives me the freedom of privacy! Leo privacy has all the functions of clean master and more! I can hide images and add themes to the applock function.

Wow I don't think I saw this on CB.
I hope they made it so you can back it up but they probably didn't
Android Central Newsletter
Get the best of Android Central in in your inbox, every day!
Thank you for signing up to Android Central. You will receive a verification email shortly.
There was a problem. Please refresh the page and try again.