BlackBerry Music Gateway review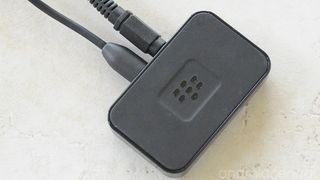 Here's a little gem that's been hiding in the back of ShopAndroid.com. Ignore, for the moment, that the BlackBerry Music Gateway is, well, from BlackBerry. And that it's got a BlackBerry logo on it. Instead, let's focus on what it does: It's an extremely simple way to wirelessly stream music from your phone to any device that accepts a 3.5mm headphone jack.
That's streaming music in your car. To your entertainment center. To computer speakers. Anything, really. And it does so with a little trick up its sleeve that makes getting started as easy as possible -- and a price that doesn't break the bank.
The BlackBerry Music Gateway is a devilishly simple device. It's roughly the size of a Zippo lighter (a little more narrow, perhaps), and it's as light as you'd expect a gadget like this to be. To that end, the bottom is footed with a non-stick rubber, to help keep it from sliding around, though the featherweight nature of the gateway means it's going to want to move around a bit if it's in a car.
Round back you'll find the 3.5mm output and microUSB (yes, proper micro-USB and not the older, less-used mini-USB.
Up top is the BlackBerry logo, resting in an indentation in the rubber-covered roof. That indentation actually is a button that serves as a toggle for pairing a new device. One button, one output, and one power port. That's it. Plug in a couple of cables -- the Gateway comes with a 3.5mm to RCA as well as a standard 3.5mm audio cable -- and it's time to pair.
Pairing is ridiculously simple. My main complaint about Bluetooth devices has always been the pairing process. The vast majority of the time it's clunky and anything but intuitive. With the BlackBerry Music Gateway, you press the "B" button on top of the Gateway, wait for the blinking red-and-blue light to blink, then tap your NFC-enabled phone on the Gateway. It should automatically start the pairing process, though we did have a couple phones that experienced hiccups.
If your phone doesn't have NFC, or if you have a phone that's not playing nice (again, we expect that to be the exception to the rule), you can just pair it through the Bluetooth settings menu like other Bluetooth devices.
And ... that's it. You're streaming music.
Pros
Inconspicuous size
Ease of operation
Included 3.5mm and RCA cables, USB power plug
Cons
Occasional wonkiness in setup, usually due to the phone, though
You'll have to get over the fact you're using a BlackBerry device. And you should
The bottom line
The BlackBerry Music Gateway has provided one of the simplest Bluetooth experiences we've ever had. It takes the same functionality of the HTC Bluetooth Car Stereo Clip (read our review) and puts it into more of a domestic package. Range is typical for a Bluetooth device -- about 10 feet or so, on a good day, and its flexibility means you can use it at a desk or in a car or in the living room.
If you're looking for a simple Bluetooth streaming solution, the BlackBerry Music Gateway is a good choice, and it's yours for half a Benjamin.
Image 1 of 6
Be an expert in 5 minutes
Get the latest news from Android Central, your trusted companion in the world of Android