BlackBerry Music Gateway review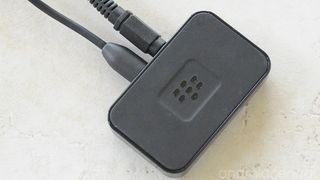 Here's a little gem that's been hiding in the back of ShopAndroid.com. Ignore, for the moment, that the BlackBerry Music Gateway is, well, from BlackBerry. And that it's got a BlackBerry logo on it. Instead, let's focus on what it does: It's an extremely simple way to wirelessly stream music from your phone to any device that accepts a 3.5mm headphone jack.
That's streaming music in your car. To your entertainment center. To computer speakers. Anything, really. And it does so with a little trick up its sleeve that makes getting started as easy as possible -- and a price that doesn't break the bank.
The BlackBerry Music Gateway is a devilishly simple device. It's roughly the size of a Zippo lighter (a little more narrow, perhaps), and it's as light as you'd expect a gadget like this to be. To that end, the bottom is footed with a non-stick rubber, to help keep it from sliding around, though the featherweight nature of the gateway means it's going to want to move around a bit if it's in a car.
Round back you'll find the 3.5mm output and microUSB (yes, proper micro-USB and not the older, less-used mini-USB.
Up top is the BlackBerry logo, resting in an indentation in the rubber-covered roof. That indentation actually is a button that serves as a toggle for pairing a new device. One button, one output, and one power port. That's it. Plug in a couple of cables -- the Gateway comes with a 3.5mm to RCA as well as a standard 3.5mm audio cable -- and it's time to pair.
Pairing is ridiculously simple. My main complaint about Bluetooth devices has always been the pairing process. The vast majority of the time it's clunky and anything but intuitive. With the BlackBerry Music Gateway, you press the "B" button on top of the Gateway, wait for the blinking red-and-blue light to blink, then tap your NFC-enabled phone on the Gateway. It should automatically start the pairing process, though we did have a couple phones that experienced hiccups.
If your phone doesn't have NFC, or if you have a phone that's not playing nice (again, we expect that to be the exception to the rule), you can just pair it through the Bluetooth settings menu like other Bluetooth devices.
And ... that's it. You're streaming music.
Pros
Inconspicuous size
Ease of operation
Included 3.5mm and RCA cables, USB power plug
Cons
Occasional wonkiness in setup, usually due to the phone, though
You'll have to get over the fact you're using a BlackBerry device. And you should
The bottom line
The BlackBerry Music Gateway has provided one of the simplest Bluetooth experiences we've ever had. It takes the same functionality of the HTC Bluetooth Car Stereo Clip (read our review) and puts it into more of a domestic package. Range is typical for a Bluetooth device -- about 10 feet or so, on a good day, and its flexibility means you can use it at a desk or in a car or in the living room.
If you're looking for a simple Bluetooth streaming solution, the BlackBerry Music Gateway is a good choice, and it's yours for half a Benjamin.
for $50 ill walk the 10 feet to plug my phone into the stereo

I ordered one from you guys a couple weeks ago, and I love it. I use it in one of my cars. It's tucked away out of site and auto-connects every time I get in the car. I think I'll be ordering another one to use around the house.

FYI - For half the price, you can get the Belkin Bluetooth Music Receiver. https://www.amazon.com/dp/B0047T79VS/ref=cm_sw_su_dp?tag=hawk-future-20&... Same concept - uses the A2DP protocol, so it works with your laptop just as easily as your phone / tablet. I've got 3 in my house so I can stream to stereos in any room. Only downside to the Belkin is that its power port is non-standard instead of Micro USB.

I use the Belkin too. Comes with its own power supply. I agree this BB dongle is about twice as expensive as it should be. -Suntan

I've had too many Belkin products fail. I've had the older version of the music gateway for two years and it's just flawless.

As you already indicated, the benefit of the Blackberry solution is that it uses a standard Micro-USB charging cable, so it can easily be used in the car or almost anywhere else for that matter.

Even better is the Samsung HS3000. Currently $34 on amzn
http://www.amazon.com/Samsung-Stereo-Clip-On-Bluetooth-Headset/dp/B0057W... This thing is really the only bluetooth audio accessory that can be a clip on receiver to use while exercising, an upgrade for a aux in car stereo, home stereo, or portable speakers.
It automatically pairs, and connects and remembers two devices for auto connection. The range is around 20-25 feet assuming no obstructions are in the way. It also will function while charging via micro-usb. Many other cheaper receivers will not function while charging.
So you can just leave it hidden away somewhere, or mount it within reach, if you want to use the built in mic for conversation.
Because it has a built in mic it turns any of your regular headphones into bluetooth headphones. A few things that it could change to be the best BT audio acccessory ever is apt-x codec capabilty, side buttons that are easier to distingish what they are, and a water resistant/proof housing. The only reason I could see to buy this blackberry unit is to play with NFC. If the phone can be programmed to do something more useful than just auto pair, it could be much more useful.
My ideal scenario would proceed like this:
* NFC capable phone is placed near the receiver.
* Phone's bluetooth turned on by action/macro tied to NFC chip proximity. (It's always off to save batt.)
* Phone auto connects to BT, then auto starts streaming audio app of choice.
* When removed from receiver's NFC chip range, BT automatically turns off. I know some of this can be done with a programable nfc tag, and the tasker app, but this shows the very limited utility of using NFC to pair. Most new bluetooth devices that have 0000 as their pin, will auto pair and connect, without even the need to enter a pin once put into pairing mode. While I'm at it, I'd also like to have an aftermarket steering wheel BT remote for changing stations in streaming apps, and volume adjustment. I believe the problem stopping the wheel BT remote issue, is that the protocol may not support having two devices control A2DP, or headset profile volume at once.

I almost got this (ended up caving for another AUX cable). For another 50$ you can get the tunelink auto. When my current aux cord breaks (they always do) I'll probably cave for that as a permanent audio solution. Plugs directly into the aux jack, does FM and Bluetooth and allegedly elminates the interference when charging/playing audio.

Was hoping for a video as well. I'd like to see how it works.

If you have to plug the audio cable into your stereo system why would you not just plug your phone into it? Why do you need a middle man to just drain battery faster?

Because you plug the music gateway in one time... EVER. Without it, you're plugging your phone in all the time, on top of having to go to the stereo to change the song vs. using your phone as a remote control. Do you still walk to your TV to change the channel? Do you plug your TV remote control in to the television everytime you want to use it? If I want to listen to music, I prefer to not have to go fiddle around with cables. Instead, I just pull out my phone and push play.

Because you only have to connect the device one rather than every time you get in the car or walk into the room. I prefer the Belkin Autocast which also include a mic in the actuator that bring bluetooth streaming and hands free calling in one small, attractive package.

Why not plug in? Because its nice to control the music from where you are. It's the difference between getting up to change the channel and using a remote.

So, Phil, or Orcares, or "whoever has this bb adapter", does it work while charging? I'm thinking about using it in my car. Orcares, you said it auto-connects to your phone when you get in the car? What type of phone do you use? I have a Samsung GS3 and have tried a few other bt adapters similar to this one (like the Samsung HS300 and the HTC bluetooth music adapter) and neither will auto-connect to the GS3. Just curious as to what type of phone you have.

I have the same phone as you. One key note... It isn't "charging." It (the BB adapter) has no battery, so it has to be plugged in to function. As long as my car is running, it has power from my car charger. I get in the car, start it up, and my phone connects to it since it is still paired to it. I haven't had to re-pair it even once since the first time.

I'm liking that. Do you use security (i.e. pattern lock, PIN, etc.) on your GS3, or do you just rely on the "lock" screen? I use security (pattern lock) and wonder if it still auto-connects when such security is enabled?

@mrsimps- The samsung HS3000 auto connects to my HTC rezound, and flyer just fine. Maybe you have a bum unit?

@thefriendlygeek, I often wondered if something was wrong with my phone. With the HS3000, I kept it plugged into the power adapter, so it would always have a charge, and also kept it plugged into the auxiliary port. I wanted an "effortless" set up. Problem is that when I exited the car, the HS300 (which, as you know, operates on battery power) stayed powered on. My car doesn't provide power to the power plugs when the car is off, so I thought that when I started the car, the HS3000 would experience a "jolt" or something that would make it try to connect. No such luck. I tried different scenarios with the pattern lock enabled and disabled. Neither worked. You now have me again wondering if there's something up with my specific phone.

if (or probably) when the scosche motormouth dies, the blackberry thing looks an interesting option. As for options on the wishlist, I'd like to see an advance button,

I've had the older model for over 2 years now, awesome! I got it for like $25 on ebay without AC adaptor but then a mini BB was like $8. I have it on my main stereo receiver in house with 4 outdoor speakers on my patio area and I'm able to connect any of our phones to it, my Xoom too. I've even had family and friends be DJ and hook up. Enjoy the pool and don't need to come in the house to change music, all done while outside. One of my best purchases to date!

I've used this in my car for almost a year and love it (http://www.amazon.com/gp/product/B0038MA11U/?tag=androidcentralb-20&m1k=...). Price seems to change a bit, and fits well inside my arm rest where I have both AUX and USB to power the unit. I used to have a BB, and while I like their products... this design didn't work well for me. The BluBridge works great and I picked it up for under $30 in 2011.

I've had the older version of this for two years. It works perfectly. My car has BT hands free but no BT stereo. I tucked this thing into the armrest of my BMW and haven't had to give it a second look ever since. I just pop my GS2 into my dock and hit play. Both my old blackberry and my Android have worked perfectly with it.

Have one of these and use it in my car. Great device, no wires doesnt sound like that big of a deal at first but once you start using this you wont wanna go back. very convenient and people are amazed when you play music in the car with your phone and no wires.
Android Central Newsletter
Get the best of Android Central in in your inbox, every day!
Thank you for signing up to Android Central. You will receive a verification email shortly.
There was a problem. Please refresh the page and try again.