Bill Gates calls losing mobile race to Android his 'greatest mistake ever'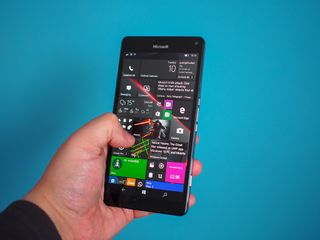 (Image credit: Android Central)
What you need to know
Bill Gates says that his biggest mistake at Microsoft was losing the mobile space to Android.
Gates saw the non-Apple standard for the mobile market as a "natural thing for Microsoft to win."
While Gates sees Microsoft as a leading company right now, he believes it could be the leading company had it got mobile right.
In a candid new interiew, Microsoft co-founder Bill Gates said that ceding the mobile market to Android was his "greatest mistake ever." Speaking at an event with venture capital firm Village Global (via The Verge), Gates touched on the subject as part of a larger discussion on some of the most important choices he made at Microsoft.
From Gates:
Gates undoubtedly shares some of the blame with Steve Ballmer, who was Microsoft's CEO when the iPhone and Android entered into the mobile race. In fact, when asked about the iPhone launch, Ballmer laughed it off, stating that its lack of a keyboard would make it a no-go for business users.
Microsoft was arguably in a position to make more of a splash given its Windows Mobile efforts, but the company never made a commercially successful transition to the touch era. By the time Android started to take off, Microsoft was playing catch-up with its Windows Phone efforts and never managed to close the gap.
However, despite its mobile stumbles, Microsoft has managed to maintain momentum under the watch of CEO Satya Nadella, largely thanks to its more open approach to software and the backing of its cloud business. After its latest earnings report, the company surged past a $1 trillion market cap. Gates sees Microsoft's other assets, like Windows and Office, as "still very strong." But the former CEO admits that a mobile win would have made Microsoft "the leading company" instead of "a leading company."
You can check out Gates' full comments in the video below.
Android Central Newsletter
Get instant access to breaking news, the hottest reviews, great deals and helpful tips
That cluttered AF home screen at the top of the article is the number one reason I wouldn't touch it.

That home screen is the best goddamn OS screen in the mobile space.

Lol. It could be changed, just like any other cluttered AF Android OEM homescreen....

That was the beauty of the tiles. You could have it as cluttered or as simple as you wanted or anything in between thanks to the various sizes

Windows Phone Tiles has been my favorite version of a home screen and no it doesn't have to look cluttered.

Loved that "cluttered" home screen.

Windows phone was a robust OS. I used it on my Nokia 1520 for 3 years and loved it. Microsoft should have given it more love.

Microsoft gave it plenty of love, it was a great OS, sadly consumers didn't give it the love it deserved.

Neither did developers from major companies

Consumers wouldn't come flocking in until the developers built and maintained apps. It was more of a chicken and egg situation.

Going from no competition to complete failure. MS was on version 7 when the first iPhone was released. So sad.

Only they did get the OS right. The problem was that they were late. Loved WM when I had it.

I used it for a little while. Lack of apps is the only reason I gave it up. The OS itself was better than Android.

It was the lack of apps that did it for me as well. I have 155 apps installed right now. 54 of them are not available on IOS, 100 of them were not available for Windows.

I can still remember my excitement of jumping onboard with Windows Phone 7 on my new Lumia 800. Then how I thought it had everything with WP8.1
I switched between WP, iOS and Android regularly and had the L800, L920, L925, L1020, L1320, L1520, L950 and finally L950xl. It really was a great OS and with the Insiders Program the developers really listened to what we wanted and added those features soon after. It's sad because it really could have been so much better now if they'd saw the potential the fans did instead of giving it the long and painful death it did.

But it had very little developer support. If they had the same set of apps as Android, I'd still be using it today. Also W10 mobile completely turned me off design wise but I was already staying to play with Android by then.

Totally. It wasn't even just the lack of apps either. The quality and features of the apps were nowhere near that of the iOS and Android versions in many cases.

Loved my 920 best operating system I have ever used! Had to jump ship when it became clear that MS was slowly abandoning the mobile space

My story exactly. 920 was my favorite device of all time.

I'd like to see them give it another go, but it's probably pointless at this point. They'd have to make sure app developer are 100% on board before trying again.

I wouldn't say Android killed it... More like thes lack of developer and carrier support is what killed it. Sales representatives in carriers would actively sway consumers away from the Windows Phones.

I never considered buying a Windows phone, and I'm not sure why. I guess the Treo, BlackBerry, iPhone, then later the HTC Evo were more appealing to me.

I loved Windows Phone during my years on that os. Windows 8.1 was awesome. Windows 10 not so much. I blame Nadella for the loss of Windows mobile. He wanted Microsoft to be a software only company. Anywho... I'm happy on Android now. I just bought a new Moto G7. Great phone. I couldn't be happier.

I used Windows Mobile for about a month and it was just lacking too much in the app department. If they could have emulated Android apps in some way, I might have given it more of a chance...but it didn't make sense to switch when I was giving up so much. Now I'm using Outlook and Word on my Android phone, go figure.

I am definitely in the minority and prior to the Note 9 the Samsung SGH-i760 was my favorite phone. While I was fairly dedicated on Windows Phone (all iterations of such) I was a Windows Mobile devotee prior to that. If it didn't brick itself eons ago who knows what device I would currently be on now.

The App store was just not very good - a lot like when you get a kindle fire and you realize you have to use the amazon app store. Too bad because it really was an intuitive system and everyone I know that had Windows Phones LOVED them.

I bought a Nokia Windows phone from Ebay to try it out some years ago. Really liked it but the lack of local apps killed it. Stuck with Android ever since.

Despite these perceived and actual stumbles, I think that Windows Mobile remains one of the best OS attempts never to make it. A kind of wonderful failure. I thought the Window Phones, especially the Nokia Lumia line were excellent. During the time when Microsoft was struggling to push it's mobile OS, I was more particular to BlackBerry's BB10 attempt. BB10 is yet another sad, sad chapter in the brief history of mobile OS competition. While I entertained the idea of switching to Windows Mobile from BB10, it soon became clear that just as BB10, it's whole future was in doubt. At least, unlike BB10 whose impending official end will come about at the end of 2019, the Windows Mobile OS, well a version of it, found a new life on the Microsoft Surface and all other Microsoft powered laptops and desktops. I think that the Windows Mobile OS was done in by gross mismanagement and shoddy planning. Just ask Mike Lazaridis and Jim Balsille...and Thorsten Heinz Ketchup...a club of unfortunates that Balmer and Gates should join... Instead as consumers we are stuck with ISuck and Retardroid... Perhaps there is a slim chance that in the future there might be space for a third mobile platform to operate... but I'm not going to get my hopes up...

Reading between the lines, I'd say the OS should be given another try. Many of us, Windows Mobile refugees, will gladly go back to our first love. Perhaps taking some new comers along the way.

I started with a Nokia 820 and really liked the phone. Over the next few years I used 6 or 7 windows phones but I use Android now and try not to use any Microsoft software on it. Thats how much they turned me against Microsoft. They will never be relevant in mobile again.
Android Central Newsletter
Get instant access to breaking news, the hottest reviews, great deals and helpful tips
Thank you for signing up to Android Central. You will receive a verification email shortly.
There was a problem. Please refresh the page and try again.