Good things are coming to VR and mobile graphics from the Khronos Group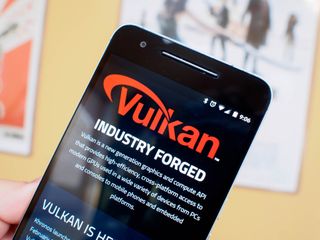 There were a few exciting announcements to come out this week from the Khronos Group, the consortium behind the Vulkan API that helped your Galaxy S7 and Pixel soar despite graphics-heavy gameplay. As part of GDC 2017, the group announced several initiatives that will hopefully aid in standardizing 3D image rendering across the board, and thus make games look better on your smartphone and virtual reality more accessible across varying platforms. There's plenty of bullet points to go through, so let's get started.
"JPEG for 3D"
Have you heard of the specification that will help three-dimensional graphics render more seamlessly? It's called glTF and it's a spec that was introduced last year. It's the sort of thing that will make gameplay easier for mobile devices. And it's the kind of thing that could help make the Chrome browser a bonafide operating system of its own. Imagine, playing games through your browser.
The Khronos Group announced that it's now finalizing the second iteration of that specification. glTF 2.0 will bring with it Physically Based Rendering (PBR), which will make it easier to conjure up assets. Essentially, you're programming the shade of the texture to create the model. You can read more about it in the official blogpost. At present, BabylonJS, three.js, Cesium, xeogl and instant3Dhub engines, and Sketchfab are all in the process of migrating over to glTF 2.0.
OpenXR
Who likes open standards? Khronos is introducing a new one called OpenXR, essentially an open standard for virtual reality and augmented reality apps. This will make it so that companies Steam and Oculus can develop titles and hardware that works interchangeably with the HTC Vive's hardware, or even the Daydream VR. It will also help lower the barrier to entry for the smaller app and device developers looking to enter the VR and AR space, in addition to easing away from any further fragmenting of the industry.
WebGL 2.0
For the last bit of pertinent news, Khronos has revealed that WebGL 2.0 has been finalized and is shopping out to browsers everywhere. This isn't mobile-facing news, but if you're a Chrome or Firefox user, you'll have access to OpenGL ES 3.0, which will essentially make it easier for either browser to render 3D graphics. It's especially curious how this sort of functionality could work with Chrome OS in the future, considering it'll be baked into the Chrome browser.
If you'd like to read up on the Khronos Group's announcements this week, you can read the blog in its entirety here.
Get the Android Central Newsletter
Instant access to breaking news, the hottest reviews, great deals and helpful tips.
Florence Ion was formerly an editor and columnist at Android Central. She writes about Android-powered devices of all types and explores their usefulness in her everyday life. You can follow her on Twitter or watch her Tuesday nights on All About Android.