The best Android games for Halloween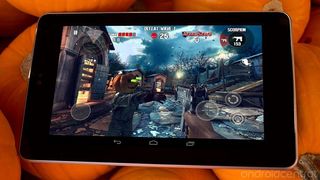 Halloween is nearly upon us! That means monsters, candy, frights, pumpkins, and all of the awesome stuff in between. What, have you not been able to get into the spirit? Let us help you out with that. Here are just a few excellent Android games that will get you pumped enough about the season to start working on that costume, putting up the decorations, and planning for the best Halloween parties next week.
Dead Trigger
Why you can trust Android Central Our expert reviewers spend hours testing and comparing products and services so you can choose the best for you. Find out more about how we test.
We would be remiss to not mention the foremost zombie shooter on Google Play, Dead Trigger. They've recently updated with some great, goofy Halloween content. This free title takes you through a series of stages that are richly-rendered, and full of tactical opportunities. Over time, you unlock a variety of weapons - some serious, some ridiculous, but all fun. There are also plenty of gadgets and equipment to make sure you survive long enough to make it back to your group's hideout. The story and dialog is all purposefully tacky and do a great job of poking fun at the zombie apocalypse genre.
The Great Pumpkin Festival
If you're looking for something a little more subdued for the kids, The free Great Pumpkin Festival game or Android features Charlie Brown and his crew. Players dress up the various Peanuts characters in costumes, carve pumpkins, share creations online, and vote on the best ones others have posted.
The pumpkin-carving is basically Draw Something, where players are given words to carve, and other players have to guess what they are. Both sides earn candies when a correct guess is made, which can be spent on buying new costumes. Coins are also used, which you can get through in-app purchases, so make sure you can an eye on where the little ones are tapping. If you'd like to get some interactive storytelling and a few other mini-games, you can check out It's the Great Pumpkin Charlie Brown for $2.99 (video demo above). While the game elements themselves are light, Charlie Brown has a certain timeless charm that's bound to keep your kids entertained and excited for trick-or-treating next week.
Dark Meadow: The Pact
If you're more into the tricks than treats, you'll want to try out this free, on-rails first-person shooter called Dark Meadow: The Pact. The deep, involved storyline of Montclair Hospital makes your encounters with the demons that inhabit the abandoned structure all the more suspenseful. Wandering its decrepit halls, you find a single spirit that might be able to answer your questions and maybe get you out of the place alive.
Dead Runner
Dead Runner is a simple, atmospheric first-person endless runner. Players have to steer through a haunted forest using tilt controls as they gain speed to outrun an unseen (but clearly terrifying) evil. There are three game modes: one which scores you based on how long you last, a second which awards points for collecting orbs throughout the barren forest, and a chase mode where players have to hold down a finger on the screen to keep up the speed while still not faceplanting into a one of the many obstacles. Dead Runner is an older game, so you won't find stuff like in-app purchases or power-ups here, but it has otherwise aged gracefully. For a buck, this is a good way for casual gamers to get their spook on.
Zombiewood
The latest free title from Gameloft is Zombiewood, a dual-stick shooter which features a stuntman clearing out the undead from Los Angeles. As you barrel through 11 different themed movie sets and 10 game modes, you earn crazy new weapons, ridiculous outfits, and share your top scores on the global leaderboard. It's loads of fun, and will definitely keep you hooked well past October 31.
Honorable Mentions
Most of these didn't make the top five because otherwise we'd just have a list of zombie games.
These are just a few options, but there are a lot of Halloween apps and games available in Google Play, particularly in the Staff Picks section. Which Halloween-ish games have you found for Android lately? Do you plan to use your device a lot when you're out and about next week?
Get the Android Central Newsletter
Instant access to breaking news, the hottest reviews, great deals and helpful tips.
Simon has been covering mobile since before the first iPhone came out. After producing news articles, podcasts, review videos, and everything in between, he's now helping industry partners get the word about their latest products. Get in touch with him at simon@futurenet.com.