There's a good reason your smartwatch doesn't have Android Wear 2.0 yet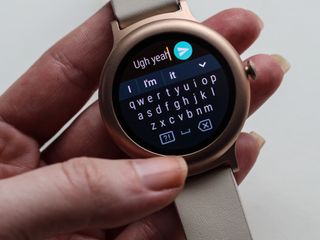 Delays happen all the time, but if you've been waiting for the update to Android Wear 2.0, you're likely going to be a little bummed by this news. Particularly if you consider that Android Wear 2.0 has already hit a few currently-available watches.
In a statement to 9to5Google, Google confirmed the update to Android Wear 2.0 will be delayed because of a bug found in the final testing. The Fossil Q Founder, Casio Smart Outdoor Watch WSD-F10, and Tag Heuer Connected are not affected by this delay, however, and will receive their updates as planned starting April 4.
Google will push the software update to the remaining Android Wear devices as soon as the bug is resolved. Hang tight – Android Wear 2.0 will be here soon.
Get the Android Central Newsletter
Instant access to breaking news, the hottest reviews, great deals and helpful tips.
Florence Ion was formerly an editor and columnist at Android Central. She writes about Android-powered devices of all types and explores their usefulness in her everyday life. You can follow her on Twitter or watch her Tuesday nights on All About Android.
My fossil q got the update yesterday

Hey which Q do you have???.....Gen 1 or Gen 2???

They are only pushing it out to the first Gen watch right now.

Ok thanks......I have a gen 1 Q Founder

Any idea when fossil gen 2 will get android wear 2?

I can confirm. I've just got my update on my gen 1 (Intel version) Q Founder. Awesome ☺️

The announcement was in February. 6+ weeks to fix one bug??

Must have been quite the bug! It would be interesting to hear what it was and why some models were not affected.

They only said those models weren't affected by the delay not that they weren't affected by the bug. It's hard to cut through PR bullshit sometimes.

" The Fossil Q Founder, Casio Smart Outdoor Watch WSD-F10, and Tag Heuer Connected are not affected by this delay" If I'm not mistaken, not a Qualcomm chip in the bunch (Intel and Media Tek). So maybe that's where the bug lie...

Have already from yesterday on my Tag Heuer Connected

Wait Google held off on a software update because they found a bug with it? That sounds like the opposite of what they usually do...

Sadly no... I downloaded the latest AW update 2 days ago and it killed my bluetooth on my moto 360 gen 2... BT notifications have been spotty since. Ive had to do 5 factory resets on my watch... And its still very inconsistent. My watch hasnt been the same since that D/L. So it got out, messed up... And now theyre trying to pull it back. as near as I can tell.

Interesting, considering AW 2.0 is not out yet for other watches

Shhh...you're ruining his Google bashing

I believe that was an update to the Android Wear app on your phone though, and not the Android Wear 2.0 for your watch.

Thats possible. When I D/L it, the information certainly described the update as though it were 2.0. But it never actually installed 2.0.

I'm loving Android wear 2. Major update.

So it's Google themselves who push the updates after all and not the smartwatch manufacturers?!

yeah it's google who does it.

I think the case is different for Android Wear OS than Android OS.

Yes, Google handles Android Wear like Apple handles iOS. That's why Samsung ditched it for Tizen and Android Wear is still sh*t. Google is terrible at building a good OS on their own.
Just look at Android. Stock Android is unbelievably incomplete. At each update all Google does is add things that Android OEMs have added themselves to the OS years ago.

There is, because it's a pebble.

Back in the 4.0 to 4.4.4 days it seemed like there was always a new version every few months. Now it takes a year for most new android phone versions and over 2 years for a new watch version. Meanwhile Apple pushing out new iOS versions every couple months still. What is Google doing honestly? Wish Google would step up their software game some.

Google has slowed the pace to make it easier for Android OEMs to catch up.

It's also less critical for Google to do full OS updates as most of the core apps (Drive, Gmail, Maps, Keep, G+, Hangouts, etc) are updated individually (and practically monthly) through the Play Store. On Apple and want an update for iMessage to fix a bug? Wait for the next point release. On Android and looking for a Hangouts update to fix a bug? It'll probably be out within a month, check the Play Store. Google IS issuing updates for Android monthly, security patches for the OS, even though it's not a full point release. Supported Nexus and Pixel devices (anything sold in the last 3 years) are getting them almost like clockwork in the first 2 weeks of the month.

I wouldn't say eagerly. I would more go with I want this over with so I can try and work around how horrible it is.

My patience is running out. I've been waiting months for AW 2.0. Granted Google has many more watch models to support than Apple and Samsung.

My patience runs out , I will try to get red of this Huawei watch and go for Apple one , how can google spent years to make update to its software , let Apple or even Microsoft make it for you !!!!!!!!!!!! .

Google is a piece of crap company. Apple never has these issues.

It's not just software updates but the watches themselves need to be better. Just look at the brand new LG watch sport, that thing is so big and bulky it's a workout in itself having that beast on your wrist. The LG watch style on the other hand looks a lot better but could only afford bluetooth and wifi and no other sensor one would want in a smart watch. My take is put everything in the LG sport into the LG style, I'd pay $350 for that. Android watch = Bulky!

What's with all the Google bashing? Apple controls the hardware and software. Google controls just the software and they need to make sure it's working with whatever configuration the hardware manufacturer decides to go with. You can't really compare the two. If you want to go with a company that has complete control over every component and process in which the user experience is defined please go with Apple. No one is forcing you to go with Android unless cost is your defining factor. If that is the case, take the good with the bad. Microsoft had requirements that manufacturers had to go with in order to make their Windows Phone devices just for reasons like this. Anyone remember All Windows Phone devices only had Qualcomm chips?

I just wish Google would be more open and up front about rollouts and timelines. Why did it take 6 silent weeks to announce the delay?

I'm loving the update. Android wear 2 is miles ahead of the first iteration​.