Android Wallpaper Review: Mystic Halo Live Wallpaper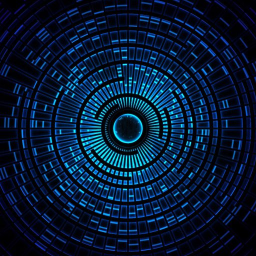 YouTube link for mobile viewing
I'm not sure what this wallpaper reminds me of, but it's cool. Maybe Tron? Maybe the last boss fight in Deus Ex: Human Revolution? A plane engine? It's hard to nail down, but I know I've seen something like it before, and like then, it intrigues me.
That's the essence of Mystic Halo Live Wallpaper. Rotating rings, glowing, responding to your touch, etc. It's all pretty compelling visually, and fortunately, it doesn't drag your phone down.
Mystic Halo Live Wallpaper has a pretty full settings menu, too, assuming you buy the paid version. From here you can change the fade scheme (linear, heartbeat, or none), changing little things like the center staying lit or even glowing.
You can also set the rotation pattern (random, alternating, or sync), and enable or disable touch events. Touch events are kind of interesting; swipe a finger or something the the wheels will go crazy. Tap the screen and they'll return to their normal speed. Kind of irritating sometimes, also kind of cool.
Mystic Halo Live Wallpaper doesn't have unique color picking yet, but it does support seven colors. If cool blue isn't your thing, you can also choose from: antique pink, magenta, red, crisp green, tron blue, and MagBlue. MagBlue is the only two-toned color of the whole set, but I'm hoping that will complete color customization (coming in a later update), the ability to choose two colors is also included.
On the performance side, I didn't notice any lag on my EVO 3D. Screens swipe quickly. Not sure if it's the beefy phone or a well made wallpaper, or both. The developer says his wallpaper truly stays in the background and doesn't interfere, and if performance on my phone is any indication, he's telling the truth.
There are both paid and free versions of Mystic Halo Live Wallpaper, with the paid version only costing 99 cents. If you do opt to go all-in and pay the buck for it, you'll open up the touch events, multiple fade options, rotation control and other "special effects." If you can live without that, the free version'll do you fine, but this looks like a really quality wallpaper, and it goes easy on the battery.
We've got more pictures and download links after the break.
Android Central Newsletter
Get instant access to breaking news, the hottest reviews, great deals and helpful tips
Does an HTC Wildfire, rooted, with Cyanogenmod installed, support live wallpapers?

Yeah I am pretty sure CM7 supports Live wallpapers since its GB based. Pretty much all ROM's these days support it.

OK, thank you :) I am planning to root my phone this year.

This may be a true n00b question, but I've had my Droid X for quite a while. And all these live wallpapers make me wonder if they're battery drainers. I've never used it for that fear alone. Can someone confirm/deny that live wallpapers won't kill my battery too much? Thanks!

It depends largely on the wallpaper used. I use JustPictures LiveWallpaper and update the picture once every 30 minutes. I don't notice any real battery depletion to it. On the other hand, if I fire up Kittehface Aquarium Live (an absolutely beautiful live wallpaper), it will eat my battery quite a bit faster.

Take a look at the Koi Live Wallpaper from Kittehface -- it does not put a hurting on the battery they way Aquarium Live does. Looks good on the DInc, looks amazing on the Xoom.

Will someone please tell me what clock app that is??

Looks like Minimalistic Text to me.

Clockr https://market.android.com/details?id=com.zehro.android.clockr&hl=en

Pretty cool wallpaper! Hopefully it's not too much of a battery hog. Only time will tell...

It reminds me of the loding screen from supreme commander. The first one at least.

If anybody seen the movie Event Horizon.. this Wallpaper looks like the byperdrive from the space ship.

Thanks very much for the review! It's great to see people appreciate my hard work! Really. For the record, there are more colors and effects now, and I will make an effort to update the app weekly with more colors and features. Unfortunately a color-slider doesn't work well (I tried). The complex color structure of the graphic loses its detail if you randomly vary hue. So I need to change colors using a 3x3 float matrix transform to preserve the integrity of the fine detail. Nevertheless, if there is a color you would like to see, email me and I'll add it to the list! On the list for v5 is: Maroon, Neon Green, Neon Red, White, and Silver (not sure I can do silver, but will try!). I really appreciate the review and positive feedback! Email me with any requests/suggestions/ideas/problems. I will reply: dc@zantetsuken.co.za PS: The clock app is indeed Minimalistic Text. The home screen is launcher Pro. I love them both! Launcher Pro adds great widgets in the paid version. The FB widget in Launcher Pro is better than the FB app's own widget IMO.
PPS: I can promise you this app has no battery drain effect. It effectively is dead unless visible, and even when visible the large amounts of black and low use of CPU keep power usage down. Try run it (even free version) a few days, then go to battery stats. It either won't appear at all, or will be ranked below your SMS/Gmail apps in power usage. Thanks again!
dc

This wallpaper is mezmerizing on a droid X with all the settings. Not much of a batt killer on my ROM either which I'm very happy about. Great work dev.
Android Central Newsletter
Get instant access to breaking news, the hottest reviews, great deals and helpful tips
Thank you for signing up to Android Central. You will receive a verification email shortly.
There was a problem. Please refresh the page and try again.