Android Game Review: Destroy Gunners F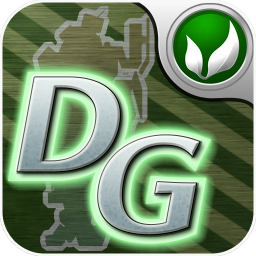 YouTube link for mobile viewing
Giant mechs have always held a special place in my heart. Be it the Megazord from Power Rangers (only the Mighty Morphin' variety), Xenogears, or even Gundam, giant robots have always been awesome. For us Android lovers, Destroy Gunners F looks to fill the mech-themed void on our platform with an imaginative and well designed game.
Destroy Gunners F thrusts you straight into battle, via the Score Attack or Extra Play options. There's no robot customization, no picking your decals, nothing. Pick a gameplay mode and you're put in the game's one robot model, outfitted with a number of weapon and an even larger number of adversaries that're trying to take you down.
Movement is controlled via the virtual joystick on the left side of the screen and firing is actually controlled by moving your finger on the screen. For example, if you want to lock on some missiles, drag the targeting circle over the bad guys, let it lock, and release to fire. The same is true with the other weapons, sans the locking on. Also, be aware you can't move and fire the cannon!
The left and right arrows on the right side of the screen are used to pan the camera around, so you can move the camera without using up vital ammunition. Tapping on the weapon button changes your equipped weapon, so you can always pick the right tool for the job. If it sounds like a bit much, don't worry. Everything flows really well, and being able to strafe so effectively while firing is implemented really well. To top it all off, you've also just a jet (jump) button, but it's placement seemed so awkward to me, I never really used it.
Because Destroy Gunners F only gives you the one robot, you're only really competing for the highest score. Score is affected by enemies destroyed, life remaining, time, etc. If you get bored trying to beat your own scores, Destroy Gunners F is OpenFeint enabled, so you can try and best other people's scores, too. As a matter of fact, there's a marquee at the bottom of the screen giving you someone's "score to beat" in each of the game modes.
Destroy Gunners F definitely has an Armored Core feel to it, for those who played that series back on the Playstation. The graphics are well done, the mech fighting and controls are tight, and the weapons palette is fairly varied, considering you can't customize anything. Best of all, it's free, so if you want to relive your mech-loving days, Destroy Gunners F is definitely worth checking out.
Download links are after the break.
You reference power rangers robot over voltron!!!? That's so wrong lol.

The Megazord was legit, man.

There is also a paid version with missions, but its $10...

MM Power Rangers was the best.. and playing this with a wiimote or some external control would be awesome.

Negative, voltrin was the best "mechanical/robot" hands down. Power rangers were homo. :)

+1 on that. Voltron was and still is legit!!!

I'm impressed you use sexuality as an insult. /not

Voltron definatly trumps MMPR...but no mention of MechWarrior is really an issue....all you young pups...lol

MMPR are for girls lol Voltron was better..Granzort also :)

Sounds good. I'm eager to try it now!
Android Central Newsletter
Thank you for signing up to Android Central. You will receive a verification email shortly.
There was a problem. Please refresh the page and try again.