Android App Review: Kinetic Clock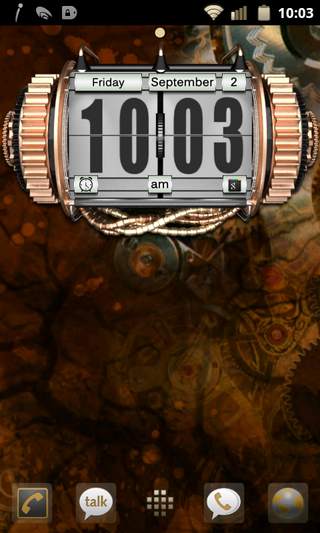 I'm a sucker for clock widgets. I have the time displayed clearly on my lock screen, in my notification bar, I even have a watch I wear semi-regularly, but none of them compare to a clock widget. A lot of our readers seem to agree, as most "post your home screen" threads are quickly dominated by a large half-screen widget that lets you know the time. Maybe scientists will diagnose this obsession some day and we'll all go on to leave fulfilling, clock-widget free lives, but that day is not today. Today I get to tell you about Kinetic Clock.
The first thing you'll notice is that Kinetic Clock isn't a "minimalist style" widget, not that I'm knocking minimalism. I've installed my fair share of "Minimalistic text" widgets, but lately it seems like everyone is in a race to see who can make the most minimalist app without simply being a featureless black square and it's nice to see someone try and buck that trend. The gears and wiring on the widget are so detailed that I spent a few minutes after I first installed it just waiting for something to move. The gears are actually just static images, but the developers did such an amazing job capturing the 3D "feel" of the gears that I had to email the developers just to make sure the widget functioned properly.
Kinetic Clock has a handful of customization options as well. There are two clock widgets to choose from, a 4x2 portrait widget as well as a 3x3 landscape option. Each widget will allow you to toggle how much information you want displayed (AM/PM, Date, etc) and provide space for two applications, such as my alarm clock and a shortcut to Google+. There are sixteen different skins available for the clock, with the developers promising more are on their way, such as holiday-specific skins, or user-requested skins to match their favorite theme's.
Overall, I'm very impressed with kinetic clock. The gears might not move, but they look like they should, and that level of detail is still pretty rare in the market. Kinetic clock doesn't have dozens of themes like Beautiful widgets, or the granular level of control afforded by "Minimal Text" type clocks, but it has a unique and detailed skin that's sure to get noticed. The market link and additional screenshots can be found after the break. Kinetic Clock is $1 in the Android Market.
Android Central Newsletter
Get instant access to breaking news, the hottest reviews, great deals and helpful tips
Am I the only person that finds clock widgets a little odd looking when you already have the clock readout in the sttus bar? I find multiple clocks on the homescreen a little odd looking. If I could have the option to get rid of the clock on the status bar, I'd think about a clock widget. -Suntan

This is why I use launcherpro. To knock off the status bar, and use beautiful widgets smaller clock widget up top

You're not alone... And yes, the clock on the status bar can be removed with root access and whatnot, but then you can't tell time when you're say, in the browser. The clock on the lock screen is plenty large for a quick look, if I'm in the home sceeen i'm already focusing on the screen and the status bar clock isn't any smaller than other on screen elements I'm about to focus on. Everyone's just aping HTC if you ask me... Personally I moved on and decided to use a combination of Beautiful Widgets single icon weather widget plus Minimalistic for date display (which you don't see on the home scree unless you bring the notification shade down). Clean and functional, takes half the space.

The styling of the clock looks like something out of the Videogame Fallout!

I was thinking the same thing.

Steampunk all the way... I like it. But 4meg for a clock? No.

I agree with suntan. I have the tb and don't use HTC's clock widget because it feels overkill to me.

what wallpaper/theme is that?

I posted this on my Google plus, but the theme is "Honeycream" the wallpaper is a steampunk wallpaper off of Deviantart. gplus.to/JasonLBauman

cool, thank you. circled you.

I'm glad android central did a review on this widget. It has just over 100 downloads. I think it deserves more and this exposure is good for it. Its cool looking clock with a mecho interface . It doesn't have a weather service which runs in the background. Its a nice simple clock widget which compliments the home screen well. The one thing I would like to see in the future for this widget is a transparency feature similar to beautiful widgets. New skins and not just colors would be nice too. @ Suntan. The clock widget can be seen as repetitive. However, i like the look that it gives the home screen. The clock on the status bar is very tiny. A larger clock is easier to see and makes the screen more aesthetically pleasing. I like how it Androidifies my phone and I'm not looking at walls of icons like iOS.

I agree that the clock widget is a good thing. I feel it gives the home screens a centerpiece between the 7 screens. Thats one of the things I love about HTC Sense.

It's much easier for me to see a clock widget than the tiny one in the status bar. Not everyone has perfect vision.

If you use Go Launcher, the Archangel theme looks awesome with this, if your going with a steam punk look.

A simulation of mediocre technology. Maybe they can improve it by having it lose time and occasionally jam.
Android Central Newsletter
Get instant access to breaking news, the hottest reviews, great deals and helpful tips
Thank you for signing up to Android Central. You will receive a verification email shortly.
There was a problem. Please refresh the page and try again.