Android App Review: Impel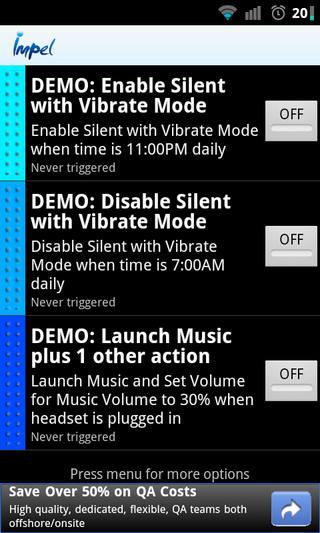 If any of you out there are anything like me, there might be, from time to time, an occasion where you could just make your phone do things all automatic-like. If you don't feel like shelling out $10 for Locale or getting a programming degree to work Tasker, where are you to turn?
It pleases me to no end to introduce you to Impel, a relative newcomer to the event manager scene that aims to do what you want, plus a little more. Impel wants to do one thing and one thing only: automate nearly anything you could think of your phone doing. And it does it well.
Join me after the break for the lowdown on how Impel works, why it's great, and why it's the app for everyone.
From the first time you open up Impel, you're greeted not only with a colorful, unassuming interface, but also three demo tasks, set up so you already have some structure as to how creating tasks works. There are also friendly-looking popups that ambush you popup whenever you move to a screen you haven't seen before, giving you a list of your options, how to change things, the lay of the land, etc. It's all very user-friendly and you can tell it was designed with simplicity of use in mind.
Pressing Menu > Add Task or tapping on one of the demo tasks takes you to the edit task screen, and this is where Impel outshines everyone else. Each field on the screen can be pressed to open up a menu, giving you complete and utter control over your customization (if that's your thing) but also giving you the option to automatically generate things like the name and the description, for convenience.
Pressing the top field brings you to the title and description screen. Be default, Impel will autofill both of these fields with a simple explanation of what your event does, but you're free to enter anything you can conjure up. I usually give it a custom name and leave the description what Impel created, but you can edit both. If at any point you realize you don't like your own description, Phase 2 has included an "Auto Name" button that will return the name and description back to stock, allowing you to start from scratch.
From the main "Edit Task" screen, if you press "When this event occurs," you're exposed to the first half of why Impel is such a powerhouse event manager. You can choose from headset event, USB event, Bluetooth event, Wifi network event, power event, dock event, GPS proximity event, text message event, and time event.
By selecting any of those events, you then advance on to a more specialized menu with options only related to what you've chosen. By selecting time event, you're then prompted to choose which days of the week and what time of day, for example. Selecting dock event then asks if it should activate on connecting or disconnecting to the dock. If it sounds complicated, it isn't, especially once you're actually using the app yourself.
The "do the following" part of the main editor menu is the second half of Impel's one-two knockout, and it's where you get to set the nitty-gritty of what actually happens when an event is triggered. The list of options is impressive here, too, ranging from launching an application to playing a sound to sending a text message or going to a website, to enabling or disabling a hardware feature (like going into silent mode or silent mode + vibrate). You can also add more actions to one event trigger with the "Add another action" button, giving you full freedom to be as exacting as you want to be.
When events are triggered, you're greeted with a little toast notification at the bottom of your screen, just to make sure you're aware.
Impel is free and ad-supported, but as a result, limits you to two simultaneous active tasks at once. That doesn't mean you can't have a whole list of tasks created, it just means that only two of them can actually be turned on at once. Phase 2's solution to this is an in-app payment (that runs through the Market) of 99 cents that not only removes ads but also removes the restriction on how many tasks you can have active at once.
The developers are incredibly responsive to user feedback and more than willing to grow the app's features to meet the needs of the community. I know this from having been in contact with them, but moreso, by seeing them add features I'd suggested. That being said, if there's something Impel doesn't do that you wish it did, shoot them an email and it might just work it's way into a future release.
In short, I think Impel is an absolutely incredible app, not only for what it does, but the price associated with it. If you know you're only needing one or two tasks running at once, it's free. If you're like me and like to have a laundry list of things your phone does by itself, 99 cents doesn't break the bank. It's simple to use and configure but powerful as all-get-out when you want it to be, so even if there's just one thing you'd ever consider automating on your phone, I would suggest Impel as the way to do it.
Android Central Newsletter
Get instant access to breaking news, the hottest reviews, great deals and helpful tips
I like Tasker, altho it did take a while to figure out.

How did you hide the small clock in the upper right hand corner of the status bar?

CyanogenMod. Its an option

Joshua where did you get that captain america shield launcher at?

Nice app. Something I have been looking for. However, it does not seem to respond to Headset Events on my HTC Evo when I plug in headphones. Sent an email to the developer. Here's to hoping they're as responsive as the article states they are. I tested the event and it works, but when headphones are plugged in nothing happens.

I agree. The Headset Events do not work on my HTC Evo either. I will contact the developer, too. Time events seem to work very well.

My buddy that has a 'headset' (headphones with a mic) got the Headset Events to work on this HTC Evo. So, I think it is related to headphone jacks.

I somehow remember that Headsets (with a built in mic) and headphones are handled differently in Sense. I think you can tell by the icon at the top of the screen. Headphones will just display a headphone icon whil the headset will have a headphone icon with a mouthpiece attached. The developer was very quick to get back to me and hopefully we can get this resolved. It may be that they are looking for just the headset, and not a headphone connection. Everything else works great.

The Headset Events do not work on my HTC Inc either. I will contact the developer, too.

Just tried the demo, noticed there was no GPS support. So I figured it had to be in the Pro version.. Nope. No GPS support.

Do you mean the GPS Proximity event? That's worked for me. Have you contacted the developer?

Joshua, thanks for the great review. I've been using Google Calendar (sycned to my phone through Jorte calendar) for my to-do lists, but this looks pretty cool. Going to try out the demo now!

"Headset is connected" and "Headset is disconnected" do not work on the HTC Inc. Moreover, the "Close app" and "Open app" functions do not work. Finally, no speakerphone state change is available. Why does it matter that Impel is easy to use if it doesn't do what it is supposed to do? Tasker is still by far a better app.
Android Central Newsletter
Get instant access to breaking news, the hottest reviews, great deals and helpful tips
Thank you for signing up to Android Central. You will receive a verification email shortly.
There was a problem. Please refresh the page and try again.