Android 9 Pie is official and the update is starting today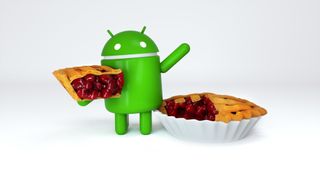 Following months of beta releases, Android 9 is being officially released to the public today. And its name is Pie. As is usually the case, this release of Android 9 Pie comes about two months before the expected launch of the Pixel 3 line of phones — meaning current Pixel owners get the latest and greatest software exclusively for a while. But given the history of Google's releases, that doesn't rule out a release of 9.1, or at least 9.0.1, coinciding with the upcoming Pixel 3 launch to include new yet-to-be-seen features designed to highlight the new devices.
In the tradition of Android versions being named sequentially following the alphabet, while sticking to a theme of tasty treats, Pie feels like a solid choice from what was a pretty stout field of options. "Popsicle" would've been interesting, but for whatever reason Google chose not to go with another brand name tie-in like KitKat and Oreo. Pie is also an interesting nod to the Android super-fans that were aware of the rumored "key lime pie" code name for Android 4.4 before it became KitKat. We had speculated that Google could go all in on pie with "Pecan Pie" or "Pumpkin Pie" — but we didn't expect the generic version of the name.
If you've been following the Android 9 Beta builds the pst two months, you'll have a handle on everything we're seeing in the final production release. The last beta build was released less than two weeks before the stable build, so it's understandable that not much has changed. As a quick refresher, Android Pie includes a new gesture navigation system, app actions and shortcuts in the launcher, new battery life-saving tweaks and many user-focused tweaks to simplify the software experience overall.
And just a note on those gestures: they aren't enabled by default on Android Pie when the device is being updated from Oreo — you'll have to enable the gesture navigation manually to give it a try. Future Pixels will have the gestures as their only navigation system, and third-party phone makers will reserve the choice of which to use.
Interview: Google's EK Chung on Android 9 Pie design, simplicity and digital wellbeing
Pixel, Pixel XL, Pixel 2 and Pixel 2 XL owners will start to receive the Pie update starting today, including anyone who's currently on the Android Beta Program — so don't unenroll from the program. The Beta Program will come to an end with the stable release, so you'll be back on the regular track with everyone else. For those who are extremely impatient, Google is also posting factory images and OTA files to flash to your Pixel manually. We have a handy guide showing you how to get it done, too.
One of Google's biggest user-facing changes, the "digital wellbeing" suite of features, isn't quite ready to go with this first public release of Android 9. If you want to get an early look at an unfinished version of the features that track and limit the time you spend on your phone and in specific apps, Google is opening up digital wellbeing through a Google Play Store beta program. Just visit Google's beta link and enter your email address, so long as you have a Pixel that's been updated to Pie.
Google is also committing to continued work with its partners that provided beta releases to their phones alongside the Pixels. The phones that received beta builds of Android P over the past few months, such as the OnePlus 6 and Nokia 7 Plus, are slated to also receive Android 9 Pie in short order behind Pixel phones — which is of course precisely what we wanted to see from the use of Project Treble and the beta program. It's neat to see early builds on your phone, but the real reason for the expanded beta program was to give companies early access to the software so they can get official stable builds out the door sooner than ever before.
One shining star from the extended beta program? Essential, which is already pushing out a stable version of Android Pie to the Essential Phone.
We're going to keep bringing you the best coverage of Android 9 Pie as it starts to hit devices. In the meantime, let us know what your thoughts are on the new release!
Andrew was an Executive Editor, U.S. at Android Central between 2012 and 2020.
Dammit, thought it would've been Popsicle. :(

I had hoped for Pop tart.

It better be, with that segmented notification shade, the quick toggles looking like toppings, and this obsession with round corners, the software does emulate a pie. 🤣

I associate Pie with steak and ale or meat and potato, not necessarily desert... It works! A crappy uninspiring name for a crappy uninspiring operating system!

Okay. Time to start speculating about Q:
Quince?
Quindim?
... I got nothing else...

Quaaludes?
Quim? Best I've got for Q.

Already got the download prompt on my essential phone but not my Verizon pixel 2 xl yet....crazy fast

Does anyone know how far behind android one devices will be in receiving the update?

I wanted it to be named pumpkin pie.

Pie is downloading on my Essential PH-1 right now too!!!

Wow, I got the download as soon as I saw that it was out.. a first for me. Just finished the install.

My Pixel XL and my wife's Pixel XL on Verizon are both downloading the update now. My wife's update was 970mb and mine was only 46mb because I was on the beta program. So far so good....

Hopefully Android Q allows us to move the clock back to the right. I'm skipping the Pie until I can do that.

Nothing on project Fi...so much for that update button ....seems as if a pixel on Fi should be first to update.

I bon thought the name would be Android pistachio ice cream but oh well. I'll be recieving it soon enough.

Wow! Essential phone on top of their game! Updated to yummy pie already!

Well it's a name, even though I also don't think of a pie as a dessert.

OnePlus 6 please waiting. I thought about popcorn. Oh well think I have to eat a pie.

Coming July 2019 to a Galaxy near you!

Could someone confirm if Pie is using a different audio codec? It seems like I'm getting more bass now from my Beats studio 3 using my pixel 2 xl. It sound almost as nice as when it's paired up to my iPhone 7 plus. Audio on oreo was decent at best. I remember reading somewhere that Google was going to make some audio changes with P.

Manual check for updates on Pixel 2 XL isn't triggering it yet...

So this is Android 3.14159..., right?

I've been hoping for Android π for months but that's close enough.

Not really digging their gesture implementation, came from a Moto z2play and thought Moto made much more sense. Even on my essential I'd just flip up once and get my app drawer, now I either have to flip up twice to get it, or flip up once to get the recents then flip side to side to find the app I want. I'm sure it's just muscle memory I'll get used to, but at least in this instance it doesn't seem "simpler" to me.

Added . . I will also say that the little screen rotation thingy that pops up is one of the most useful and genius new features imo . . .

Wow, the Essential PH-1 already updated to Pie. That's crazy fast for a 3rd party.

I love my Essential phone.

Still hasn't come via OTA for TMobile users

I've gone the Beta program route so waiting patiently here's hoping I get the final version of Android Pie.

I've got a Pixel XL. Got no notice about it, but most of the day my phone has had this G in the middle of it against a white screen with a line below it sort of throbbing like it's doing something. So my best guess is that they are trying to install Pie without asking my permission. How many days does it take? Once I saw what it was doing, I plugged the charger in, but I don't know if it can charge while it's updating. Verizon has a very brief thing about the update on its Web site which is not helpful. Will contact them tomorrow if it doesn't finish installing.

andriod P rellay look by and professional No - 1
Android Central Newsletter
Get the best of Android Central in in your inbox, every day!
Thank you for signing up to Android Central. You will receive a verification email shortly.
There was a problem. Please refresh the page and try again.