Android 7.1.2 will likely be released April 3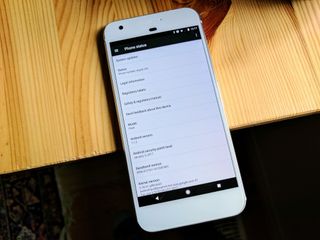 At the end of January, Google released a beta version of Android 7.1.2 for a handful of Nexus devices, along with its new Pixel phones. The company said that it was "an incremental maintenance release focused on refinements," including "bug fixes and optimizations, along with a small number of enhancements for carriers and users."
It's been 6 weeks since that fateful day, and despite two new security updates for those on the regular track, users on 7.1.2 beta haven't heard much news. That's likely because, as VP of Android Dave Burke pointed out in the initial blog post, the company is readying a public release for "a couple of months" after its initial unveiling, which works out to be the end of March or beginning of April.
That timeline is now reinforced by the fact that Rogers, the largest carrier in Canada, is calling for its Pixels to receive an update to enable VoLTE, along with the latest requisite security updates, on April 3. On its own, that wouldn't be a giveaway for a new wider Android release, but Rogers has been testing VoLTE service on its Pixels with the Android 7.1.2 beta; the latest Android 7.1.1 release, with a March 5 security patch, does not enable Voice Over LTE, despite there being a Rogers-only version.
While this is by no means a certainly, it makes sense that Google would release Android 7.1.2 at the beginning of the month, on the day usually reserved for security bulletins and new factory images. And while the new version itself is not particularly exciting, we know that one group of users — Pixel owners on Rogers — will at the very least be able to make crisper-sounding phone calls come April 3.
Get the Android Central Newsletter
Instant access to breaking news, the hottest reviews, great deals and helpful tips.
Daniel Bader was a former Android Central Editor-in-Chief and Executive Editor for iMore and Windows Central.
Well I fully expect that Nexus devices will get this April 3rd 2018, they are always the last devices to be updated despite what Google say!!!!!

Maybe not that long but I understand what you're trying to convey. The pure Google experience is losing its value with all of the device and application fragmentation.

The only reason I had to switch to an S7E. The experience was still better on the Nexus. I miss the 6P camera.

My wife and son both have the 6p and both are having battery issues

Battery life will always go to **** on any phone after a while. Batteries degrade. Just how it is unfortunately

Good thing batteries are easily swapped out. Oh, wait...

That's not what this is about. Something about Nougat trashes a lot of phones battery life vs Marshmallow.

But they touted nougat as a bad ass battery saving savant! Google can't even get there assistant correct using bluetooth. One minute when i make a call, i get the women's beautiful voice. Then the next time i get the robotic women's voice. Google needs to get their bung holes together.....

Not true my 6p on 7.1.2 has great battery life. I constantly get 5 hours and I've had this since it first came out.

I had to flash Pure Nexus to get my battery life decent, the stock rom drains like crazy.

I have 2 Nexus 6 phones and my son who has one of them already got Android 7 in late January and here it is March and my phone still has not gotten Nougat ughhhhhh

https://developers.google.com/android/images if you want it enough to complain.

The point is these folks shouldn't have to side load it, it should be provided as promised, as part of ownership and the purchasing decision, if you can comprehend that.

Sideload it. Trust me, it's straight forward and incredibly easy.

But you can that's the point of Nexus or pixel. I'm with you that people don't have​ to do that but at least you have the option and Google provides factory images. Better than any other Android device in terms of updates.

True. Can't argue that point!!

Can sideloading be done on a HTC m9? I'm tired of waiting for Verizon. I did receive 2 android 7 updates for my Pixel C.
So how is it done?

I loved my 6p but that battery life just got unbearable.

Just think of it was undeerable.....

Could be. What about unbuckable?

My 6p is on 7.1.1 and i use Golauncher, and battery lasts 6.5hrs with net/daily use. It's charged overnight, and doesn't need again till late night.
I'd love Google to improve battery use with next Android update, means I can keep 6p for a lot longer than previous phones......😀

I too experienced battery issues in 7.1.1 since early December... it also coincided with some bluetooth issues. The battery issues sorted themselves out in the January update, bluetooth was still pretty much useless. So I took the plunge and signed up to the 7.1.2 beta a few weeks ago and everything is back to normal. BT works as it should and battery life is 2 days with moderate use.

i guess the 6P's fingerprint sensor turned out to be unfriendly to a sliding finger? too bad. I might have used that feature at least 3 times before the 6P's battery is done.

Fix my bluetooth/Android Wear paring! =p

And here I am with my moto z play and I still don't have nougat. I guess the theory about new software gets delayed because the carriers have to add there bloatware first is no true. I have a retail unlocked moto z play. :(

I have several android phones. The worst one for updates is a Moto E. It is running 5.1 with a security patch of 2016.03.01 but if I go to updates it tells me my software if up to date lol. Anybody who isn't into tech would probably think this is OK. This screen message should be changed to say "NO YOUR *****NG SOFTWARE IS NOT UP TO DATE".