Android 7.0: Your language, your way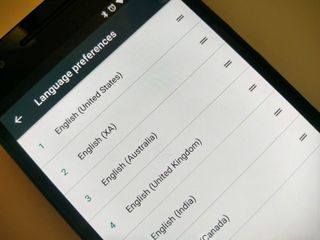 Choosing a language has been part of Android since the beginning, since being able to read and understand the information on our phone is vital. We've all seen it during the setup procedure on a new phone, and for some of us, that covers everything we need. We pick English or French or Spanish and trust that what we see will be in the language we prefer. We can then pick other languages to use the keyboard and switch if we ever need to.
But for some regions and some localized apps, things aren't that easy. The Portuguese spoken in Lisbon isn't quite the same as the Portuguese spoken in Brasilia, and sometimes small differences don't feel very small. Android 7.0 has a way to ensure that the language you see is the right one — in the correct dialect — throughout the operating system.
For starters, you can now choose multiple languages for the system default, and they will switch on the fly when an app has localized content. What this means is that I can choose U.S. English and UK English as system defaults (or all of the English dialects — there are 104 of them supported) — or even German and French if I'm inclined — and if an app isn't prepared to use my first choice it will move down the list to find a supported one.
While English speakers don't face too many hurdles — apps written only for UK English will be easy to understand if you're in the U.S. or Australia or India — an app written for one of the 27 distinct dialects of Arabic are likely a bit different. Rather than show blocks instead of letters, have words that read like nonsense, or have parts of an app in different languages, Android will now automatically switch to the app's language if you've chosen to support it. Das ist wirklich cool!
New tools for developers allow them to determine which languages you've chosen and find the best match among the languages they support. I can set my default language to U.S. English with German as my second choice, and read the SPIEGEL Online (opens in new tab) app in its native default. Or I can visit the website on my phone and the browser won't try to translate it into English. Content not written for German will use my default choice of U.S. English. Wunderbar! These APIs handle number formatting as well as text so dates, times, currencies and the like will also be displayed in the best way for the user.
The best part is that developers don't have to build and include any of these resources into their app. They can use variables where locale-specific elements need to be displayed, and the LocaleList API will sort out which of the user's languages work best for the content. Hard coding names and numbers and dates and other strings for multiple language support takes time and makes an application have a larger footprint. Having the system handle it lets developers focus on other things.
For many, these changes aren't going to make much of a difference. But for those who need them — and there are quite a few — can now have their phone and its content feel more personal and be easier to understand. That's a pretty big deal, and a way for Android to help us be together — even if we're not the same.
Jerry is an amateur woodworker and struggling shade tree mechanic. There's nothing he can't take apart, but many things he can't reassemble. You'll find him writing and speaking his loud opinion on Android Central and occasionally on Twitter.
Does it mean that i can finally use english as the general android language and choose my local language for navigation in google maps?

Does it mean that i can finally use english as the general android language and choose my local language for navigation in google maps? Coz i hate hearing directions in english... But i dont want to use my local language in the phone's menus (settings etc)

Apart from the navigation issue, that in my opinion should change according to the country I'm in (as long as I speak the local language, it's always better to have streets spelled correctly), it would be useful to get Google Now article suggestions in multiple languages!
I use three (completely different) languages everyday, but get news written only in the phone language. In general, this new feature gives good hopes :)

Currently when dictating text, if you start a sentence in one language and switch to another, it doesn't go well. I think my phone thinks that I am weird. Well, my phone can stuff itself.

"I can set my default language to U.S. English with German as my second choice, and read the SPIEGEL Online app in its native default." Are you sure this is how it will work? Isn't the SPIEGEL Online app also translated to English? In that case, as you have chosen US English as your default language, it would take precedence over German. And the same goes for many apps that, although being mainly targeted to users of other languages, are translated to English.

The screenshort above is with english as my default language, using Android N. Previously, The actual article text would be translated into English with the rest of the app in German

Ok, I see, that means that app itself only had a german version. The problem is that this is not the case for many other local apps, at least in my country (Spain). I use in Marshmallow US English as the main system language and Spanish as the secondary and that means seeing most local apps also in English, but I would prefer to see those (and only those) in Spanish. This Nougat feature has no benefit for me then.

Awesome! I had an app redirect to a webpage just the other day. It switched to German halfway through the order process. Luckily, I understood enough to complete my order. What I didn't understand, Google translated. Like Bumblebee Man says on The Simpsons: aye aye aye, no es bueno, dondé esta mi tequila? Can't wait for Nutella.

Jerry, do you speak German?

much better than i can read and write it. That's why I need to read SPON in Deutsche :)

شكرا Posted via the Android Central App

I wish we could force a language for a specific app. Sometimes apps are translated but in such a bad way that I would prefer to run that one in english.

"The Portuguese spoken in Lisbon isn't quite the same as the Portuguese spoken in Brasilia"
I know this is somewhat off-topic, but I've always wondered just how different Brazilian and European Portuguese can possibly be?

I am Portuguese. People in Brasil don't normally understand us (I lived there, in the south: Santa Catarina) especially if you are not in Rio de Janeiro, where there's lots of Portuguese people. The way you pronounce the words is different, and there are many different words and slang. We understand Brazilian because we have soap operas and we don't double them, opposed to Brasil, which does. I have to be honest, though...the way they speak is much more pretty, almost like they are sensually singing the words :)

Surprised it took this long Posted via a very old version of the AC app(1.6) because im having issues

About time! I always opt of UK English as I am more in tune with their spellings than any other!

Android Nougat's multiple language feature should prove to be very useful for developers! An excellent way to simplufy

Android Google keyboard is a nightmare when I need to write in 4 languages... Make the keyboard smaller foe right handed adds automatically 2 stupid options which are all the time tapped by mistake... And writing fast is a nightmare as it s not detecting automatically the language I need to use .... In 1 word Google developers are stupid and never test their app fully. Even they are in a lot of countries they are so stupid that they think that they are the best and ignore all other countries than USA Posted via the Android Central App
Android Central Newsletter
Get the best of Android Central in in your inbox, every day!
Thank you for signing up to Android Central. You will receive a verification email shortly.
There was a problem. Please refresh the page and try again.