Wondershare PowerCam review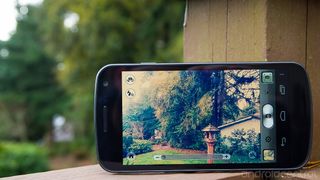 There's really no shortage of camera apps out there, all offering different features and claiming to be the best. There are specific apps that do one thing well, and there are others that are more of a "camera toolbox." Love it or hate it, now that Instagram is available on Android, there's been a rush of apps repositioning themselves to differentiate and stand out.
So what does Wondershare PowerCam bring to the table? Check out the pictures after the break and see for yourself.
Interface
When you launch the app, you get a menu system that lets you choose one of four options: capture, gallery, collage and share. Diving into each, the UI is generally what you'd expect. The buttons are self-explanatory, and you get a regular phone camera-style viewfinder. The real interesting parts of this review come in the pictures below.
Filters
PowerCam offers a decent set of filters, most of which are a bit too over-the-top for my own taste. You get a standard set of minor filters to lightly tweak the coloring of the scene that are quite nice, but the rest are a bit out there and I really don't see many people using them. For the ones that I liked, it seemed to work well enough. It should also be noted that there is a "no filter" mode for when you have the app open and want a "regular" shot.
Tilt-Shift
The tilt-shift method, if you're not familiar, is something usually accomplished with a special camera lens to produce interestingly focused images. The main subject is sharply in focus, and everything else is quickly out of focus right next to it. On a smartphone, its all done in post-processing. PowerCam seems to do a pretty good job, and you can really get some good shots if you spend some time with it.
Panorama
I was surprised by the panorama quality. Using the app on my Galaxy Nexus, it captured them more consistently and much quicker than the built-in panorama feature of the Android 4.x camera.
Collages
Something that's going to be very user-dependent is the collage feature. You can select several pictures you've taken and form them into framed multi-shot pictures. The UI is friendly enough, just select from your picture list which ones you want, and it'll arrange them randomly with a frame. You can shuffle the pictures around and select the frame style, but I was hard-pressed to find frames that I actually enjoyed.
Sharing
PowerCam has built-in sharing functionality to Twitter, Facebook and Tumblr. Wish that it would use a regular sharing menu and let you use other apps (like Google+), but it doesn't really matter, as you can share from your Gallery app to anything installed on your phone after the fact.
The verdict
I'm usually one to use the built-in camera with my device, especially since Android 4.0 and its revamped camera interface. Using PowerCam has made me consider keeping it around for the extra couple of features that work really well. Panoramas are smooth and consistent, some of the filters are nice for when you're feeling artsy and the collages are fun when you want to send out a few pictures all together.
I'll be keeping this one installed on my phone for a while.
Get the Android Central Newsletter
Instant access to breaking news, the hottest reviews, great deals and helpful tips.
Andrew was an Executive Editor, U.S. at Android Central between 2012 and 2020.