Wire is a communications service that offers a modern UI and end-to-end encryption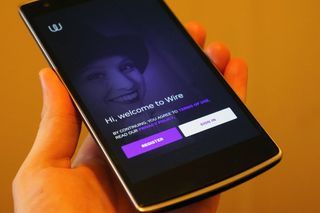 Backed by Skype co-founder Janus Friis, Wire is a new communications service that aims to cater to the current-generation of mobile users. The app comes with a modern user interface and lets you perform voice calls, share pictures, SoundCloud tracks, YouTube videos and more.
The service syncs your messages across devices. Built with secure communications in mind, Wire states that its service comes with end-to-end encryption for all of its voice calls, and encryption to and from its data centers for other media. Wire is also compliant with "European privacy laws and regulations."
The service is currently free and is available for Android, iOS and Mac users. Wire mentions that a PC version will launch within a quarter, along with a browser-based variant built on HTML5. One of the main highlights of the service is its voice-calling feature, which delivers "crisp and clear" audio. The technology is compatible with the WebRTC standard, which means that you won't need to install an additional plugin to undertake audio calls from your browser.
To know more about the underlying technology Wire uses, refer the press release below:
Simple, beautiful conversations on your phone, tablet and desktop
Switzerland - A team of more than 50 people from 23 countries, supported by Skype co-founder Janus Friis, is launching Wire, a communications network for messaging, voice calling, sharing pictures, music and video on your phone, tablet and desktop.
"Skype was launched more than a decade ago. A lot has changed since then - we are all used to free calls and texting, and we have taken to carrying our computers in our pockets," said Friis. "It is time to create the best possible communication tools, as beautiful as they are useful. Wire is just that."
Wire is available on iOS, Android and OS X. It offers communications with an emphasis on high fidelity paired with elegant design. People can use Wire for personal and group messaging, voice calling, sharing pictures, SoundCloud music and YouTube video sharing. Wire conversations are kept in sync across all your devices. It is engineered to take advantage of today's devices, including iPhone 6, iPads and the latest Android devices.
With deep expertise in media processing technology, Wire's voice calling benefits from its in-house developed audio technology. This makes calls on Wire sound crisp and clear. By remaining compatible with standard WebRTC, Wire will support audio calls to and from WebRTC compatible browsers.
"We asked ourselves how modern communications could look and work. How could we take full advantage of the latest devices and advances in cloud computing to deliver something that is really simple, very useful and truly beautiful?" said Jonathan Christensen, Wire's co-founder and CEO. "Today's launch is the beginning for Wire."
The company's team comprises former product and technology leaders from Apple, Skype, Nokia, and Microsoft. Christensen held leadership roles at Microsoft and Skype, and was co-founder and CEO at Camino Networks. Along with Christensen, founders include Alan Duric, Wire's CTO, a co-founder of Telio (Oslo exchange TELIO) and co-founder of Camino (acquired by eBay/Skype); and Priidu Zilmer, Wire's head of product design, who led design teams at Vdio and Skype. Wire's Chief Scientist Koen Vos, created SILK and co-created Opus, the standards for fidelity and intelligibility in voice over IP that billions of people use today.
Harish Jonnalagadda is a Senior Editor overseeing Asia at Android Central. He leads the site's coverage of Chinese phone brands, contributing to reviews, features, and buying guides. He also writes about storage servers, audio products, and the semiconductor industry. Contact him on Twitter at @chunkynerd.
Not compatible with the Nexus 7 (2013). Posted via the Android Central App

Well that saves me trying it out this evening... Posted via the Android Central App

Not compatible with At&t Nexus 6 or At&t Note 4. Posted via the Android Central App

I confirm also with Nexus 6 Posted via the ACA on NEXUS 6

Nor is it compatible with the AT&T LG G3, but it shows as compatible with my old Galaxy S3.

So while even Nexus 6 owners are out of luck in trying it... It wokrs wonderfully on my OnePlus One. Glad they have their priorities straight! (In all honesty, while I am really glad it works on the OnePlus over the Nexus due to me not having a Nexus, I am kind of saddened that it somehow works on my One. Nexus devices should get top priority)

It works on Nexus 5 running Lollipop, so probably just a switch that needs to be flicked.

It has nothing to do with what device it is. If the device has QHD, it is incompatible. Period. Same as Microsoft Office for Mobile, Yahoo News Digest etc.

From the previous comments, it sounds like a screen size or resolution limitation is in place with the initial rollout. i.e., not compatible with tablets or QHD screens (yet). Anyone able to "officially" confirm? Posted via Android Central App

"Wire is currently free. " Sorry, nothing is free. Where's the money stream? Ads? Who's paying to keep their servers running, and why? Posted via the Android Central App

That's the real question indeed Posted via the Android Central App

I think the key word is "currently".

Currently rhymes with currency Posted via Android Central App

No macs below 10.9, No compatibility with Lollipop, Can't use it on my new Note 4, or my Glaxy Tab Pro... only the 1.5 year old One M7 and Custom Rom Note 2(!!!!) are compatible out of 8 devices. Good luck to you on your service... your gonna need it.

For some reason, the article doesn't specifically call this out like the Wire support page does, but text messages are *not* using end to end crypto. So don't get too excited, privacy/crypto nerds.

Came here looking for more info on this.

Good to see that no one can register. Glad the issue is being looked at. At least it's not a big issue, registering and all. No need to work that out pre-launch. Posted via the Android Central App

Hmmm.... The Swiss come up with a completely private communication tool for all those people who are discussing their Swiss bank accounts that are kind of non existent? Posted via a beautiful Ebony backed Moto X on Verizon or the amazing Nexus 10 using the Android Central App

Why is this better than SMS/MMS, Hangouts, Telegram, Facebook Messenger, WhatsApp, Snapchat, Skype, BBM, WeChat, Line, Viber, Voxer, IMO, Tango, WeChat...

Not compatible with my Note 4. Posted from my Note 4 baby.

Does it have free voice calling to phones like in Hangouts? Do you get a number and people can call you back from phones?

Since Skype is VoIP do we assume this is the same? In other words, if WiFi is turned off we can't use it, right? I have a GS3 so I guess I'm OK for now, LOL. Also wonder what sort of battery drain this app has..Lord knows I don't need any apps that run in the background :)

unseen by https://unseen.is/ is more secure and complete than all other communication apps in the market today. I don't understand why it haven't been reviewed by AC.

Not compatible with Xiaomi MI2S and Galaxy Tab Pro. Quite a lousy support.
Android Central Newsletter
Get the best of Android Central in in your inbox, every day!
Thank you for signing up to Android Central. You will receive a verification email shortly.
There was a problem. Please refresh the page and try again.