Using Google Play Books for all of your reading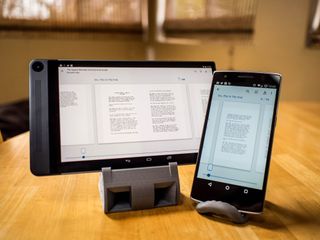 Now that the Google Play Store has established itself as a compelling one-stop shop for movies, music, book, and apps, it's easy to find yourself getting all of your entertainment from this one source. More than just offering a compelling retail experience, Google's Play Books service exists as a highly functional ebook reader as well. Google has worked hard to bolt on features wherever appropriate, and as one of the flagship apps for the new Material Design UI scheme it's easy to get sucked into this service as an Android user.
Using Google Play Books doesn't take much in the way of effort, but getting to know the features within may not be a priority if you're already embedded in another platform. With that in mind, here's a quick tour through what makes this ebook reader stand out.
Getting books to and from Play Books
Like Android, Google Play Books is a mostly open system. You can purchase books from the Google Play Store and have them simply appear in Google Play Book, or you can upload your own from a number of different sources. Books you have uploaded from other sources don't always look exactly the same as content purchased on the Play Store when looking at the "bookshelf" of titles available to you, but on the inside these books will almost always behave the same way.
Learn more about adding your library to Google Play Books
Perhaps more important than adding books from other sources is the ability to move books you've purchased on Google Play Books to other readers if you decide you've found something you like better. The Google Play Books website includes a download function that allows you to grab the book in whatever file format it was uploaded by the publisher in, as long as the publisher has chosen to allow this to happen. As long as whoever sold you that book has their content available to you DRM-free and available to download, you can click on the three dots on the cover and download in whatever file format suits you best.
Enjoying your books
While a hefty feature set isn't usually what you have in mind when it comes time to sit down and dive in to a good book, being aware of what options are available to you with that app you're using can often make the difference between casually reading when comfortable and never putting your phone or tablet down. The key features for any good ebook app fall into two basic categories — readability and ease of use. It's not so much whether you're going to use every feature, it's about having the tools there when you need them.
All of the Play Book features for making sure you're able to actually read your book sit hidden on every page in every book you read. Tapping on the screen when in a book will reveal a panel of icons in the top right on the screen, and the A icon in that menu gives you access to all of your readability tools. Google's offering here is fairly basic, and doesn't apply to every kind of book that exists in the Google Play Store, but covers the basics nicely. Offline dictionaries can be activated so you can look up words even when disconnected from the world, though because that means taking up extra space on your device you have to activate the function manually in settings. You have color switching for those late night sessions where you want a black background and white text, control over the font — including text size and spacing between lines of text — and app-specific control over screen brightness. That last part is particularly useful if you're switching back and forth between apps, as the brightness controls will immediately flip back to system defaults when you leave Play Books.
Not all reading is done for the sake of entertainment, and that's where the bookmarking and skimming features of Google Play Books stand out against other ebook readers. While bookmarking is nothing special, Play Books makes tagging a page with a blue bookmark as simple as tapping the top right corner of a page, and when you move away from the page you are currently on you can access a sliding bar at the bottom of the app that lets you quickly jump from bookmark to bookmark as you see fit. While in this skimming mode, you get a smaller page view that lets you quickly glance around at the content near the pages you have bookmarked. It's a great tool for things like textbooks and cookbooks especially, but could easily find its way into your day to day workflow.
Read more books
Play Books is more than just a great way to grab content from the Play Store, as ebook readers go it's a complete thought. The UI is great, the features are both minimal in their existence and powerful in application, and there's no need to feel locked in to the Google ecosystem when using it. It's not the most powerful app out there, or the most feature complete, but the constant updates and polish make it high on the list of readers worth spending time with.
Android Central Newsletter
Get instant access to breaking news, the hottest reviews, great deals and helpful tips
Does it book match yet or still keeps it at pdf form when you upload? Posted via the Android Central App

PDF, but you get those supa coo animations though :-) Via Nexus 6: "Takin updates for granted."

I see Russell's been busy using that 3D printer haha

There's no iOS app for Google Play Books, which is why I use Kindle. Posted via the Android Central App

Yes there is, I use Google Play Books on my iPad Air what are you talking about? Apple's iPhone is one of the best Google phones out their. They have a majority of the Google Applications. Posted via the Android Central App

Oh really? That's weird, because I see it right here: https://itunes.apple.com/us/app/google-play-books/id400989007?mt=8&at=10...

Who cares, don't use ios Posted via the Android Central App

After reading this article I decided to give another look at Play Books. Quickly realized that I can't read any of my mobi files with it and decided to stick with what I'm using.

You can always convert your mobi file to epub or simply use a epub ebook file to read for an example in using Play Books. Posted via the Android Central App

I'm aware of Calibre and have used it on a number of occasions to convert between mobi, epub, etc. Lack of mobi support isn't my only issue. Google only lets you upload up to 1,000 books. That's far less than the number mobi files I have. It's already extra work to convert the books and upload from my local device to Google just so I can read it locally again, but it also limits me to what books I can select from to read. All of this for an app that may or may not be marginally better for reading my books than what I already use.

True 1000 is limiting compared with the 30thousand or songs songs you can upload in Google Music. But nonetheless options are awesome and right now I'm no where near close to the 1000 max Posted via the Android Central App

Love it. Already used it today before work Posted via...The One

I have been using Google play books for about 2 years now. I love it. I just wish it offered matching like Google Play Music does. That way I could easily upload ebooks I bought before switching to Google Play. On a side note, I also love that Google is digitizing classic novels and offering them free. I don't know if any other services do this, but good on Google for saving these books from the decay of time. Posted via the Android Central App

Project Gutenberg:
https://www.gutenberg.org/

You can also borrow books from your library and read 'em on the OverDrive app, if you're looking for free. :-) Though, I will say, I have uploaded a lot of eBooks I already owned to Play Books, and I'm a fan!

Only a couple things I wish it had that my other main reader, Aldiko, does. Adjust side margins to allow it to fill up the width, why waste that space? Second would be an easier brightness adjust, like the slide up or down the left side of the screen that Aldiko uses. I use it because it auto syncs so I can read on whatever device, and it has pinch-zoom in epubs, both features Aldiko is lacking, although there is a 3rd party sync for Aldiko that works pretty good.

If they can fix the "processing" upload issue then this will be my main reader otherwise its Moon Reader

I like Moon Reader for its autoscroll and blind-scroll functions. That way I can read hands-free.

Moon Reader all the way! They give you so much more for just $4.99 but I was sold as soon as I found out you could sync your position with drop box or gdrive.

I have over 500 books purchased through Amazon for my Kindle. Is there any way to get them into Google Play Books? Posted via the Android Central App

Check around for Calibre plug-ins for converting to EPUB.

Yeah this app is awesome. So is the "read aloud" feature and high quality voices. But the fact that you can't turn the screen off while it's reading aloud sort of sucks. Having that ability and also a sentence/paragraph rewind would be amazing.

Is there any eink devices that load google play books besides the old Iriver story? Posted via the Android Central App

I have "stuff" from different platforms. I have a Galaxy S5, but my tablet is Windows as is my laptop. No way (that I know of) to read Google Play Books on them all, but I can with Kindle.

Play Books has a web-based UI as well. Though I suppose it's not as convenient as an app.

Until my local library supports Google I will be using Overdrive and Kindle readers. There is no better price than free. That's what my tax supported library gives me. Music and movies too, although the selection is admittedly limited.

I use Google Play books as my reader of choice for EPUB format. Cloud based, lots of space for free, now with enough of the features I typically used with other readers, etc. One issue I am experiencing that precludes me from moving my PDF format books is that I do not see the Table of Contents in an uploaded PDF book (either when viewing in a web browser or on one of my android devices), when the original file has a well defined TOC.

I used to hate this app. It didn't even allow you to upload your own epub's and it was slow as molasses. Now it's great - simple, functional, fast. I have to give credit to Google: They do tend to make software better as time goes on.

If only there were a battery-friendly e-ink Android platform for Google Play Books, I would snap it up in a heartbeat. By "battery friendly", I'm speaking of Kindle-type battery, something that lasts for a month or more between charges. The e-ink/battery life combination is the thing that keeps me using Kindle rather than Play Books as my #1 platform. I love the Google Play Books app though. Beautifully done on Android. Would be great if they updated their web version too.

Man, I want a Google Play e-ink reader too. Who can we commission to make one?

Can I use Google's ebooks on a Kindle without jumping through hoops?

One feature I wish Google play books had was a shelving/collection feature. Sometimes it gets hard to distinguish between which books you're reading (I'm usually always reading 3 different books at a time), which books you've read, favorite, etc,etc....another feature that would be welcome is the ability to edit content for uploaded books (mainly the cover)
Android Central Newsletter
Get instant access to breaking news, the hottest reviews, great deals and helpful tips
Thank you for signing up to Android Central. You will receive a verification email shortly.
There was a problem. Please refresh the page and try again.