Using Google Play Books for all of your reading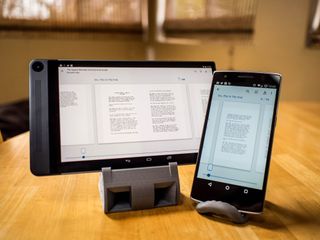 Now that the Google Play Store has established itself as a compelling one-stop shop for movies, music, book, and apps, it's easy to find yourself getting all of your entertainment from this one source. More than just offering a compelling retail experience, Google's Play Books service exists as a highly functional ebook reader as well. Google has worked hard to bolt on features wherever appropriate, and as one of the flagship apps for the new Material Design UI scheme it's easy to get sucked into this service as an Android user.
Using Google Play Books doesn't take much in the way of effort, but getting to know the features within may not be a priority if you're already embedded in another platform. With that in mind, here's a quick tour through what makes this ebook reader stand out.
Getting books to and from Play Books
Like Android, Google Play Books is a mostly open system. You can purchase books from the Google Play Store and have them simply appear in Google Play Book, or you can upload your own from a number of different sources. Books you have uploaded from other sources don't always look exactly the same as content purchased on the Play Store when looking at the "bookshelf" of titles available to you, but on the inside these books will almost always behave the same way.
Learn more about adding your library to Google Play Books
Perhaps more important than adding books from other sources is the ability to move books you've purchased on Google Play Books to other readers if you decide you've found something you like better. The Google Play Books website includes a download function that allows you to grab the book in whatever file format it was uploaded by the publisher in, as long as the publisher has chosen to allow this to happen. As long as whoever sold you that book has their content available to you DRM-free and available to download, you can click on the three dots on the cover and download in whatever file format suits you best.
Enjoying your books
While a hefty feature set isn't usually what you have in mind when it comes time to sit down and dive in to a good book, being aware of what options are available to you with that app you're using can often make the difference between casually reading when comfortable and never putting your phone or tablet down. The key features for any good ebook app fall into two basic categories — readability and ease of use. It's not so much whether you're going to use every feature, it's about having the tools there when you need them.
All of the Play Book features for making sure you're able to actually read your book sit hidden on every page in every book you read. Tapping on the screen when in a book will reveal a panel of icons in the top right on the screen, and the A icon in that menu gives you access to all of your readability tools. Google's offering here is fairly basic, and doesn't apply to every kind of book that exists in the Google Play Store, but covers the basics nicely. Offline dictionaries can be activated so you can look up words even when disconnected from the world, though because that means taking up extra space on your device you have to activate the function manually in settings. You have color switching for those late night sessions where you want a black background and white text, control over the font — including text size and spacing between lines of text — and app-specific control over screen brightness. That last part is particularly useful if you're switching back and forth between apps, as the brightness controls will immediately flip back to system defaults when you leave Play Books.
Not all reading is done for the sake of entertainment, and that's where the bookmarking and skimming features of Google Play Books stand out against other ebook readers. While bookmarking is nothing special, Play Books makes tagging a page with a blue bookmark as simple as tapping the top right corner of a page, and when you move away from the page you are currently on you can access a sliding bar at the bottom of the app that lets you quickly jump from bookmark to bookmark as you see fit. While in this skimming mode, you get a smaller page view that lets you quickly glance around at the content near the pages you have bookmarked. It's a great tool for things like textbooks and cookbooks especially, but could easily find its way into your day to day workflow.
Read more books
Play Books is more than just a great way to grab content from the Play Store, as ebook readers go it's a complete thought. The UI is great, the features are both minimal in their existence and powerful in application, and there's no need to feel locked in to the Google ecosystem when using it. It's not the most powerful app out there, or the most feature complete, but the constant updates and polish make it high on the list of readers worth spending time with.
Be an expert in 5 minutes
Get the latest news from Android Central, your trusted companion in the world of Android