Uber faces ban in Germany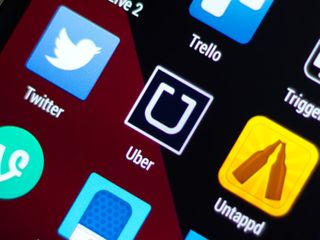 A court in Frankfurt has ruled that Uber cannot operate in Germany due to a lack of adequate insurance for these types of private drivers, as well as expensive licensing. Low-cost UberPop drivers found to continue operating could face fines up to 250,000 euros per trip, though Uber says they intend to keep them running through the ban.
Uber has remained confident that their insurance applies to drivers, and fully intends to appeal this preliminary injunction. An Uber spokesperson said:
Do you guys use Uber often? Should ridesharing apps like Uber be regulated just as heavily as taxis?
Source: BBC
Get the Android Central Newsletter
Instant access to breaking news, the hottest reviews, great deals and helpful tips.
Simon has been covering mobile since before the first iPhone came out. After producing news articles, podcasts, review videos, and everything in between, he's now helping industry partners get the word about their latest products. Get in touch with him at simon@futurenet.com.
They should be regulated exactly the same. They provide the exact same service. Jim Lloyd

The same only if taxi regs are massively reduced. Some of them are pretty outrageous. And it's not exactly the same service. Sure, you get from point A to point B, but the similarities end there.

Idiotic Socialism comment in 3, 2, 1...

I would think the companies that insure the Uber drivers would jack up their rates. Call it what you will - ride share, taxi - the car is being used as a business.

That's overly simplistic. I can give a ride to someone and they pay for the costs of my time and gas but that doesn't mean I'm in business.

I heard an interview with an Uber rep(someone with the company) that said they usually have their drivers insured better than normal taxis. Maybe that is not true in Germany or not period... Idk, I do like the idea of giving taxis competition though. Only a win win for consumers having options.

Uber, in theory, is much safer than hoping in the cab with a normal cabby. They are GPS tracked and have record of the transaction happening. They know who is in the car with whom and have info on both the driver and rider. If something nefarious were to happen, it would be much easier to figure out what happened. Normal taxis I do not believe have any of these safe guards...

This is not true... There is nothing stopping me from signing up as an Uber Driver, going through the stupidly simple background check, getting my Uber supplied iPhone and just handing it off to my buddy to drive around and pick people up with. They may have my information on file, but they have no idea if I'm driving or my friend is.

Except that they send you a picture of the driver. Posted via Android Central App

Lol he's crying in the corner Posted via the Android Central App

Wow.....I disagree. Posted via Android Central App from Samsung Note 3 or Surface Pro 3

This is fucking insane! Regulate every piece of the free market so taxi unions and government can scoop up as much money as possible. Can't leave their greedy fuckin paws off anything.

Is not true @ bkosh84 when you call uber every uber drivers picture comes up and the background checks are not that easy to clear and you have to have proper registration for you to drive. Posted via Android Central App

Not that I agree with the entire uber/etc situation, why is this on AC? "Because they have an app" is a terrible excuse.

I understand that this is a Android Information site. But if you don't like the topic all it takes is a tap of the finger to see something else. Somebody may find it interesting. It takes us more time to complain about it than to read a couple of other stories Posted via Android Central App

Mmm...I believe that Germany does this for something.

I use Uber regularly. I also have a coworker that works for Uber as a driver on the weekend. The back ground check is not simple. If you as a driver let someone else work as you and you are reported you will no longer be an Uber driver. When a driver gets lost or goes out of the way to get you to your destination they will refund the extra charges resulted from the longer route. I have never had a taxi do that. I have had taxi drivers say they won't take a credit card or high pressure me to stop at an atm so I can pay cash. An Uber driver would never do this. You pay via your card of file. Uber does not charge you a credit card processing fee like some taxi companies or curb. Their cars are cleaner than any cab I have ever been in. Posted via Android Central App

Free markets are good until they take your bread, then you are not liberal anymore and you call your goverment to regulate. Nowadays hippies are the worst.

After years and years of the government trying to tame the wild west country of taxis in Amsterdam, with rude drivers scamming passengers, along comes Uber with its feedback system, registration of route taken, ID of both driver and passenger, and.... a miracle! Clean cars! Polite drivers! Accurate bills by email showing the route taken! Reasonable rates! So no, Uber is not just another taxi service. Posted via Android Central App

So, any particular reason why taxi companies are using Über? Is it because they're much better than their services? Not to mention Über is a German word...