ROM review: MIUI for the Nexus S 4G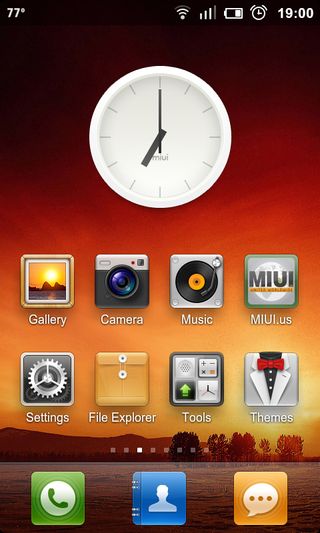 Our pal digitalslacker is back, showing off a little MIUI action for the Nexus S 4G with another great ROM review. Reader submitted reviews are pretty much the best way to get an in-depth look at how things run, especially when it's something as complicated and feature-packed as a full Android ROM. Android tinkerers and hackers that use a specific phone tend to know it inside and out, and know how and where they can push things to the limit. It's great when you guys take the time to share it with us, and the rest of the Android community. Hit the jump, and see what digitalslacker thinks of MIUI on his Nexus S 4G.
Discuss MIUI for the Nexus S 4G in the forums
MIUI.us 1.9.16 Review for the Nexus S 4G
MIUI is many things, but one of them isn't the Pure Google experience that attracts most of us to the Nexus S 4G. But, that's OK. Android is about choice and MIUI delivers another great option for someone that wants something more or just different from their Nexus S. It's UX goes much deeper than a theme or a skin and I think really showcases some great features, a few I wouldn't mind seeing included in a future version of Android.
Installation and setup
Installation is pretty simple. I used the latest version of ROM Manager for this one. A simple download, backup, wipe data & cache and wipe Dalvik. In addition to signing in with your Google credentials you also create a MIUI.us account which give you access, from your device, to the MIUI.us Forum where you can interact with the MIUI community and keep up to date on the latest happenings.
Performance
Simple put MIUI.us is as fast as you'll need. It's not as snappy as Oxygen or GPA17 but it's also not slow. For someone that enjoys a slick UX but doesn't want to sacrifice much performance then MIUI.us is for you. I can tell you it's faster than MotoBlur or Sense, at least as compared to my experience with those two UIs.
User Experience
A deeply redesigned UX is what MIUI brings to the table. Stock Pure Google is great for lots of reasons but it's not as sexy as MIUI is. Everything from the lock screen with it's slick charge status bar, to theme support, to the iOS'eque launcher. Love it or hate it, it feels much more refined than the stock Google experience. Google might want to grab a pen and paper and take a few notes, MIUI gets a lot right.
This ROM has many, many features and I can't name them all so check out MIUI's site for everything. I will include a list of some of the features I think should be in stock Android.
Charge status bar on the lock screen
Holding the Home key on the lockscreen to quickly enable the flashlight
Swipe from the lock screen to jump to the phone or SMS
Theme support - Not the support it's self but the huge theme library
MIUI App - Connects you to the MIUI Forum directly from the phone
Camera - The camera UI is really great and full of features
Toggle Window - Gives you quick access to enable/disable things right from the pull down menu
Native support for getting MIUI updates
Subtle usability queues that help users navigate on first use
Highly configurable; there are many different settings that let you tweak and tune things
But it's not all pink bunnies and rainbows, I did find a few things I wasn't a fan of. Some of these items might be configurable, I didn't dig to deeply trying to change them.
Lack of an App drawer; All your apps reside on the main launcher and you swipe left or right to find them. That seemed weird to me and definitely a break from convention, maybe to big of one.
Editing home screens and adding widgets just wasn't the most intuitive to me.
The Gallery I didn't think was a good as stock and it lacks Picasa integration.
It looks like iOS, there I said it.
Conclusion
MIUI won't be my daily driver. I, like many Nexus users really want that stock Pure Google experience. But, for anyone that wants to try a totally different look and feel for the Nexus S then MIUI is a great option. While the UX isn't for me, the ROM is responsive and smooth. I never felt like it got in my way, not always the case with custom interfaces. MIUI gets many things right and I found that I enjoyed using it much more than I had expected to. If you haven't checked it out I really do recommend doing so.
Android Central Newsletter
Get instant access to breaking news, the hottest reviews, great deals and helpful tips
Senior Editor — Google Ecosystem
Jerry is an amateur woodworker and struggling shade tree mechanic. There's nothing he can't take apart, but many things he can't reassemble. You'll find him writing and speaking his loud opinion on Android Central and occasionally on Twitter.
I see a lot of people in the ROM sections praising MIUI, but I just don't have a desire for my Android phone to look like it's running iOS.

MIUI is my favorite Android rom, period. And if you don't want it looking like iOS, just install a third-party launcher like ADW or LauncherPro (although downloaded MIUI themes won't change the icons for those launchers). One of the great things about MIUI, is that the themes go so much deeper than Cyanogenmod. For example you can either install a full theme, or take only the parts you want from a theme, such as the status bar, launcher, icons, etc. Plus, some themes allow you to actually change the look (and function) of the lockscreen, unlike Cyanogenmod, where you're basically stuck with the same 4 lockscreens included with the rom. And then there's also the fact that it just looks beautiful, runs nicely, and makes for a nice change from the regular Android look. :)

See I tried combining MIUI with ADW, because I can't stand the idea of not having an app drawer. But once I installed ADW, I just felt like I was using CM7 with a different wallpaper and lockscreen. There's no denying that MIUI is both visually slick and well-performing, but I think they'd need to give some options for a more traditional launcher experience before I made it my daily driver. Fun to mess around with though.

Another option is to put the icons that you don't want on your home screens into a folder, and put that folder in the dock. That way it'll basically function like an app drawer, except instead of having all your apps within it, it'll only have the apps that aren't on your home screens.

Yep. And to the point of "Editing home screens and adding widgets just wasn't the most intuitive to me."...I think you have not played around with it enough. Just press homescreen where you want widget and add. Can't get much more intuitive than that.

Try Launcher Pro. I see your point about being just like CM7 except that MIUI is MUCH smoother, and far less buggy. And there is no need to try various nightlies where this works in one but not in another. Not to knock CM7, those guys are incredible and without them, 3/4 of the stuff out there for us doesn't exist, but for me.....MIUI with LP and Chad's Incredikernel is where it's at.

I agree with the guy above. I have MIUI 9/16 on my Fascinate but I don't use the stock MIUI launcher. I use ADW launcher. MIUI is by far the smoothest and quickest Rom I have ever used.

I personally love the MIUI Rom. In my opinion like others have indicated it's the best rom out there for the Nexus S. Updates come out every Friday and they seem to fix issues relatively quickly. Like others have indicated that the launcher is not the best. For my launcher I am using Go Launcher which is a really nice launcher and surprisingly it's free. This rom runs fast and so many options are available with the exception of being able to overclock the phone. I love the music lock screen. When the device is locked double tapping your clock will release the music player so no more unlocking the phone and opening the app in order to use it. So far I've been rocking this rom for a lil more than two weeks and I plan on staying with it as it grow.

MIUI is hands down the best Custom ROM there is.

The camera UI is great? It's the worst one I've seen besides the stock vanilla app. But other than a few drawbacks it's a really nice ROM. I wish vanilla Android was as polished as MIUI. Thanks for review.

please, its the best camera UI ive seen in a while

Not sure where you get that. Personally I've settled on CM7 over MIUI, but there is no denying that the camera app for MIUI is much better.

I'm using MIUI on Galaxy S2 and Samsung's stock camera has a much better UI.

does the 4G work on this rom?

4g doesn't work for Miui since the ROM developers are based in China and there is no 4g there yet.

Yeah, that sucks. I have MIUI on my Dinc. May upgrade to droid charge, but lack of 4g LTE will be a dealbreaker for Using MIUI.

Performance is amazing. Never stutters (HTC Desire here). It's beautiful, and yes, too similar for iOS to not notice but it's not an issue for me. I've never used an iPhone (I've seen them around). I got rid of the silly icons and for the stock ones, changed to fonts to Helvetica (I'm a typography nerd). Really well polished, no rough edges, every aspect has been thought out really well. Had been using CM7 since it was released, but am really happy with the usability and beauty of this ROM, neither of which is sacrificed for performance. Battery last forever. Best ROM I've used to date. Don't let the good looks put you off!

yep, MIUI was my favourite ROM when I had HTC Desire. Stable, fast, excellent battery life, endless themes possibilities. Unfortunately, for Galaxy S II it's not quite there yet :(

Beside it's the best, still no support for 4G yet.

I tried to like this app completely. I love the different gallery and camera apps etc. Its really nice and different and performs really well. Battery is also sweet. Would it hurt someone to make a theme. More or less icons that don't look like the iPhone though?

I'm on brainmasters miui and its great. Runs smooth and is fast enough for daily use for me. I too hate the fact that there is no app drawer and I tried launcher pro but i feel it takes away from the miuineiss of it.

I made a folder and put it in the dock. That was good enough for me as an app drawer. The icons are just big and doofy though. And you could use a different launcher but your still looking at smaller iphone type icons. There were like 2 I found that looked nothing like iPhone but got old after a while. I don't know. I don't understand the iPhoneness look appeal.

I love miui. In my opinion its the best ROM out there.

Another very nice and well done review. Thanks! Been a CM slappy but have been thinking of trying out miui and might do it this week. Looks great and like the idea of no app drawer. I use adw ex and have all my apps on my hidden dockbar without a main dock and love it...

I have a poll in the forums where you can vote for what ROM I review next for the NS4G. http://forums.androidcentral.com/sprint-nexus-s-4g-rooting-roms-hacks/11... If you don't see one listed feel free to add it in the comments. I try to run a ROM for about 3-5 days in the wild so I can really get a good feel for it. I think that's only fair to the dev's that put way more time than that into making these things. I'm glad people are liking MIUI, I was pretty surprised that I found myself wishing stock Android was the refined and polished.

I have miui rom on my nexus and martrix kernel and I love it .

Does anyone know what the notification bar weather app is? thanks!

My guess on the weather notification would be Weather Bug but I would assume other weather apps would give such a notification option. I LOVE MIUI - tried in on a whim on my Fascinate and I was pretty much ready to stick with it for the long haul. Only problem I had was not MIUI related (the video camera on MTD Fascinate Roms can't do 720p which I decided I needed). The app drawer and iOSyness concerned me at first, but a few themes later (I recommend NUI) and then I just dropped all the extranious apps in folders and it was all good. Just really pleasant UI to use through and through. I will most certainly be back once some of the minor kinks are worked out for my Fassy. Highly recommend giving it a shot. (also the camera, lockscreen and the included browser - Miren basically - are all great)

iPhone doesn't own the icon grid, or the absence of an app drawer.
If you think it looks like an iPhone, that's because somebody skinned it to make it look like iPhone. - Their bad- Miui is easily my favorite rom. EVER. I've tried Synergy, CM6 & 7, Evo DECK, Sense 2.1 roms, Kingdom, etc... No other rom lets you customize so many aspects of the UI. Icons, Status bar, lock screen, menus, messaging app (which rocks on Handcent & GoSms), phone dialer, contacts, font style...it just goes on and on- WAY better than HTC SEnse skins... and the Music app is so sublime. Updated every Friday like clockwork. Even the rom version is named by the date... it's in CWMR, XDA-Developers, Miui.us...for tons of phones- it just rules The camera UI is awesome. Including the color effects, focus, resolutions available... I like how by default lets you record calls, the built in file-explorer is the best out there by far- The Gallery displays photos faster than the Google android 3D gallery, has firewall, system statistic monitor, has backup of apps and data, automatic update, built in equalizer for audio, and voice to text works better on MIUI than I've seen on any other rom- ok done

I am using golauncher and it works great and the application icons change when you apply a new theme, it works flawlessly and I think it is because of the desk migrate app for golauncher. Hope this helps everyone as that was my main problem as well!

If you haven't tried GO Launcher lately, you have no clue what you're missing...including the icon set in Clee...And you can pick and choose which parts, and change anything you want (just like ADW) to customize. MIUI has a long way to go just to catch up to Deck's 2.3.5 ROM. Sorry MIUI lovers, but its obvious that deep down you wish you had an iPhone.

So not true. If I wanted an iphone, I could easily have one. I like MIUI, and I like other roms as well...

I've used an iPad for a while now, it was not until I tried MIUI that I understood what I so disliked about IOS, it just feels like your moms windows desktop, just thousands of apps with the icons cluttering up every inch of desktop space... sure you can make folders to clean it up some but is that really better than a dedicated apps launcher? I don't think so.

I bounced off and on with MIUI on my O'Dinc,and I am running it on the Dinc 2... I always go back to it, it seems. Cyanogen and Miui are the two go that are the best.

I don't have a Nexus S but I do have an Evo 4g. I recently flashed MIUI and it has become my daily driver. A lot of ppl really don't like it because it's iOSish, I however have also downloaded Go Laucher EX and that's where the iOS similarities start to become blurred. If anyone is interested, this vid out: http://www.youtube.com/watch?v=XPVQEkur8b0 It demonstrates how MIUI and Go Laucher interact. So, if you can live without 4g, I would say to give this rom a shot.

Closed source and from CHINA! No thanks. Who knows what info the ROM steals and transmits back to China in the middle of the night. Sorry, just don't trust it.

I'm sorry but the iOS look would be a deal breaker for me. The folks in mainland China just love iPhones so much that they make the ROM look like iOS. Ugh.
Android Central Newsletter
Get instant access to breaking news, the hottest reviews, great deals and helpful tips
Thank you for signing up to Android Central. You will receive a verification email shortly.
There was a problem. Please refresh the page and try again.