Anyway, Android? [#acpodcast]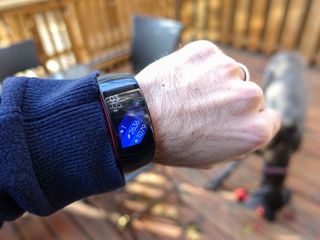 (Image credit: Android Central)
This week on the show Daniel Bader, Jerry Hildenbrand, and Russell Holly are joined by Dan DeSilva from our sister site, thrifter.com, to talk about about some great deals on gadgets and other items before Black Friday hits.
The team also covers a large swath of topics both Android and non-Android related, including Samsung's Gear Fit2 Pro, improved water resistance for phones, and the time Daniel got in trouble with his parents about the Diablo 2 real money auction house.
They also discuss QA issues with the Pixel 2 and other devices in the gadget world, the rise of Google as a hardware company, a Chrome update that will kill annoying redirects, and much more! It's all about saving and making that cash money on this episode of the Android Central Podcast!
Show Notes and Links:
Thrifter Black Friday deals
Pixel 2 second opinion: Close to perfect
Google Pixel 2 XL adds new display profiles, UI changes to address burn-in in latest update
Pixel phones get a little something extra in the November security patch
Google is changing the way developers think about spatial audio
OnePlus 5T rumors and expectations
The first thirty minutes is a Thrifter ad.

Thrifter is pretty dope though if you have tried it. I've ignored it until the Black Friday ads started coming and they do a great job of aggregating them.

I agree, very useful. I just felt that it was a bit much.

Glad you enjoy Thrifter. Honestly, we were only going to chat Thrifter for a few minutes but we were having so much fun we continued on. Hopefully you took away a few nuggets that'll help you score some Black Friday deals!

Your staff spends hundreds of hours combing through thousands of web pages to give me a very readable condensed email of great bargains. Complete with links. Free of charge. I found the discussion like your services most useful. Thanks.
And tell Jerry it's "Spank a monkey" not "Punch a monkey".

It's incredibly hard to care about in the slightest if you're not American though. Like someone giving you the hard sell on car insurance when you don't have a car.

Didn't really think about that. I try not to be the typical American that thinks we're the center of the world but it's hard sometimes lol.

I still haven't recieved the November security patch for my unlocked straight from Google Pixel 2. Very disappointing.

You can do it manually. The instructions are on the OTA page. It's fairly easy and quick.

But the point of buying a pixel was so I don't have to. Or soi believed.

Not my favorite addition, but I guess they can't be great. Just too long at the beginning around shopping and that just pushed the actual technical topics a bit short. Would've like to hear more on the improvements to Chrome, etc.

This was too much for me too. I absolutely love the podcasts, but the ads put me off. I wouldn't mind paying a small fee for an ad free podcast experience, as I understand we all have to make some money somewhere.

Your normal weekly segment highlighting cool deals on Thrifter is a far better way to handle ads than normal ad reads (which are repetitive and inorganic) and a 30 frick'ng minute interview of the sponsor (Wayne's World brought to you by Noah's Arcade). I dread the inevitable 30 minute Mint Sim spot.

Yeah, finally listened last night and wowsers. Wtf was that? Don't do that.

I had the Xperia z ultra and I really miss it, eveybody laughed at the size but at was briiliant for media. I have an xz premium now and also a z3 compact tablet because it reminds me of my z ultra!
Android Central Newsletter
Get the best of Android Central in in your inbox, every day!
Thank you for signing up to Android Central. You will receive a verification email shortly.
There was a problem. Please refresh the page and try again.