Android Central 258: Material Finally!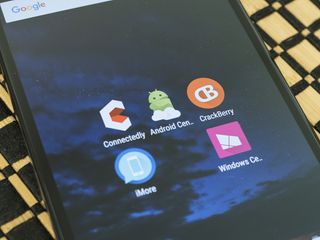 We've finally pushed out a Material Design update to our app, and to celebrate we've brought Google Developer Expert Mike Wolfson on the podcast to talk about what it's like to revamp an app the way we've done here. If you've ever wondered what it's like to be a coder, you'll want to check this out. (And then go download our updated app!)
And then we catch up on some stellar voicemails and dive head-first into the Q&A. Enjoy!
Thanks to this week's sponsors!
Braintree: A single payments API for your app that makes transaction simple.
Red Hat: See what managed open-source enterprise software can do for your business.
Casper Matresses

(opens in new tab)

: Try an unbelievably comfortable mattress at home free for 100 days. Save $50 with coupon code ac.
I can't say enough how much I love this new design. I love the purple as well. Dam It's Feels Good To Be A Google Gangster

Cleaner and faster like It's turbocharged with purple go faster stripes, and Lloyd gets Shaun the sheep Slipper's Posted via the Android Central App

Me too! I love the purple! Much easier to read than the blue was!

I really hate the new design. Sure, it looks amazing, but when I get into the app, there's nothing telling me it's updating. Before, I could see the spinner thing. Now, nothing happens, then it flashed without refreshing and I have to manually press the refresh button to get the new articles. I thought it was a one time thing, but it's been happening every time I open the app since upgrading. Posted via the Android Central App

Yep I get this to. Sometimes the refresh icon shows while dragging down and sometimes it doesn't show up etc. Posted via the Android Central App From my Blackberry Priv where I am out of toilet paper

Still no enlarging pictures users posts in the forums. If you want the forums to thrive then let people post pictures everyone can at least see. Posted via the Android Central App

I like it. It might just be me but it seems a little snappier, especially in the forums. Posted via the Android Central App

Notification pause/play controls please :) Posted via the Android Central App

How do you mark all postings in a forum category as read? I can't find any way to do that!?? Posted via the Android Central App

sweet ... Phil do you have more to do with this than the other writers? I know you're humble and a lot of other people have a lot to do with the design, but I'm just curious since it seems you're much more passionate about it than the other guys ... looks good, just in time for my 6p in 2 weeks

Definitely love the new update everything seem cleaner, faster and smoother my only problem is can't enlarge pics but besides that lovin it on my old but like new Nexus 5 with 6.0 Posted via the Android Central App

Is there no longer a search? I can't seem to find it on the new app Posted via the Android Central App

Material look is pretty cool. But where did you put the link button to open your email in order to send a AC article from Android device to pick up later on your desktop? Now you have to click "browser", then click your browser "share" link in order to send the article to your desktop email. Not good at all. Posted via the Android Central App
Android Central Newsletter
Get the best of Android Central in in your inbox, every day!
Thank you for signing up to Android Central. You will receive a verification email shortly.
There was a problem. Please refresh the page and try again.