The Nexus 5 speaker: Yes, there's only one — and software may be hurting what you hear [updated]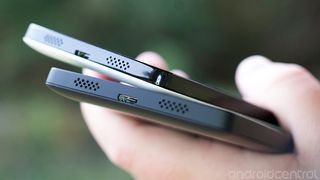 Audio output sounds great in some apps — and lousy in others​, especially with spoken-word playback
Two things you need to know about the the speakers on the Nexus 5: First, there's only one speaker. Never mind that you see a pair of speaker grilles — there's only one speaker hidden back there. As we first learned on the LG G2 — a close cousin, insofar as the hardware goes — there's a speaker, and there's a microphone. Not two speakers. That's been confirmed by iFixit's teardown, as well, not that it was a surprise. Stick your finger over one of the speakers and it's readily apparent.
There other thing we've discovered is that the Nexus 5 speaker can be pretty decent, or it can be downright horrible — and it appears that software may be to blame here.
Listen to a song in Google Play Music. Then find the same one on YouTube
First, a story. I loved listening to a record (ask your parents, kids) of "Peter and the Wolf" when I was a wee Phil. Prokofiev's music is still some of my favorite classical, telling the story of the precocious young Peter even without narration. And so I introduced it to my 3-year-old daughter, Isabella. Every night, before bedtime, it's "Daddy, I want to listen to Peter." And so we fire up Google Play Music, and listen to Peter and the cat and the duck and the bird — all narrated by none other than Sting. (David Bowie's version is pretty good, too.)
For the past month or so we've mostly been listening on the Moto X, or sometimes on the HTC One if we really feel like rockin' before bed. At this point, I'm intimately familiar with how that recording should sound. So it was pretty disappointing when we tried listening to Peter with the new Nexus 5. Suddenly, Sting sounds like he's in a cave — not just a little additional reverb, but almost like the speaker is so far recessed in the phone that the sound is bouncing around in there for a while, looking for a way to escape.
And we're not just talking differences in speakers here. Our findings are unscientific, but obvious and apparent. And easily reproducible.
Grab your Nexus 5. Play a song in Google Play Music. Then find the same song in YouTube. Now we're not quite talking apples and oranges here, we know. File types and compression and all that will be different, affecting playback quality. But there's a stark contrast in the end result. Try it yourself. Podcasts and other spoken-word pieces really highlight the difference. They should not sound like they're sounding.
Local file playback also is bad, with the same echo and distortion. Play the same song in Spotify or Pandora? Things are just fine. The music sounds great. And phone calls (as far as we can tell) aren't affected.
Something's up, software-wise, we believe, when it comes to audio playback on the Nexus 5's speaker. That's actually a good thing. What I at first thought was just a sub-par speaker — and, by the way, we've witnessed none of this on the proper LG G2 — appears, in fact, to be an issue with audio software. That can (most likely) be fixed. We've got an e-mail in to Google to see if there's something more official to be said.
Update 11/8: Google has confirmed to Android Central that I'm not deaf or going crazy, and that they're working on a fix.
Sign up for Black Friday email alerts!
Get the hottest deals available in your inbox plus news, reviews, opinion, analysis and more from the Android Central team.