The most important news from the Android Security recap had nothing to do with malware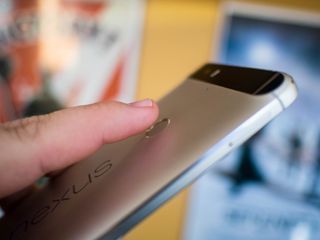 The funny thing about security, of course, is most of us on the end-user side of things tend to not worry about it until it's too late. That's natural, of course. It's why we close the barn door after the horse is long gone.
For most of us, security isn't sexy — it's a hindrance. It's our IT department requiring us to change an already pain-in-the-ass-to-remember password to another pain-in-the-ass-to-remember password that we haven't used once before — and then we write it down and leave it under our keyboard anyway. It's why our PIN codes are fewer characters than they would be — or why we forgo them at all on our devices.
Fingerprint sensors are changing that. They're making it easier than ever to keep our devices locked, but still make it relatively easy for the phone owner to unlock. Comparing the 2013 Nexus 5 and 2014 Nexus 6 — two phones that don't have fingerprint sensors — to the 2015 Nexus 5X and Nexus 6P, Google found that lock screens were being used about 64 percent more often — on about 91 percent of those new phones.
That little tidbit is perhaps the most promising news to come out of Google's "Android Security 2015 Year In Review." (Read the PDF here.) It's not as sexy as learning how many billions of scans were performed in the background, or how small a percentage of devices ever come in contact with a "Potentially Harmful App." But combined with the 43 percent increase in use of the Android Device Manager — which helps you locate, lock and/or wipe a missing device — it's perhaps the single-most important thing anyone can do to safeguard their data.
By now the Samsung Knights are screaming that their chosen devices have had fingerprint scanning for years. And indeed they have, and Samsung should be commended for that sort of forward (if proprietary, at the time) thinking. But by moving the fingerprint scanning support into the whole of Android and not just a (large) subset of devices means that any manufacturer can take advantage of this increased security. And that any app developer can tap into the APIs to make their apps more secure.
And that there's now absolutely no excuse for any of us to not have a lockscreen set on our phones.
There is one last hurdle, however. Tablets. Again, a scant few models have fingerprint readers. Samsung is the Android leader in this, naturally. But not even Google's own Nexus 9 or Pixel C tablets have the hardware to support fingerprint security. That's something we'd love to see change in the next Nexus iteration, even while we continue use other on-device security mechanisms like Smart Lock, which allows you to bypass the lock screen when connected to a trusted Bluetooth device, or in a preset location.
Fingerprints are more secure than geofencing. They're easy to use. And they shouldn't be overlooked.
Get the Android Central Newsletter
Instant access to breaking news, the hottest reviews, great deals and helpful tips.