The latest Fallout Shelter update for Android adds cloud saves and Survival Mode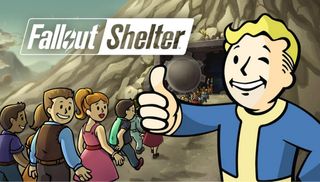 Bethesda Softworks is getting ready to release its huge post-apocalypse RPG Fallout 4 for the PC and consoles on November 10. However, before that happens it has a new update for its free-to-play sim game Fallout Shelter for Android. Among other things, it adds cloud saves to the game, and a new Survival Mode.
Here's the breakdown of what's new in this 1.2 update:
New Vault-Tec network protocols are finally in place. Now you can save your Vault to the "cloud," (no moisture condenser necessary!) and continue any Vault experiment on all of your devices.
Some Dwellers are reporting sightings of a mysterious individual in Vaults around the Wasteland. Vault-Tec is offering a bottle cap reward for any positive identification!
Faced all the challenges the "normal" Vault simulation can provide? Introducing Survival Mode! More danger, More glory. Make Vault-Tec proud!
New Vault-Tec directive – Dwellers have been given authorization to scavenge equipment from dead Raiders. Gear up!
Are you an experienced Overseer who has already undergone Vault operational training? Now you can skip the tutorial!
In an effort to assist Overseers in running their Vaults more efficiently, Vault-Tec has added a statistics page to the Vault Dweller's Survival Guide (VDSG).
Support added for Russian-speaking Overseers.
Continued general maintenance to the Vault simulation. Because when you speak, Vault-Tec listens!
You can download the new Fallout Shelter update right now from the Google Play Store.
Still shuts down when you try to check the objectives....the one and only thing I was hoping they'd fix.

Not having that problem. Sorry about your luck.

Did you try reinstalling the game?

Yep, just did. Same problem. Bummer.

I had that happen too .. the fix is to patch your saved game file to remove the guilty objective .. this fixed it: https://www.reddit.com/r/foshelter/comments/3iii8d/found_and_fixed_the_c...

Holy crap that worked awesome. And easy too. Thanks a ton!

About Freakin' time! That games don't support this from day 1 is so frustrating.

I've already deleted it from my iPad. Have unlocked all rooms and had about 5,000 or so people. A bit to easy for my liking and tedious and boring Posted via the Android Central App From my Blackberry Priv where I am out of toilet paper

I'm pretty sure it's not possible to have even close to that many dwellers. I believe the max is 200. Posted via the Android Central App

200 Max, don't know where you are getting 5k from lol Posted via the Android Central App

5k dwellers? Posted via the Android Central App

Geez, if you're going to lie, at least make the lie possible to happen in the game.

It's nice that they're updating... But the game is still incredibly shallow. Worth playing for a day or two maybe. But after that there's little to be had. Posted via the Android Central App

+1
By the time I get resources straightened out I'm usually bored of the babysitting.

I was wondering when they were gonna allow the dwellers to scavenge stuff from dead raiders Posted via the Android Central App

My phone (M8) starts to hang at 200max and 10 dwellers waiting. Posted via the Android Central App

Too little too late. I had over 100 dwellers and a nice vault going before I had to trade my M9 in for one that worked properly. Lost everything. Not starting over. Posted via the Android Central App

BTW.... This new material design on the updated Android Central app is amazing. Great job!!! Dam It's Feels Good To Be A Google Gangster
Android Central Newsletter
Get the best of Android Central in in your inbox, every day!
Thank you for signing up to Android Central. You will receive a verification email shortly.
There was a problem. Please refresh the page and try again.