The joys of reading on Android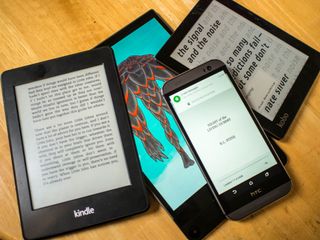 Much in the same way the best camera is the one you have with you at all times, if you're a constant reader the thing you're most likely to do all of your reading on is whatever you have with you at all times. This isn't universally true, which is why Kindles are still crazy popular and bookstores still exist, but it's quite common to find someone on their lunch break at work or in a car waiting to pick up kids reading entire books on a smartphone. It shouldn't be too surprising nowadays, especially with the incredibly high resolution displays and wealth of bookstores and reading apps in the Google Play Store today.
In fact, with so many options out there it may not be all that easy to choose a service that best suits your needs, let alone even be aware of what options are out there for you to take advantage of. With that in mind, we're going to take a look at all of the reading options for Android and take a quick tour through the features that make these apps and services special.
There's a lot to think about when reading on your phone or tablet, even if it doesn't seem like there should be. You're reading on a brightly lit rectangle with apps that offer a ton of features to make that experience as enjoyable as possible, including the ability to buy books or just import them from another source. Whether you're that late night, lights off reader with the screen brightness all the way down or the comic book junkie who just grabbed the entirety of Spectacular Spider-Man from a Humble Bundle and are about to spend a weekend binge-reading, Android apps are there to handle everything.
Is there a difference between Kindle and Kobo? Does Google Play Books offer a better selection than Barnes & Noble? Is it worth the extra effort to make sure all of your books are DRM-free and can travel with you from device to device without using a digital storefront to manage your content? Should you put your phone down and only use e-ink if you're going to be reading for a while? There aren't easy or obvious answers to these questions unless you're already so deep in one platform or another that it's not worth leaving, so we're going to take this one step at time. Meanwhile, sound off in the comments with your reading platform of choice!
Get the Android Central Newsletter
Instant access to breaking news, the hottest reviews, great deals and helpful tips.