Jabra Drive Bluetooth speakerphone review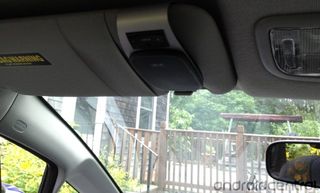 For those who don't want a Bluetooth headset in their ear but still want or need to take calls in the car, the Jabra Drive speakerphone might be just the ticket.
As we have pointed out before, Bluetooth hands free calling is required in many states – it is also the smartest way to use your Smartphone in the car. Headsets can be uncomfortable for some. If you are not worried about others in the car listening to your conversations, a Bluetooth speakerphone – like the Jabra Drive – might work well for you. Read on for a full review.
Jabra Drive Bluetooth speakerphone
What's in the box
The Jabra Drive comes with the speakerphone, a USB cable for connecting the Jabra Drive to the included car charger or to a PC or Mac for charging and a Quick start manual.
Pairing the Drive
When you first turn on the Drive, it will automatically enter pairing mode. On your HTC EVO 4G LTE or HTC One X or other Android device, just:
Go to your Bluetooth settings
Choose Scan for devices
Select the Jabra Drive from available device
If you are asked for a passcode – just input 0000.
For future pairings, just turn on and hold the Answer/End button for about 5 seconds and it will go into pairing mode.
You will hear the Jabra Drive say "connected" when the pairing is complete.
The Jabra Drive will be connected as both a Phone audio device and a Media audio device on your Android phone. That means that you can also connect it to your GPS or MP3 player in addition to your phone.
Functionality
The Jabra is a pretty bare bones affair, but that's not a bad thing – especially for something that is used in the car. the Jabra Drive clips onto your sun visor and can be moved to either side of this visor so that it is accessible to you.
Tap the Answer/End button to answer a call
Tap the Answer/End button while on a call to end the call
Tap the Volume button (+) to raise the volume
Tap the Volume button (-) to lower the volume
Voice dialing
Voice dialing on your Android phone is initiated by simply hold down the Answer/end button until you hear a beep. The Jabra Drive will then say "Speak now." Since the Jabra Drive simply uses your built in voice dialing, any command supported by your phone can be spoken into the headset.
Call quality
Call quality was really great with this speakerphone. It was loud, clear and I had to turn down the volume. The combination of sensitive microphones and built in noise cancelation made voice transmission very clear.
Callers on the other end said they could hear me and not road noise or much of anything else except my voice.
The added bonus to this speakerphone is that since you can pair multiple devices, you can have your GPS and your phone paired at the same time. Or, you can send your music via Bluetooth from another device as well. Sound quality when sending music to the Jabra Drive was not bad – certainly better than through a headset or the phone's speaker.
The wrap up
I was pleasantly surprised and impressed by the Jabra Drive. It is priced right, it is easy to set up and use and, most importantly, it works well. I also appreciate that there is a car charger handy so that, unlike my Bluetooth headsets, I don't have to worry about running out of power.
Sometimes I find myself yelling when I use a speakerphone and I did not feel that urge when using this one.
The good
Easy to set up and use
Seems durable
Calls were clear
Music sounded pretty good when streamed through the speakerphone
The bad
No privacy if others are in the car
Lacks some of the more sophisticated tech in more expensive units
The verdict
The Jabra Drive is a very good, basic Bluetooth speakerphone. It is short on features, but is works well for taking calls and initiating voice dialing. The fact you can also stream music is an added plus.
Buy it now
Others like this one
Get the Android Central Newsletter
Instant access to breaking news, the hottest reviews, great deals and helpful tips.
I bought this for 29 bucks when it was on sale during boxing day. I must say that I am very satisfied with it. I rarely drive with other so privacy isn't a big concern for me. I use it to listen to music, answer calls and hear turn by turn navigation. Definitely recommended. More so, if you happen to find it anywhere cheaper than this.

ARGH! Where were you yesterday when I agonized over whether to buy Drive, Freeway or the Motorola Roadster2? I ended up buying the Roadster2 because of the auto on/off feature and its ability to read texts. But this review would have been nice to read before I bought it. Might have actually changed my mind.

I have this speaker and it works well, the only complain I have is that if I leave it on and get out of the car for a prolonged period of time, when I get back it doesn't connect to my phone (I can still play music but can't make calls) until I turn it off and leave it off for at least 20 minutes or so. I tried everything from powering off both the phone and the speaker to deleting the speaker from the phone and re-pairing it. Nothing seems to work.

"The bad
No privacy if others are in the car" That is how it works... There is no privacy using ANY of speakers like that, hard to call it "the bad"...

Amen to that!
As soon as I read that, I thought: "really?! You going to put that into a con?" It's funny, but the next thought was: have you used ANY SPEAKER device? lol

I have owned this device for several months now, and while it works as stated, it only took a couple of weeks for the on/off switch to break. Now it is an ornament on my visor. If only I had saved the receipt!!!!!!

Did you buy it with a credit card?

This model should still be under warranty from Jabra directly.
I am pretty sure they wont do what Jawbone does and say you didnt buy it from an
authorized retailer. You can say it was a gift if you need to. check the jabra website I am sure they can help you get it warranty replaced.

How well does it work with the windows open driving the freeway? I have a Jeep so some months I drive minus the Doors and Top. Radio usually has to be turned up a bit to hear while driving but is this device capable of being heard above that road noise? What about the noise cancellation with that type of road noise?