Four indie games set to strike it big on Android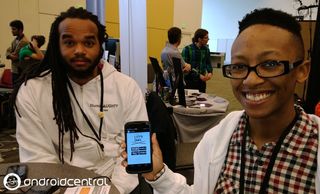 Indie game development is where many of the most exciting Android games come from nowadays. Sure, we all love big releases from Electronic Arts, Sega, and the like. But so many today's most popular mobile games (including Flappy Bird) came from small development studios or even individual creators.
We caught wind of several exciting indie games during the recent Apps World event in San Francisco. Let's Duel is a motion-controlled sword fighting game that you can get right now. In the near future, we'll also be playing the eccentric and beautiful running game Mr. Runner 2, a match-3 game with actual controllable characters called Puzzle Raiders, and Zato – a slashing game starring a blind swordsman. See them in action after the break.
Let's Duel
Of the games in this roundup, Let's Duel from Philadelphia-based IllumiNAUGHTY is the only one that gamers can purchase right now. This is a game of sword duels, with the twist coming from the input method. Instead of touch screen input, you play this game by slashing with your Android device.
Whether dueling against the AI or another player, you'll have to swipe in the right direction to block their attacks. You only have a limited time to detect the oncoming attack by looking at the screen, and must then quickly perform the proper counter. It's silly to watch, but certainly a unique way to play a mobile game.
The free version of Let's Duel includes the Quick Play single-player mode and multiplayer (which requires two devices). It's a good idea to try the free game to test its compatibility with your device, as the game works better on some devices than others. The paid game adds more swords, single-player content, and faster access to updates. Let's Duel is a niche game, but you have to admire its developers for bringing such a unique experience exclusively to Android.
Puzzle Raiders
The mobile market is filled with match-3 puzzle games in the style of Bejeweled and Candy Crush Saga, so any new match-3 puzzler needs a good hook in order to stand out from the crowd. Indie developer Shiny Shoe's hook for Puzzle Raiders centers around the game's titular Puzzle Raiders, a group of treasure hunting explorers.
The raiders actually move around and interact with the environment while players match items and solve puzzles. Your goal is to clear a path for your character from one side of the screen to the other by making matches. You only have a limited number of matches with which to reach the level exit, so careful play becomes important. Run out of lives and it will take time for them to recharge, as with Frozen Free Fall and Candy Crush. Sometimes the level's path is blocked not by sand that must be cleared away but by enemies like mummies. Instead of making matches with the enemies themselves, it takes adjacent matches to hurt the bad guys.
Players have a few more tools to destroy enemies and obstacles, including items purchased form the shop. Drop a bomb or a barrel of monkeys onto the playing field and the tide will turn in your favor. The heroic raiders can also unleash attacks of their own after making enough matches. Charge up the whip to take out a foe Indiana Jones-style.
Puzzle Raiders is currently testing in the Australia and New Zealand market in order to fine tune the game's difficulty and In-App Purchases. Shiny Shoe hopes to launch it on Android within the next couple of months. The San Francisco-based developer will also be releasing its iOS mech battle game Offworld on Android in the near future.
Mr. Runner 2: The Masks
Ready for a running game with lots of crazy cool touches? The Mr. Runner series will finally be coming to Android with Mr. Runner 2. A bad guy has captured Mr. Runner and locked a mask onto his face. To free himself from the mask, he'll have to run through numerous worlds, defeat giant bosses, and avoid getting squished.
Mr. Runner 2 is different from other running games in several ways. First, the hero can't jump. He's limited to speeding up and slowing down, always keeping his feet on the ground. By starting and stopping his runs wisely, he can avoid being crushed by the ceiling and other obstacles.
Most endless running games are literally endless, but Mr. Runner 2 actually has 32 distinct levels spread across four different worlds. Our hero will collect coins, meet NPCs, and search for the puzzle pieces needed to remove his mask over the course of those levels. The game also offers an endless level based on the original Mr. Runner, so people who like running really far won't be let down.
Mr. Runner 2 is a game to look out for. It's got beautiful 2D graphics, humorous references to classic games, and tons of masks and costumes to buy for the hero. The Android version is due out this spring and will be free to play.
Zato
One of the big early hit games on mobile was Fruit Ninja. Slashing at fruits proved to be a fun and intuitive use of touch screens. Indie developer Homunkulus has built its game Zato on those foundations, but with a focus on slashing techniques over casual appeal.
Zato is the story of a blind swordsman who must duel other samurai in feudal Japan. Instead of fruit, he must block the enemy's sword slashes and counter with his own maneuvers. Enemy attacks come in several different colors, all of which require a different slashing technique from the player. Draw a simple slash to block blue attacks, V shapes for red attacks, and spiral shapes for yellow attacks. It requires some patience and skill, but you'll get the hang of it before long.
Homonkulus will launch Zato with an endless survival mode, but they also plan to add a proper story mode with bosses eventually. The story mode would be playing to Zato's strengths, since as a blind character the visuals are naturally subdued. But the developer does plan to beef them up a little anyway, thankfully. Zato will cost 99 cents when it launches simultaneously with the iOS version later this spring.
Get the Android Central Newsletter
Instant access to breaking news, the hottest reviews, great deals and helpful tips.